DMV /dee-em-vee/ The Washington area, as abbreviated by hip-hoppers; from "DC/Maryland/Virginia" and adopted for thumb-based communications.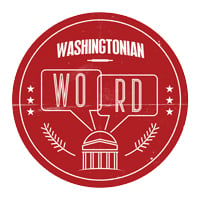 DC rapper and hip-hop promoter 20Bello says it "tickles" him to hear sportscasters and weather announcers sing out, "It's a nice day in the DMV!"
Says 20Bello: "Man, if only they knew."
Knew, that is, the underground hip-hop origins of the abbreviation for DC/Maryland/Virginia that has become the go-to shortcut for "greater Washington."
Textably concise and internet-compatible, it has exploded on sites like Craigslist ("In the heart of the DMV!!!") and Meetup.com ("DMV Small Dog Playgroup") and with millennials—who are seemingly untroubled by the letters' traumatic associations for anyone who has registered a car at the Department of Motor Vehicles in the District or Virginia. (In Maryland, it's the Motor Vehicle Administration, or MVA.)
"DMV," which started turning up on promotional fliers, album labels, and T-shirts in the early 2000s, wasn't 20Bello's coinage, though he claims credit—along with fellow rap impresarios Dre All Day in the Paint and DJ Rob, sometimes known as Mista DMV—for publicizing the term. As 20Bello tells it, he first heard the region called DMV by go-go musician Kibwe Galloway. Galloway had been calling the name out for about three years while playing with Brothers Need Brothers (originally called Buck Naked Band). He could also be heard shouting the name out over rap and go-go records he helped produce. Galloway says he was looking for a way to "try to break the little wall" between city dwellers and suburbanites.
By the time 20Bello heard the term in 2003, gentrification was pushing DC's hip-hop scene out of the city, with artists and fans alike moving into Maryland and Virginia. 20Bello, Dre All Day, and the other early promoters saw "DMV" as a way to pull local rappers under a single umbrella, from which they'd represent to the world at large. As DMV rap stars like Wale adopted the moniker, the world has answered back. In 2012, Nicki Minaj, a major-label artist from Queens, called out the DMV on her track "Beez in the Trap."
The adoption of "DMV" beyond the hip-hop world testifies to a unity that has infected the whole area of late, with newly urbanized neighborhoods in Fairfax, Alexandria, and Prince George's County. One point of disunity? Just how far the DMV extends geographically. According to 20Bello, M and V refer to the entire states; Dre All Day limits his notion of DMV to the I-95 corridor north to Baltimore and south to Richmond and even Norfolk. Galloway, the original coiner, was calling out only as far as the Beltway.
This article appears in our July 2015 issue of Washingtonian.