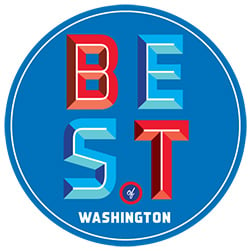 Best New Take: Bethesda Salt Cave
Himalayan rock salt—said to help clear nasal passages and detoxify the body—lines the small "cave" at this spa in the form of boulders, bricks, and a sand-like layer on the ground. During guided yoga nidra meditations, guests lounge in zero-gravity recliners or lie on mats on the cool floor. Afterward, expect to breathe easier and feel relaxed. Sessions start at $35 without a membership. 4709 Montgomery La., Bethesda; 301-312-6377.
Best if you Hate Yoga: CorePower
If yoga doesn't count as exercise for you unless you're sweating, head to CorePower. The quick-moving vinyasas are set to dance tunes and Top 40, and the room is heated to 80 degrees. Not intense enough? Opt for the Yoga Sculpt class (arrive early to secure a spot), which incorporates free weights and plenty of hurts-so-good reps. A drop-in class is $23; membership is $155 a month. Seven area locations; corepoweryoga.com.
Best for the Whole Family: Lil Omm
Housed in a humble studio in Tenleytown, this center takes a family-friendly approach to meditation and yoga, offering classes you can take with your baby, sessions for young kids, pre- and postnatal yoga, and—if you prefer to practice in peace—on-site child care. Bonus cute factor: It stocks tyke-size yoga mats. Single classes are $20 or $25; for lower per-class rates, passes and memberships are available. 4708 Wisconsin Ave., NW; 202-248-6304.
Best Gym for Yoga: Vida Fitness
When it comes to yoga at gyms, expectations aren't usually high. But Vida selects instructors from the same pool as such well-regarded studios as Epic, Tranquil Space, and Flow. Which means Vida members wind up with unlimited access to classes with the area's top teachers—including some with big followings, like Mimi Rieger—for a monthly membership fee that's often much cheaper than area yoga studios. Six DC locations; vidafitness.com.
This article appears in our July 2015 issue of Washingtonian.