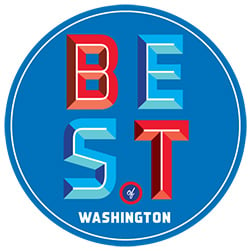 Team spirit is high in this running club/boot camp—a Boston-born grassroots workout that arrived in DC in fall 2013. So is the fitness level: You may find yourself sprinting up the Lincoln Memorial steps. But the "just show up" group—which can number from 150 to 500 people on any given day—welcomes all. Meetups last about an hour and happen four times a week at 5:30 or 6:30 am.
Every Monday at 8, the Nike store in Georgetown transforms itself into a free, high-energy fitness club—deejay included. Participants follow an instructor through one-legged burpees, push-ups, squat jumps, and other high-intensity interval-training moves. We recommend packing a towel—you will sweat. A lot. Go to nike.com to reserve a spot. 3040 M St., NW; 202-471-5870.
At this sleek new gym, a giant screen in the cycling studio displays videos of biking routes, so you can feel as if you're climbing a hill in the Swiss Alps or riding the scenic California coast. Your reward when done? A shower and Finnish sauna in the stylish locker rooms. 11594 Old Georgetown Rd., North Bethesda; 301-245-3908.
This article appears in our July 2015 issue of Washingtonian.