It was the middle of the night when 30-year-old Sonny Bono woke up his young 19-year-old wife, Cher. He had just written a new song on some shirt cardboard and wanted her to sing it. Groggily, she sang:
They say we're young and we don't know
We won't find out until we grow
Well I don't know if all that's true
'Cause you got me, and baby I got you
Cher was thought it was fine, but it didn't quite fit her voice. Bono went back to work and Cher went back to sleep. A few hours later, Bono woke up Cher again and gave her the new version with a key change in the bridge. She sang it again and this time she loved it. A No. 1 single followed, and Sonny and Cher became one of the most famous duos in pop music.
"I Got You Babe" was released in July 1965 and shot up the Billboard music charts before landing at No. 1 on August 14, remaining there for three weeks.
Bono later became a congressman from California. On January 5, 1998, he died in a skiing accident. His sudden death left many shocked, but few were as devastated as local developer Geary Simon, who'd become good friends with Bono. They'd met waiting at a martial arts studio that Simon's girlfriend owned and Bono's kids were attending. "I sat down next to him and we starting chatting," Simon says. "Sonny was the kind of guy who just needed you to know who he was … just to have fun, I asked him 'who are you?' … The two of us just burst out laughing." The pair "became inseparable friends until the day he died," Simon says. "It was one of those friendships that you rarely have in life."
After returning from the funeral, Simon realized just how much he much he missed Bono. "There was this void. Sonny and I saw each other every day. We talked to each other like a couple of old woman two or three times a day," says Simon. He knew he needed a place close by where he could talk to Bono again. So, using DC's Adopt-a-Park program, he adopted a small 800-square-foot piece of land a block-and-a-half from his house, at the intersection of O St., New Hampshire Ave., and 20th St., near Dupont Circle. "It was an abandoned, rat-infested, overgrown traffic triangle. It was horrible," he says.
Simon immediately went to work reviving the park, eventually pouring nearly $50,000 of his own money into it, he says. He installed a new sprinkler system, underground lights, stone benches, authentic Kentucky bluegrass, and a tree from Bono's congressional district in Southern California. He also added a small, bronze, manhole-shaped plaque that read, "In Memory of My Friend Sonny Bono 1935-1998," with the words "Entertainer, Entrepreneur, Statesman, Friend" circling the inscription.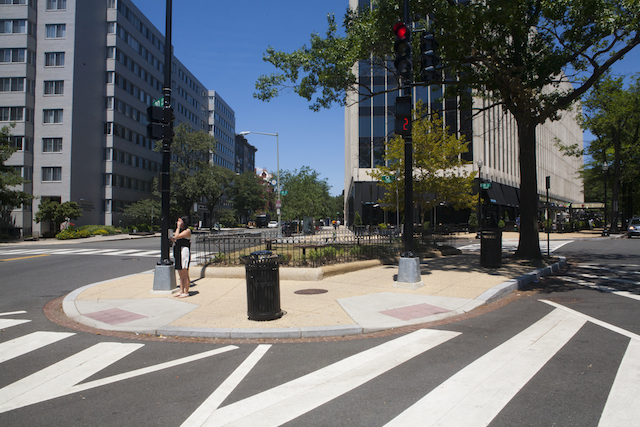 Under the plaque, Simon hid a vault, or time capsule, containing a mug from Bono's restaurant, sheet music from the Sonny and Cher hit "The Beat Goes On," and a pair of Congressional cufflinks that Bono had given Simon on his birthday. Sonny Bono Memorial Park opened later in 1998.
The park rubbed some in the neighborhood the wrong way when it first opened. "I think it's an outrage that an individual can get a form of ownership to a piece of city land and then dedicate it to whomever they want," Dupont resident Debby Hanrahan told Washington City Paper in 1998. "There's tons of people I'd like to memorialize, and they meet a higher test than Sonny Bono. What's next, a park for Cher, too?"
Simon says he wasn't motivated by municipal pride. "I don't think DC needed it," he says. "I needed the memorial park to him." He never understood the negative reception. "There was no public money involved … it wasn't political, it wasn't economic. It was something out of the friendship between Sonny and I."
A resurfacing project on New Hampshire that started in late 2013 left the park in a state of disarray. According to Simon, construction crews used the park as a staging area, knocking out sections of the iron wrought fence and completely destroying all the benches and grass. While there were rumors they had also removed the vault under the plaque, Simon says the vault containing the Bono memorabilia is still there.
Simon says he'd like to renovate the park over the next two months, restoring the fence plus all-new benches, landscaping and underground wiring, and would pay for all of it—about $20,000, he estimates. But Heurich House, across the street from the park, has a cooperative agreement with the District's Department of Parks and Recreation to look after the park and is raising money to beautify it.
With the 50th anniversary of "I Got You, Babe" approaching, it's a perfect time to visit the small park. Perhaps you'll see Simon, who goes to talk to his old friend "every week without fail."
"I tell Sonny how pissed off I am that he died," he says, "and when I get to heaven or hell or whatever the two of us end up, I'm going to kick his ass."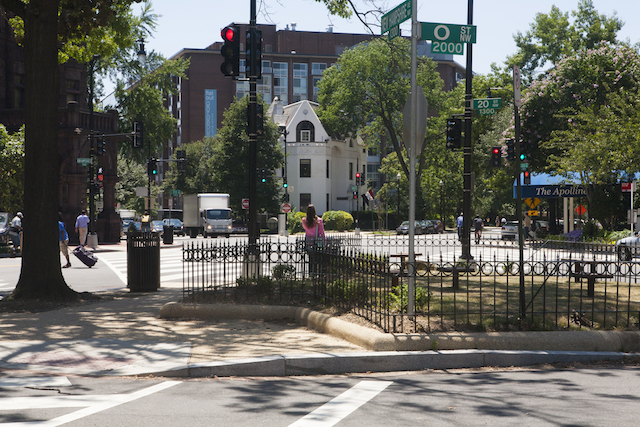 Matt Blitz is the head of the Obscura Society D.C., the real-world exploration arm of Atlas Obscura. He writes about discovering the world's mysteries for Smithsonian Magazine, Atlas Obscura and Washingtonian.
CORRECTION: This post originally said Simon planned to refurbish Sonny Bono Park on his own.