Ivy City is quickly becoming the best neighborhood in Washington to taste local spirits, with producers like New Columbia Distillers, One Eight Distilling and the upcoming Republic Restoratives. The newest kid on the booze block: Jos. A. Magnus & Co., a production distillery and cocktail bar soft-opening this weekend.
The name isn't faux-historic—Joseph A. Magnus was a real life distiller in the 1800s who shuttered his business during prohibition. His great grandson sought to resurrect the family trade, and chose the District as the distillery's new home; recent DC laws permitting spirit sales on premises make the city an attractive place to produce liquor.
Magnus's 21st century incarnation will debut on Saturday from 1 to 9 with tours, tastings, and two cocktail bars. A grand opening will follow on September 12th. Here's what to know before you go.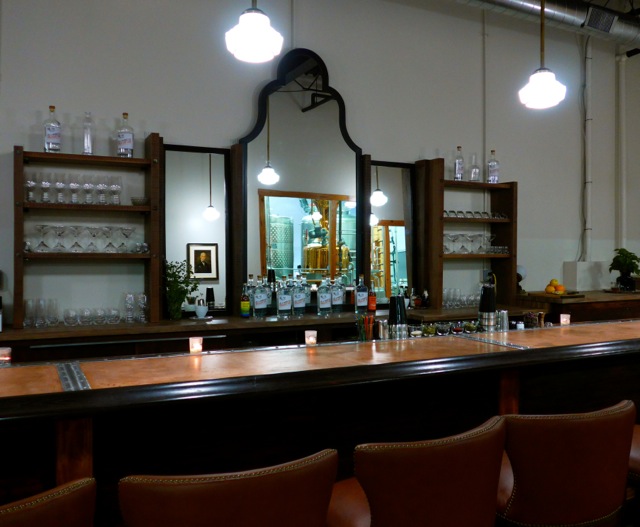 The first batch of bourbon is aged eight years, inspired by 100 more
Magnus may be new, but they're not starting from scratch. Legacy aside, the distillery was put together by a team of industry vets that includes former Woodford Reserve distiller Dave Scheurich, Nancy "The Nose" Fraley—a high-ranking whiskey blender—Richard Wolf of Buffalo Trace, Brett Thompson (Pork Barrel BBQ), and former Gin Joint bartender Nicole Hassoun. The crew found bourbon barrels aging in Kentucky, and worked to recreate the flavor of Magnus' original product through finishing the bourbon in sherry and cognac barrels. The first batch will be released in September.
Cocktail fanatics should head to the Murray Hill Club
Magnus' boasts two bars. Drop by the Murray Hill Club for a still-to-glass experience–the 50-seat cocktail spot looks out over the production room. Hassoun offers a drink menu (sample) based around her citrus-forward Vigilant gin; bourbon drinks will arrive later when first batch is ready in September. Being in DC, a Ricky is mandatory—here spiced up with peach-preserved ginger. Another option is a craft g-and-t made with Hassoun's own brand, Chronic Tonic. Don't see anything you like? Hassoun will create drinks to taste based on guests's flavor preferences.
Groups can opt for pitchers in the Magnus Room
The second bar is located in the 50-seat Magnus Room, lined with antique bottles from the original distillery. Cocktails here will be pre-batched for easy serving and drinking, and offered in pitchers for groups. The distillery will eventually launch food service to pad the stomach.
Gins will be custom-made for cocktails
Hassoun's first batch of Vigilant gin is made for summer drinking, with citrus and a few unusual flavoring agents thrown in (sumac, sesame). While bourbon can be years in the making, small batches of gin take about a day, allowing Hassoun to make gins with specific cocktails in mind.
Pre-order your booze
Limited-edition bottles of both the Joseph Magnus bourbon and Vigilant gin can be pre-ordered in person at the distillery, or via the company website. The 750 ml whiskey goes for $92—a nod to Magnus's founding year of 1892—while the gin is a more wallet-friendly option at $32. The whiskey is going quickly, and is near the sell out point.
Jos. A. Magnus & Co. 2052 West Virginia Ave., NE #202. Soft-opening hours: Saturday from 1 to 9.