It's almost Labor Day, which means tourism season is about to wane. And few places should be as thrilled for the drop-off in visitors as Washington, residents of which write the most expletive-filled tweets per capita of any major US city, according to an analysis commissioned by private-air-charter company Stratos Jets.
Just because domestic visitors spent $6.8 billion in the District in 2014, according to the city's tourism bureau, doesn't mean they were actually that appreciated by the locals. The report from Stratos collected tens of thousands of geotagged tweets mentioning "tourists," or similar phrases, from across the United States, and found that among the 26 cities it analyzed, people in DC get the mouthiest about their guests. It also found that as a region, the South—defined rather broadly on this map—is not actually that hospitable and shows a higher level of disgust with tourists than the Northeast, Midwest, and West, which loves its tourists the most.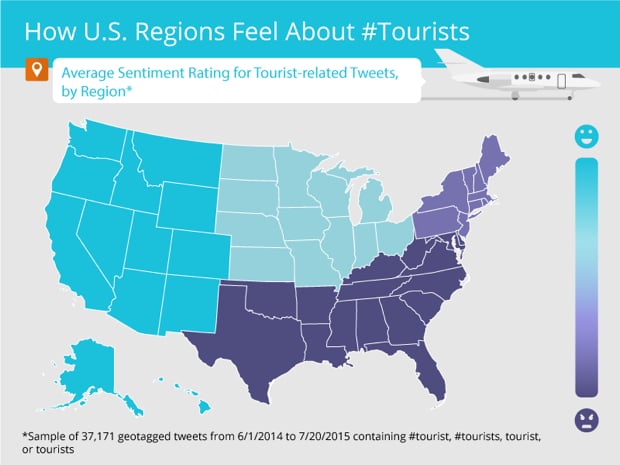 Weirdly, though, while Washingtonians are very expressive in how they feel about out-of-towners, the District actually landed on Stratos's list of most-tourist-loving cities. (Chicago was No. 1.) Washington was ranked the seventh-most tourist-loving, just ahead of Houston and Paradise, Nevada (an unincorporated community that includes the bulk of the Las Vegas Strip).
Because attempting to make sense of a report that claims Washington residents loves their tourists more than most yet swear at them more than anyone else would be nearly as infuriating as a family of four from Fond-du-Lac, Wisconsin crowding the left side of an escalator, here are some examples of people from DC mouthing off about the tourists, many of which involve Metro:
It's things like this that f-up my metro commute during tourist season. #standtotheright https://t.co/5UbRtpM2Lo

— Brandon Davis (@brandom52) August 26, 2015
Then these tourist assholes hold the metro doors open as if it's funny. Bitch I'm tryna get to work!

— Ms. Gregory (@SashaLG) May 25, 2014
There's a fucking tourist taking pictures of people on the metro

— Michael (@MichaelMcArdle) September 1, 2013
I fucking hate DC tourist! It's rush hour bitch! Get your slow, lost, site seeing ass out the way!

— Cindi May (@Sillie_B) May 31, 2013
The tourist fuckery on the metro is impossible.

— thirty racks (@SuburbanLara) September 5, 2010
Slow-ass tourists on the Metrorail platform need to pick up the pace.

— Benjamin Freed (@brfreed) October 28, 2011