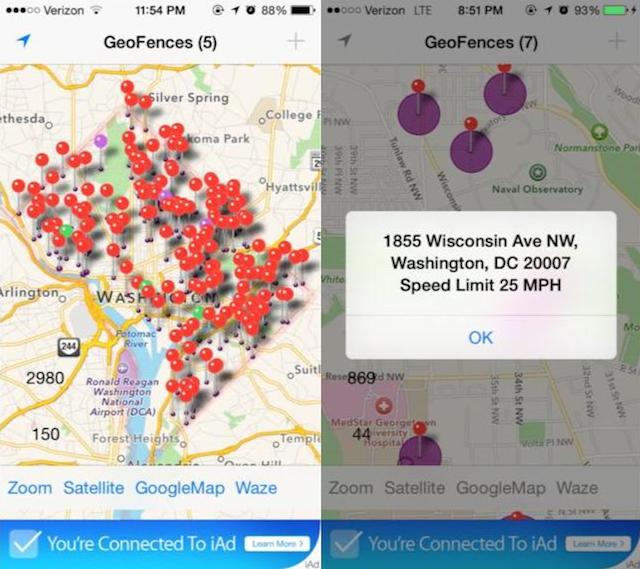 Earlier this fall Apple rejected an app called Speed Cameras Alert, which alerts users when they're approaching a traffic camera in the District. The company said the app "contains content or facilitates, enables, and encourages an activity ­that is not legal," according to a portion of Apple's letter to developer Charles Yeh that ran in the Washington Post.
Apple has since reversed course–Speed Cameras Alert is now available in the App Store. So what happened? Apple changed its decision without telling Yeh why, Faiz Siddiqui reported last week.
DC's police department was not a factor in the rejection. "The goal of our automated enforcement program is to improve roadway safety," says police spokesperson Lieutenant Sean Conboy in an email. "Placement of cameras and the visual cues such as signage and roadway re-striping that accompany installation also contribute to drivers slowing down or being cognizant of their driving habits within enforcement areas." And if anything, he says, "Increased knowledge about the program and camera locations contributes to safer driving."
Conboy points out that mobile traffic camera apps have existed for quite some time—many of which operate nationally or at least on a much larger scale than DC-only Speed Cameras Alert. Among them? Waze, which is owned by Google and has tens of millions of users nationwide; PhantomALERT; and RedflexLocator.
Bottom line: even though the city's approximately 300 cameras generate millions in revenue for the city (when they work), traffic camera locations are public information, so an app that triangulates your position relative to them is not illegal. It remains illegal, however, to use your phone without a hands-free device while driving.
Apple did not reply to a request for comment.