District residents who have less than a four-year college degree have seen their wages fall continuously since 1980 when adjusted for inflation, according to an analysis that will be published Thursday by the DC Fiscal Policy Institute. People with just a few years of higher education have endured their hourly pay fall from $16 to $15 in 2014, and high-school graduates dropped from $15 per hour to $13 per hour in 2014. Meanwhile, DC workers with less than a high-school diploma saw their median wages dropping below $12 per hour through 2007.
But wages are growing for residents with bachelor's degrees or better, rising 17 percent from $25.54 in 1980 to $31.12 per hour in 2014.
While the trend lines reported by DCFPI track largely with national wage fluctuations—especially in the years since the Great Recession—they are more exaggerated in the District, where 48.5 percent of residents have at least four years of post-secondary education, compared to just 28.1 percent nationally.
But that still leaves more than half the District's adult residents without a college degree—81,000 have just a high-school diploma, while another 50,000 have less than that, DCFPI reports. And that translates into far higher unemployment rates and much lower incomes.
While only 5 percent of DC's college-educated residents are unemployed, those with incomplete degrees are at 19 percent, while people with just a high-school diploma are at 28 percent.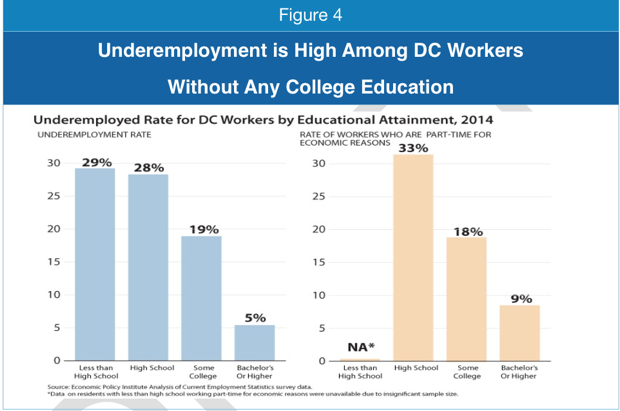 The findings also come after a stretch in which the District's economy has overwhelmingly favored high-skilled professions that require advanced training, especially in education, health, and professional services, which have added tens of thousands of positions since 1990. Education and health, together, have been the fastest-growing sector for job growth in the past quarter-century, bringing 50,000 new jobs to the District since 1990, to nearly 130,000 today. Professional and business services, long DC's biggest job pool, have added 47,000 positions in the last 25 years.
Unlike many large US cities, the District has never had much of a manufacturing base, leaving leisure and hospitality services, as well as a few unskilled health-care functions, as the primary job markets for unskilled and less-educated workers. While the health-and-education sector's payroll has grown by 65 percent since 1990, hospitality is not far behind, growing by 47 percent over the same period.
And wages in that segment of the District's economy are increasingly difficult to live on. The DCFPI report finds that the median wage for food preparation is $10.82 per hour, just 32 cents more than the current minimum wage. Unskilled positions in the health field do not fare much better, with a physical-therapy aide earning a median of $14.31 per hour, which translates to less than $30,000 if it is a full-time, year-round job. That is still below the the cities living wage—the income needed to afford basic living expenses—which DCFPI pegs at $14.84 for an individual and $20.27 for a family of four.
But the report has a few proposed remedies, including an increase in the minimum wage. While DC's minimum is scheduled to rise to $11.50 per hour next July 1, there is a push to have the city vote next year on an increase to $15 per hour.
More directly, though, DCFPI recommends the District enact stronger job-training programs to raise the incomes of the lowest-paid service workers. A physical therapy aide, for example, could be trained as a physical therapist and could earn $39.21 per hour, or $81,500 per year, the report suggests.
Such a program could be in the planning. The Workforce Innovation and Opportunity Act, a federal law signed by President Obama in 2014, requires DC Mayor Muriel Bowser to submit plans for expanded job-training programs to the Labor Department by March 2016.