The print edition of Friday's Washington Post offered greeting after full-page greeting to South Korean President Park Geun-hye, who was in Washington for meetings with her US counterparts: "It's an important visit, which underscores the strength and breadth of the relationship between the United States and Korea," the LG corporation wrote over a photo of the two nations' flags billowing majestically against a blue sky. "We welcome Park Geun-hye," wrote SK hynix, over a photo of the two nations' flags, billowing majestically in front of the Washington Monument. "Based on friendship and trust between the United States and the Republic of Korea, we hope for continued cooperation and growth of both nations," Samsung wrote atop a bizarre photo of a young girl in a tiara with her mouth open, holding a bouquet of flowers with the flags of both nations flying from roses within, and a scaffolding-free US Capitol in the background.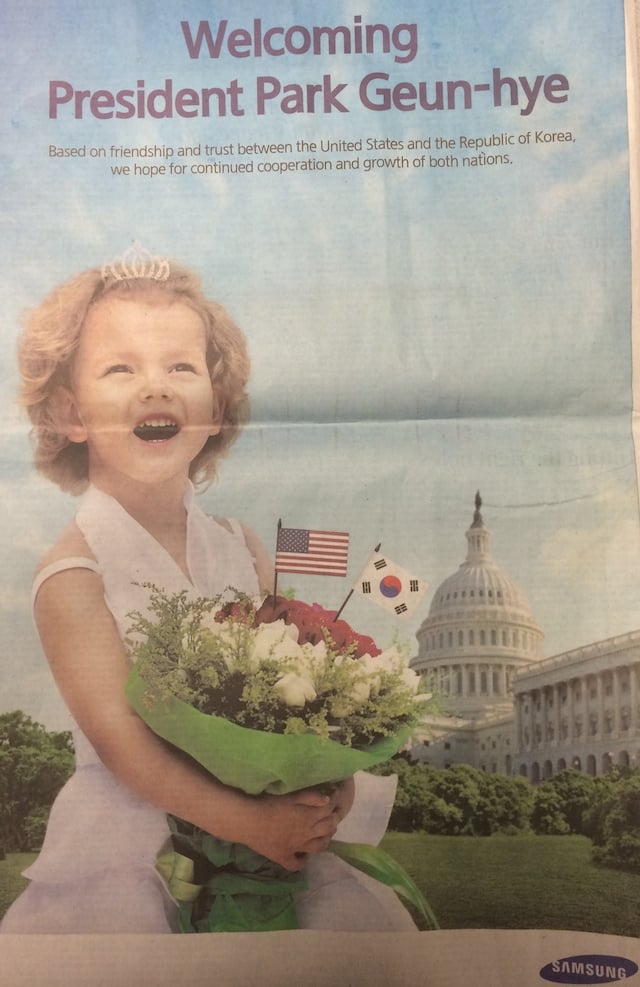 In all, four very expensive full-page four-color ads, including two of what the Post's 2016 rate card calls premium positions (page A5 for the Korean Culture and Information Service and the back page for Samsung; Post spokesperson Kris Coratti declined to talk about what these ads cost). Has the Post figured out a new revenue source in these days of shrinking print budgets—expensive ads from foreign corporations with a target audience of one?
Actually, it's not new, says Coratti. The paper has gone after such ads for years, she says, citing the US-Africa Leaders Summit in August 2014 as another time.
Issue advertising is a mainstay of Washington publications—You can't get through Politico's daily print edition without seeing, say, a full-throated cry from the Association of American Medical Colleges asking Congress not to cut funding for teaching hospitals, or flip through the Washington Examiner without the Innovation Alliance asking Congress to look skeptically at HR-9 and S-1137.
What's less clear is the efficacy of these advertisements—the South Korean embassy has not yet replied to a query as to whether Park happened to see them.