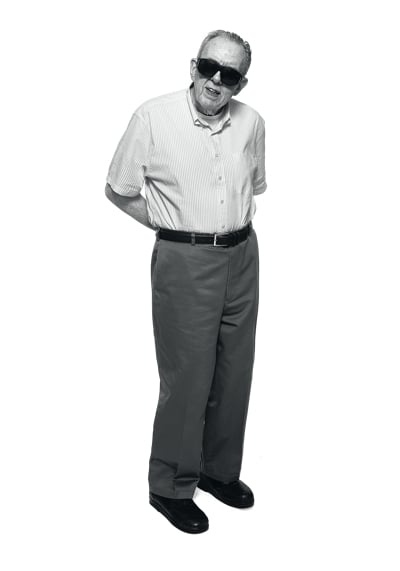 Ed Walker, who entertained Washington's radio listeners for 65 years, died Monday morning just hours after his final episode of The Big Broadcast, the WAMU program he had hosted since 1990. Walker was 83, and passed away after listening to Sunday's show with his family, the station announced.
Born in 1932 in Forrest, Illinois, and growing up in DC after moving with his family, Walker enrolled at American University in 1950, becoming the school's first blind student. A lover of radio since childhood, Walker helped found the college-radio station that would evolve into WAMU, a project on which he was eventually joined by future NBC weather presenter Willard Scott.
"Radio was everything to me, not being able to see," Walker, who was born blind, told NPR in 2014. "The sound on radio was important. Radio took the place of comic books and newspapers and the funnies and all that stuff. So I grew up with it."
In 1955 Walker and Scott went to WRC radio and launched The Joy Boys, a sketch-comedy and interview program that ran until 1974.
"We interviewed everyone," Scott said in a recent interview with Washingtonian. "We interviewed Milton Berle, Jack Benny. These were stars of our generation. Henry Kissinger was with us one time—he was a Joy Boys fan."
After The Joy Boys ended, Walker hosted several local radio and television shows around DC. Walker landed his second famous gig in 1990 when he returned to WAMU to take over The Big Broadcast, the station's long-running anthology series of many of the old radio dramas and serials that first aired during his childhood. As the Big Broadcast's host, Walker became the emcee for well-loved archival titles like Gunsmoke, The Lone Ranger, Fibber McGee and Molly, the Jack Benny Show, and Johnny Dollar.
Walker was inducted into the Radio Hall of Fame in 2009, and celebrated by goofing around in front of an old NBC microphone with Scott.
"When you're born blind, as I was, you learn to compensate as you're growing up," Walker told Washingtonian in 1976. "The thing that I don't have any concept of is color. Someone who has seen and loses his sight, he'd still know how to write his name. I had to go out and learn to write my name. The whole thing is a tactile experience. My dreams are tactile. There is a misconception that my hearing is better than yours. It isn't. I just use it more."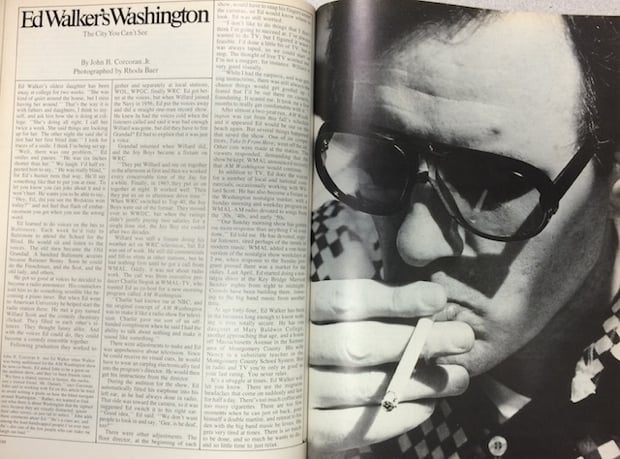 In 2014, Walker's 64th year on the air, The Big Broadcast marked its 50th anniversary on WAMU, a seemingly improbably run for a four-hour program of golden-age radio serials in the age of television. But Walker told NPR the audience stays young.
"They have television, but I've gotten emails that say, 'We don't even turn the television on on Sunday night,' " Walker said. "And they love it, because with the good sound effects and everything like that, it is—somebody referred to radio as the theater of the mind, which it is."
Walker was hospitalized in early October during an extended battle with cancer. As his health faltered, he missed the the October 11 broadcast, and he announced last week Sunday's Big Broadcast would be his final show. (The series will continue, hosted by Rob Bamberger, who currently hosts WAMU's Hot Jazz Saturday Night.)
Sunday's Big Broadcast was recorded in Walker's room at Sibley Memorial Hospital. Though his voice had faded from illness and treatment, the show still came together, from the swelling orchestra that opens the show, to clips from Gunsmoke, Dragnet, and Joy Boys bloopers.
"Goodbyes are very hard to do, especially when this has been a labor of love more than anything else," Walker said as the show concluded. "So for one more time, let's end the show the way we always do," segueing into one last playing of the Eddie Cantor song that closes the broadcast.
"We were pleased to be able to record this final show with him, and grateful for the years he shared with WAMU and the entire Washington region," a WAMU statement reads. "He was one of a kind."
The station says Walker's family plans to hold a public memorial service for listeners can attend.