Thursday's New York Times and Washington Post front pages had very different takes on the fate of Abdelhamid Abaaoud, who allegedly organized last week's attacks in Paris. The Washington Post reported Wednesday at 12:56 PM Eastern time that two officials had confirmed Abaaoud had been killed in a raid just outside Paris that morning. The French prosecutor's office confirmed his death Thursday morning.
"No one was ahead of us," Washington Post foreign editor Douglas Jehl tells Washingtonian. Jehl says Post reporter Souad Mekhennet had two sources saying Abaaoud was dead before any other reporters. Post Berlin bureau chief Anthony Faiola, Jehl says, alerted his editors at 12:46 PM ET Wednesday that Mekhennet had the goods. "We discussed the sourcing with Tony, and made a decision to alert," he writes in an email.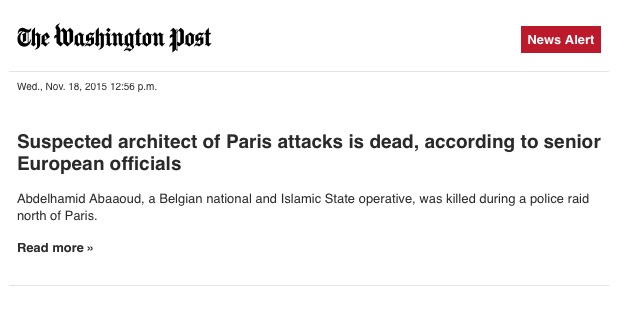 But wait a second! What about Politico, which brought its high-tempo news operation to Europe this spring? In fact, Politico Europe reporter Tara Palmeri said in a tweet at 11:41 AM ET that a "Belgian Official" had said Abaaoud was killed in the raid.
BREAKING: Belgian Official: Abaaoud died in French raid in St denis area of Paris #ParisAttacks

— Tara Palmeri (@tarapalmeri) November 18, 2015

Politico's report at 8:58 PM Central Europe Time Wednesday (2:58 PM ET) , though, soft-pedaled this scoop: The headline is "Paris raid thwarted another attack," not the far splashier news that Abaaoud was dead. And that information doesn't get aired out until the fifth paragraph:
A high-ranking Belgian official told POLITICO that one of the people killed was Abaaoud. The official said Belgian ministers received the message about Abaaoud Wednesday afternoon from French services.
As Molins was briefing journalists, the Washington Post published a story reporting that Abaaoud was among the dead, citing two European intelligence officials.
At least one Politico employee said this morning that Politico had scooped everyone on this story.
21 hours ago —> RT @tarapalmeri: BREAKING: Belgian Official: Abaaoud died in French raid in St denis area of Paris #ParisAttacks

— Blake Hounshell (@blakehounshell) November 19, 2015
"To our knowledge, Tara was the first one to report it through her Twitter account," Politico Europe managing editor Carrie Budoff Brown tells Washingtonian in an email. "As we have explained in our stories, she received confirmation from a senior Belgian official who attended a Belgian ministers briefing Wednesday afternoon where they were informed of his death by French services. "
And yet journalism nerds–you know, the only people who care who got scoops–will note one big difference in these claims to primacy: Politico cites an official. The Post had the all-important second source. In other words, it was the confirmation, not the information, that won the day.
Jehl notes Politico's Wednesday night story followed the Post's initial alert and says, "It wasn't until 7:30 a.m. EDT today that the news was confirmed by French prosecutors and that our major competitors, including the Wall Street Journal, the New York Times, the Guardian and CNN, were finally able to match this extraordinary exclusive."
Oh yeah, what about the Times? Where was it in this race? "We reported the news when we had confirmation," Times spokesperson Eileen Murphy writes in an email.
A final style note: News organizations continue to call Abaaoud the attacks' "mastermind." As Politico's Jack Shafer wrote earlier this week, that's a lousy way to describe him.