Hidden from the suburban sprawl of Silver Spring is a place where over 55,000 best friends lie in eternal slumber. Sitting across the street from a strip mall, Aspin Hill Memorial Park is believed to be the country's second-oldest pet cemetery. The 95-year-old graveyard is dotted with concrete busts of dogs, black-and-white ceramic cats, photos, and inscriptions like "Part of my heart is buried here."
And, if you can believe it, Aspin Hill is one of the few animal graveyards to also host human remains, with more than two dozen pet owners buried alongside their furry pals.
"[It's] a poignant memorial to the love shared between people and their pets," the Montgomery County Humane Society's Cris Bombaugh says. "It's really moving. It brings people to tears."
The cemetery traces its origins back to 1920, when local dog breeders Richard and Bertha Birney bought about ten acres in Rockville, where they established a kennel that specialized mainly in Boston Terriers. They named it "Aspin Hill Kennel," not after nearby Aspen Hill Road, but perhaps after a much-admired English kennel that shares the unfamiliar spelling. The Birneys' kennel soon became well-regarded, with sources from the time noting that the kennel was the only authorized animal hospital south of New York and was famed for "attracting nationwide attention for their prize-winning dogs."
A year after opening the kennel, the Birneys added a pet cemetery following a visit to the nation's oldest one in Hartsdale, New York. While the Birneys first used it only for their own dogs, they realized that opening it to other pet owners could be a good source of income. An early brochure for Aspin Hill advertised it as a place where "the owners of faithful pets could feel assured of a permanent well-kept resting place for their real friends." It also claimed that "authorities" (whoever that meant) credited it as the "only accredited cemetery of its kind in the south," one of the most attractive cemeteries in the country, and "destined to become one of the most noted canine cemeteries in the world."
Aspin Hill Memorial quickly became the place to bury a furry friend near the nation's capital. J. Edgar Hoover buried seven of his dogs at Aspin Hill; World War I hero pup Rags's grave is still adorned with an American flag; and President Lyndon B. Johnson's had his beloved beagles, Him and Her, cremated at Aspin Hill before burying them at his ranch in Texas.
But Aspin Hill's most famous resident isn't an old politician's hound, it's a movie star. General Grant of RKO, also known as Jiggs, was the real name of an old Hollywood dog believed to have played "Petey" in the 1930s short-film series Our Gang. (The cemetery hasn't been able to confirm the role.) But since 1938, General Grant has rested near the back of Aspin Hill (Although there were several Peteys over the run of Our Gang; another is buried near Los Angeles.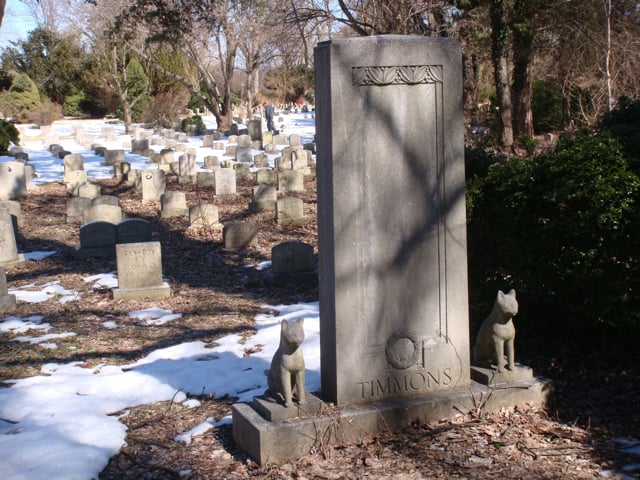 The cemetery remained in the Birney family until 1946, then bounced between owners ranging from a local embalmer to PETA to the Chesapeake Wildlife Sanctuary to the Montgomery County Humane Society, which took over in 2007. Much of the original property still remains intact, with many of the old kennel buildings separated from the cemetery area by a fence. But nearly century in, the park's age is starting to show, with toppled stones and overgrowth. But the lack of grooming just shows off its historical character. Weaving between gravestones, it is easy to get choked up seeing names like "Fluffy" or "Moses" and thinking about how much these pets meant to their owners. A few burial sites even have human names next to animal gravestones. Bombaugh says that the remains of about 30 people are also buried there.
There is still some uncertainty about exactly who is buried at Aspin Hill. While the Humane Society does have decent records it's not the easiest task to identify animals. After all, pets rarely have a last name. Because of this, Bombaugh says, the range of animals buried at Aspin Hill is "almost as much lore as anything else." She notes an old rumor that one of the movie dogs that played Rin Tin Tin is there, but that it's likely false.
While Aspin Hill Memorial Park is still technically an active cemetery, it is not currently selling plots due to space limitations—only current plot owners who have space available can bury their pets. This takes away a potential revenue source from the Humane Society and forces it to rely on donations to maintain the property. "Always our immediate concern is making sure that we have the resources to continue to care for the property," says Bombaugh.
The memories of thousands of best friends are counting on it.