The photo almost looks fake—a glitzy, puffy-eyed rock star shaking hands with a severely self-conscious President of the United States. But the unforgettable pairing of Elvis Presley and Richard Nixon happened 45 years ago today when they met in secret at the White House and posed for what went on to become one of the most republished images in presidential history.
The photo is believed to be the most requested one in the National Archives (as a public-domain image, its actual metrics aren't known), and the Archives itself milks the photo's infamy, stamping it on T-shirts, mugs, snow globes and puzzles in the gift shop.
"We have it on everything you can think of, and it all sells," says Babs Pinette, the National Archives Foundation's marketing director. But perhaps the only thing stranger than the picture and all the merchandise it has inspired is the story on how Presley and Nixon came to meet.
Presley and Nixon both had big years in 1970. The King of Rock was coming off a run of hugely successful Las Vegas shows that broke attendance records and reinstated him as a major, if hammier act. The Vegas residency featured the introductions of Presley's fringed jumpsuits and on-stage karate moves. Earning a reported $1 million annual salary, Presley was also settling into the Vegas lifestyle. He kept a large gun collection at home and known to even carry a revolver on stage. Always a target for death threats and blackmail, he also grew more and more paranoid. In addition, according to his wife Priscilla, he regularly took a cocktail of prescription drugs that affected his mood.
Meanwhile, Nixon was two years into his presidency. In April, he had announced the invasion of Cambodia, while also continuing withdrawing troops from Vietnam. Later that year he started working aggressively to re-establish diplomatic relations with China. Nixon was also riding high domestially after signing the Clean Air Act.
Presley abruptly stormed out of Graceland on December 19 after an argument with his family over spending thousands of dollars on guns and cars as Christmas gifts. His first move was a seemingly random flight to DC, where he promptly turned around and flew to Los Angeles. After a day in his Beverly Hills mansion, Presley hopped a red-eye flight back to Washington, but with an actual itinerary. He used the flight to write a five-page letter to Nixon—on American Airlines stationery—to express his respect for the office of the President, his desire to help the country, and that he's already done an "in-depth study of drug abuse and Communist brainwashing techniques." And, not unlike a kid who asks the local sheriff for an honorary deputy's badge, he also asked Nixon to make him a "Federal Agent At-Large," writing that he would stay in DC "as long as it takes to get the credentials of a federal agent." He also told Nixon where he'd be staying (the Hotel Washington), his phone number, his alias (Jon Burrows), and that he would be bringing a gift for the president. The rest of the letter is barely legible.
"I mean, my eyes got tired trying to read the letter," says Michael Ellzey, the director of the Richard Nixon Presidential Library and Museum in Yorba Linda, California.
Presley approached the White House gate at dawn to hand deliver his letter. The guards recognized him and placed a call to Nixon aide Egil "Bud" Krogh, saying that the "King" was at the front gate. Korgh thought it was a joke, but he summoned Presley, along with his two bodyguards, to his office. As Krogh explained to Frontline in 2000, Presley arrived at his office "dressed in a purple jumpsuit and a white shirt open to the navel with a big gold chain and thick-rimmed sunglasses."
Being a big fan and thinking that the President would appreciate singer's deep desire to help his country, Krogh arranged the meeting for later that day. "It does appear there was a legitimate respect from Presley for Nixon and the presidency," Ellzey says.
Presley went back to his hotel for a bit and returned to the White House about noon for his meeting with Nixon. In his hands was his gift—a World War II-era Colt .45 pistol that was promptly confiscated by the Secret Service. Krogh then escorted the awe-struck Presley into the Oval Office.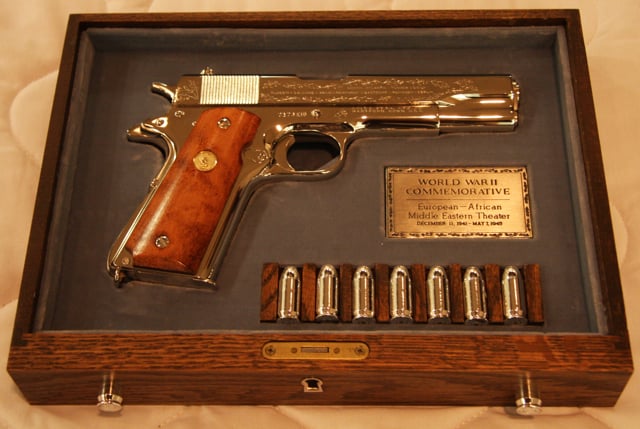 Unfortunately, Nixon's infamous taping system had not been installed yet, so there's no exact record of the meeting, but Krogh did take notes. Years later, he admitted it got pretty weird.
The historic photo actually came first. Presley then showed Nixon his collection of his honorary police badges. Next, the conversation moved to performing in Las Vegas, reaching young people, and Presley's declaration that the Beatles were a "real force for anti-American spirit."
Presley's culture-war comments caught the socially awkward Nixon off-guard, Krogh noted.
"My understanding is that [Nixon] moved the subject to drugs as being anti-American," says Ellzey. "I do think this kindred spirit between them was much about drugs' impact on the youth in our society. I think they found common ground there, but I think the Beatles comment went right past the president."
The meeting lasted about 15 minutes. Near the end, according to Krogh's notes, Presley got rather emotional and "in a surprising, spontaneous gesture, put his left arm around the President and hugged him."
After the meeting, Elvis got a badge from the Bureau of Narcotics and Dangerous Drugs (the predecessor to the Drug Enforcement Administration), thus—at least in his eyes—giving him the title of "Federal Agent At-Large." But the meeting was kept secret from both the public and media for more than year until the Washington Post broke the story in January 1972. Presley's airline-stationery letter, Krogh's notes, and the gun he tried to give the president are all housed today at the Nixon Library.