For almost two years, I've had a desk overlooking Franklin Square. I couldn't ask for a better view: a lush tree canopy, winding paths, an entire city block full of rolling green.
Things are different, though, when I go downstairs to eat lunch in the park, which is bounded by 13th, 14th, I, and K streets, Northwest. The grass is patchy. The fountain is crumbling, draped in bird poop, and surrounded by a puddle of stagnant water. The benches seem to date to World War II (and to have seen some action in it).
The weirdest thing, though, is the people: There aren't very many. You'll find some Segway-riding tourists (it's where mobile tours start) and homeless people (there's a free lunch service) and—on a nice day—a cohort of office-worker types. But considering how many folks work nearby, it still feels puny. On colder days, the park is desolate.
Things would be different if I worked three blocks west on Farragut Square. Though smaller, it draws a much bigger crowd. Even on marginal days, it's full of people—eating, strolling, sitting on the immaculate grass. The local Business Improvement District sets out tables in summer and arranges programming such as movies and Pilates class. In December, there are holiday destinations.
Both squares are on Metro. Both are surrounded by office buildings. Both host food trucks. They're separated by only a seven-minute stroll. So why are they so different?
Part of it is programming and maintenance. But even more, it's about design and development—the sort of things that ordinary lunch-hour pedestrians don't notice but that make a big difference.
The blocks around Farragut have long been lined with little businesses, from newsstands to white-tablecloth restaurants. The commerce draws people, who breathe life into the park. Its size is actually a plus: Limited space makes it look more vibrant, drawing still more people. With fewer trees than Franklin Square, Farragut has clear sightlines (which subconsciously reassure people about safety). Those qualities also make the space easier to adapt to different activities.
Around Franklin Square, by contrast, many of the buildings don't have street-level retail. With only a small handful of shops, fewer people crisscross the square for midday errands like filling an eyeglass prescription or picking up a bouquet. There are also not as many places to buy a sandwich to eat in the park. Less foot traffic means the square looks empty, repelling even more would-be visitors, who experience the underpopulated space as seedy and possibly dangerous.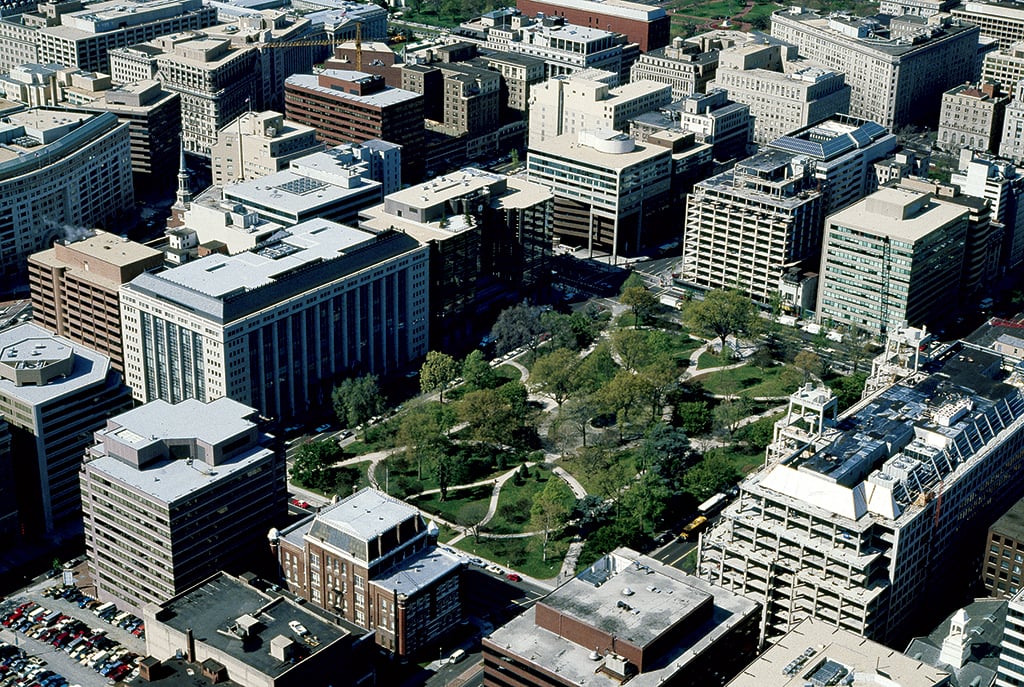 No wonder the only regularly scheduled event in the park is Street Church, an outdoor worship service geared toward the homeless.
The irony here is that, once upon a time, Franklin was the more stately square.
Never part of Pierre L'Enfant's original 1791 plan for the capital city, Franklin Square in the 19th century was basically an open field with natural springs running through it. The springs, in fact, were the White House's primary water source. The square became a bit more developed around the turn of the 20th century, when it hosted a playground for kids from the Franklin School across the street.
But in 1936, a major redesign set it apart. The playground was replaced by a rolling green space. Franklin had big trees, small slopes, and curving paths that encouraged people to meander. The design created a park that was gorgeous and open, perfect for the growing business district of the nation's capital.
At the time, Franklin stood out because it wasn't like Farragut and parks of its ilk: straight, wide paths, landscaping that flattened natural inclines, and no hint of whimsy. But Franklin's broad, rolling space, designed as a sylvan respite, would come to discourage behaviors that make an urban square feel vibrant—eating, chatting, or just dashing through on your way home. Take a look at the well-worn dirt paths that transect the park and you'll see that where people really want to go (especially when they're rushing to catch a bus) is different from the sinuous paths that took strollers where the long-gone planners thought they should go. By the 1960s, the adjacent block housed DC's smut shops. Those stores were eventually chased off, but the square itself remained listless.
Now things might be about to change. Since 2012, plans have been brewing to revive Franklin Square. The National Park Service, which owns the space, is working with DC and the downtown Business Improvement District to renovate it. The National Capital Planning Commission approved a preliminary site plan in December.
The plan, designed by ZGF Architects and the Olin Studio, focuses on ways to make the square a more versatile venue. It consists of three big changes that should give Franklin the shot in the arm it desperately needs.
First, a small cafe will create more street activity, via outdoor seating. A pedestrian mall will provide space for a farmers market, musical performances, or art exhibits, while giving people waiting for the bus a comfortable, dignified place to wait.
Second, the central plaza will get better seating and ledges where people might actually want to perch during lunchtime. The fountain will become an "interactive water feature," giving visitors something to look at (and splash their hands around in).
Finally, the playground will come back after 80 years, but with cool 21st-century amenities such as climbing rocks. A playground gives people other than office workers a reason to linger, helping make the space feel both alive and safe.
As part of the renovations, 46 trees—a third of which are unhealthy—will be removed. Replacements will be planted in a new layout that opens up sightlines, making it easier to see what's going on and improving the perception of safety.
Of course, one thing no park design can do is animate the streets around Franklin Square, where it's up to developers to fit in the kinds of retail or residential space that will lure more people and create more vitality.
But the new look might just get a virtuous cycle going: more people in the park, making the surrounding streets more attractive to retail, which will in turn bring more life to the sidewalks and then to the park itself.
Downtown DC has no shortage of dead parks—which is odd considering how much more popular the central city has become. Under this plan, Franklin Square might become a place people actually want to go. Which would be great news for me, in all ways but one: It could soon become harder for me to find a place to sit at lunch.
Dan Reed, a transportation planner and recovering architect, writes Just Up the Pike, a blog focusing on Montgomery County. He can be reached at justupthepike@gmail.com.
This article appears in the February 2016 issue of Washingtonian.