As the largest coffeehouse company in the world, with about 50 shops in Washington, D.C. alone, the odds are good that you've ducked into Starbucks for a breakfast-on-the-go at least once. Or maybe you have a daily habit … no judgment! 
After all, when you're rushing to catch the (unreliable, to say the least) Metro, it can be challenging to make time for a full-on healthy breakfast. And that's when Starbucks comes in handy. You can pop in and grab a bite—tucking it safely in your bag to avoid violating Metro rules, right?
But travelers beware—your meal might reduce those hunger pains, but is it filling and healthy?
Here are five Starbucks breakfast options we recommend for the health-conscious commuter:
Caffeine Without the Extra Calories
If a solid caffeine fix is your breakfast of choice, make sure you're not sacrificing your health. Many drinks like a cafe mocha, caramel macchiato and a vanilla latte will set you back hundreds of calories. Instead, opt for a freshly brewed cup of coffee, ask for no whipped cream, use only half a packet of sugar (or none at all!) and don't add any milk. Following these tips will get you the pick-me-up you crave without the unwanted calories!
Spinach & Feta Breakfast Wrap
Looking for something a little more substantial to kickstart your day? Grab one of Starbucks' Spinach & Feta Breakfast Wraps. Full of egg whites, spinach and feta and packed into a wheat wrap, this meal has the protein and fiber you need to stay full. Ignore other breakfast options like the Starbucks Sausage and Cheddar sandwich. It might look healthy, but at 500 calories, this sandwich is everything but. Dodge that unwanted fat and sodium and stick with the wrap!
Oatmeal for Breakfast
Oatmeal is a tried and true breakfast option, and that doesn't change when it comes to Starbucks' version. With no added sugar to mess up an otherwise healthy meal, the Starbucks Steel Cut Oatmeal will keep you full when you're on the go. It's a little low on protein—only 5 grams—so make sure to chow down on some yogurt or a hardboiled egg later on in the day.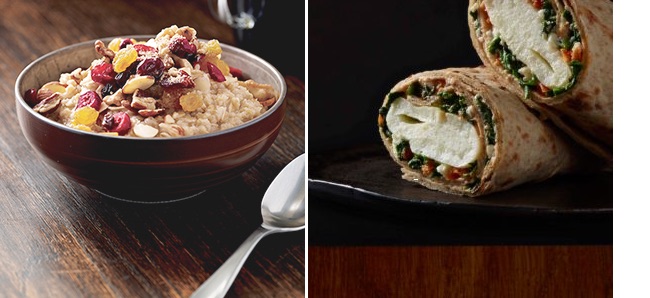 Juice it Up
For those of you looking to get a healthy dose of veggies first thing in the morning—without the hassle of having to break out your juicer—Starbucks' Evolution Fresh juices are the way to go. "The best one is the Sweet Greens and Lemon, because it's 50 calories and packed with veggies like celery, cucumber, and spinach," says Everyday Health. While the juice won't fill you up for long—you'll need to grab a snack at the office—it'll provide a nutritional boost that'll help keep you healthy.
Lunch for Breakfast
Break the rules a little bit and enjoy lunch for breakfast. The Starbucks Protein Bistro Box is considered a midday meal, but don't fuss about the label. With 13 grams of protein and 5 grams of fiber, this option will help keep you full for longer. It's also got the added benefit of vitamins A and C and calcium and iron. So when you're running late and need a quick meal, grab the bistro box and enjoy lunch for breakfast. You rebel, you!