They don't call PR at Partners stylist Nadine Matar "A Blonde's Best Friend" for nothing: to start, the pro colorist has been with the salon for seven years, transforming all shades to gold and honey hues, including many of the local bloggers who entrust their locks to Matar's practiced hands. Just search the hashtag "#hairbynadinematar" on Instagram, and you'll find hundreds of her hair transformations.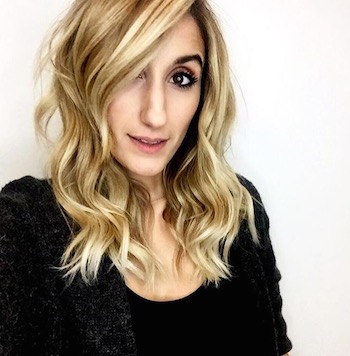 And that's not even to mention her own color journey, from her natural dark brown to the warm blonde she now sports in her current headshot. As the weather warms and we start thinking about lightening our own color for the summer, we reached out to Matar to find out what tips she has for those considering going blonde.
Before you start working with a new client, you require they come in for a consultation. Why is that?
To me, the consultation is the most important part of the appointment. I assess my clients' hair and their desired look. From there, we look at pictures and map out a journey to achieve their goal. I always discuss the necessary steps, as well as products and pricing, so that my client and I are on the same page from the very beginning. Most people think that hair color comes in a "one size fits all" package, but that is far from the truth. I consult with every client at the beginning of each appointment no matter how long they've been with me to ensure there are no surprises.
What natural hair colors are easiest to transform to blonde?
This question is tricky. Short answer: light blonde to light brown hair is ideal when going blonde. The lighter the natural hair, the easier it is to achieve a bright blonde. Things get tricky when someone has preexisting hair color that needs to be stripped out (to avoid brassy appearance). That said, anyone can go blonde! People with naturally darker should be prepared for a longer process that usually requires multiple visits. I'm naturally dark brown and my bright blonde hair has taken nearly two years to achieve because I've never wanted to compromise the length, strength, and integrity of my hair.
What about hair texture?
Typically, fine to medium hair responds best to the lightening process. Coarse hair can be a bit stubborn, but the real factor is how light or dark someone starts out and what hair color they've previously had.
What can women do to prep their hair for a major color transition? 
Deep conditioning treatments and regular trims! The healthier the hair is to begin, the easier it is to transition to blonde. And avoid at-home hair color like the plague. 
What's big right now, in terms of hair coloring?
Balayage! It is the perfect way to achieve high impact color while keeping it low maintenance and working with one's natural base color. Most balayage clients are highlighted two to four times per year, which is ideal for the busy DC woman. "Ecaille" (or "tortoiseshell") is really trending right now as well.
So if a woman is worried about the upkeep of dyeing her hair, what would you recommend? 
I sound like a broken record, but–balayage! You can do it once and never again because of how soft the grow out is. Getting toners or color glosses every two to three months keeps hair from going brassy and helps darken the hair if it's lightened up in the sun. It's definitely the fastest and most affordable way to freshen old color.
If you had to pick, what's your favorite way to transform a client's look?
Root stretching–I call it "melting"–is my favorite way to transform someone's look and create a seamless canvas for balayage. It allows me to blur out harsh lines and create a transition between natural base and highlighted ends. I'm also a fan of foils. They get a bad rap, but when done correctly, they're a great way to achieve bright blonde when someone wants to have intense impact from roots to ends.
Once they've gone blonde, what do you recommend clients use to keep their look strong between appointments?
Olaplex is a game changer. It is a bond multiplier that is added to bleach and helps prevent breakage. They make a take-home treatment that keeps hair strong in between appointments. I highly recommend that everyone do a weekly deep conditioning mask to keep hair healthy, especially all the bleach-addicted babes out there.