Over the past few weeks, new signs have gone up underneath standard-issue parking signs on some of DC's higher-profile blocks. While they have the look and feel of more parking advisories, they carry a message that might have more weight in 2016: "No Trump Anytime."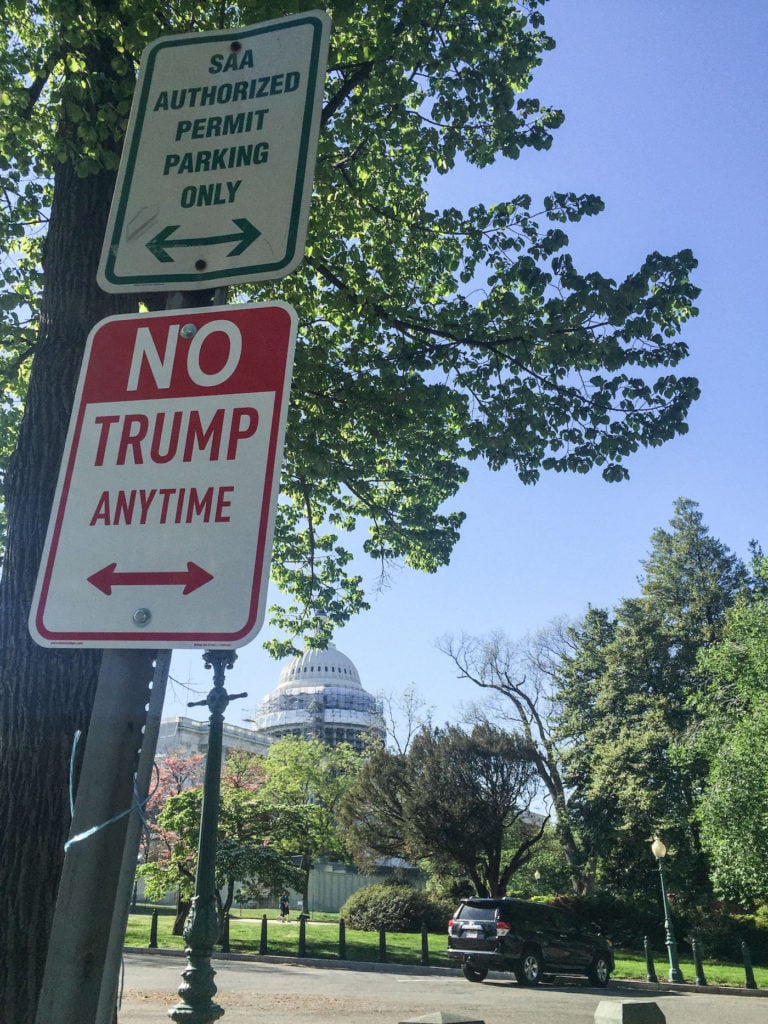 The signs are the work of the Los-Angeles based artist known as Plastic Jesus, who says he has also planted them around Los Angeles, New York, and Chicago to warn passersby of what presumptive Republican presidential nominee Donald Trump represents.
"I just think that the potential of Donald Trump becoming President of the US will have such a devastating effect on so many areas of life: on rights, freedoms, equality and so on," the artist tells Washingtonian. I wanted the 'No Trump' sign to show this on a national basis."
Plastic Jesus set out to release his Trump signs as a catalyst for political conversation, saying that most Americans were too lackadaisical when it comes to evaluating Trump as a political contender.
"I wish people in the US were more politically engaged," he says. "I'm from Europe and I think we take an extreme investment in the political system. It seems a lot of people in the US don't. Which is why politics are moving further to the extreme. The whole thing about democracy, and politics are moving so it's going to become harder for compromise. That's why it's most important to think about the decisions you will have to make."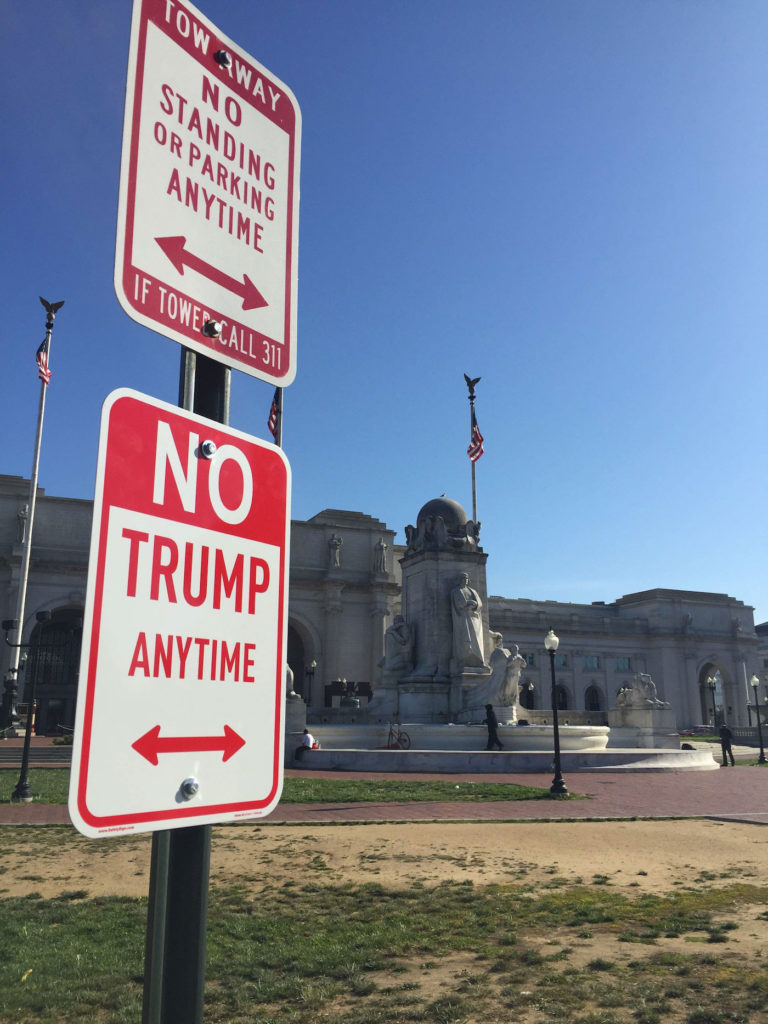 Plastic Jesus says he's using his art to start a conversation. So far, the signs have appeared outside the US Capitol, the Howard Theatre, and the Old Post Office, which the Trump Organization is converting into a luxury hotel scheduled to open in September.
"All art should generate or convey some kind of reaction or emotion," he says. "I just really want people to stop and think what effect [Trump will] have on them and their lifestyles, rights, and freedoms. The [New York] Times would never give me an opinion column, so for me, art is a way of getting a point of view out to people."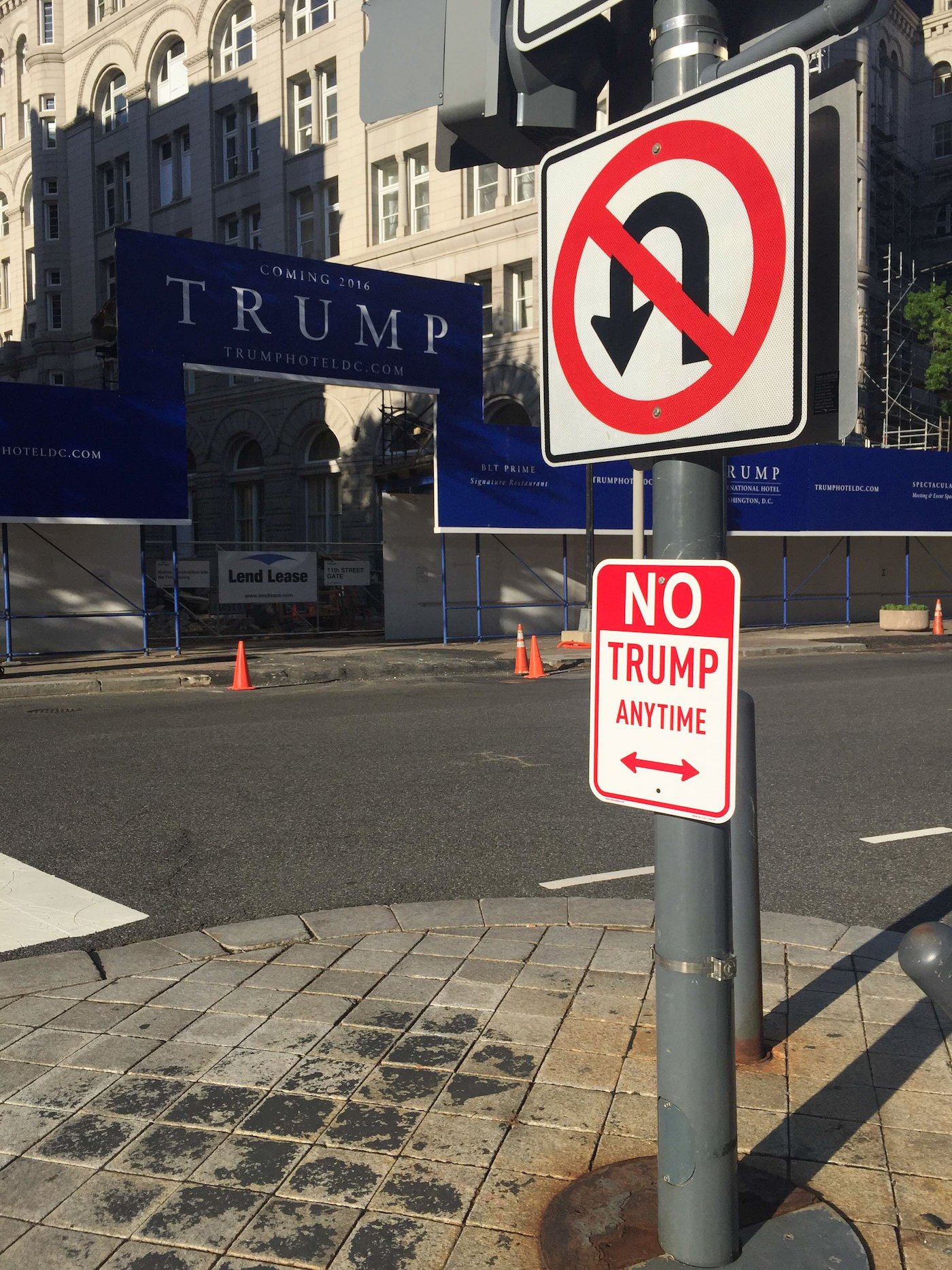 Plastic Jesus says he's been "blown away" by the response so far, which he says has included supporters of Senator Ted Cruz, who ran second to Trump in the GOP nominating process, applauding the signs.
The "No Trump Anytime" signs have caught so much attention that Plastic Jesus is now selling them as personal souvenirs. Check him out on Instagram @plasticjesus and his website plasticjesus.net.