Longtime DC news anchor Morris Jones signed off Tuesday night from WJLA and NewsChannel 8, the sibling stations where he has worked since 2010. In addition to anchor duties, Jones hosted Government Matters, a show about the business of our town, and the news and interview show Capital Insider.
He is not retiring.
"I still think I'm still too young to retire," Jones tells Washingtonian. "There are several things I want to do and even if I stay in media it'll be new media–the days of appointment TV are just not there anymore." Jones says the station offered him a contract extension, but that he was too interested in other possibilities including cyber security, IT, unmanned aerial vehicles, and perhaps having a hand in a reality show about power in Washington. (Reached by phone, WJLA community relations director Shamia Holloway declined to comment on the company's efforts to keep Jones.)
Plus, Jones says, "Cable is a beast you've got to keep feeding, and that business model was wearing me down." He spent a few years doing five-hour-long solo-anchor shifts–"I felt like Max Headroom after a while," he says, "and that even dates me. Millennials don't know who Max Headroom is anymore."
Jones spent 18 years at WTTG-TV before he anchored Sinclair Broadcasting's News Central broadcast from Baltimore. When he started at WTTG, the station was owned by Metromedia–"A jewel in the crown of broadcasters," Jones says–and he witnessed history there in many ways behind and away from the cameras, like when President Reagan called asking to speak to an engineer who'd written him a letter (Jones happened to answer the phone) and when he saw Barry Diller and Rupert Murdoch quietly visiting the station to kick the tires before News Corp bought six Metromedia stations and turned them into what would become the Fox Broadcasting Company.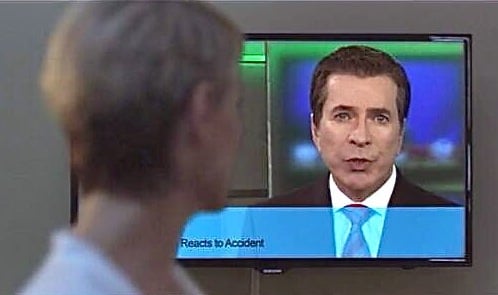 Jones also scored several Hollywood roles, playing a debate moderator in the 1978 mini-series Centennial, an anchor in the 1989 film The War of the Roses, and himself in two episodes of House of Cards. In a 2014 interview with Politico, Jones said he'd signed a nondisclosure agreement after he filmed his House of Cards appearances: "You know, the type of thing that if you ask me for details about the show, I'd have to kill you. In this case they might have killed me!"
I worked with Jones when I was at TBD, which was briefly also the name of NewsChannel 8. "I'm the only one left!" he says about the staff of that star-crossed operation. Local media obsessives may remember Jones as the composed foil to TBD Editor Erik Wemple's deranged "Fuego/Frio" segments, which often began with the phrase "Thanks for the toss, MoJo!"
"I was delighted to have worked with MoJo during my time at TBD," Wemple tells Washingtonian. "He was constantly on it, ready to innovate and eager to report the news. I regret only that we were colleagues for too short a time."
Asked to think of a favorite memory of his time at WJLA/NewsChannel 8, Jones says, "Just being a witness to contemporary history." 
On Facebook, Jones told people saddened by his departure that has "other things planned and this was the right time to take action." He continued: "But I don't think anything will equal the love and support that I've enjoyed from all of you these past years. In the meantime stay tuned!"