On Saturday morning, Donald Trump sent out a tweet reading "Crooked Hillary — Makes History!" with his diminutive for presumptive Democratic nominee Hillary Clinton paired with a graphic describing her as the "most corrupt candidate ever." But the placement of those words, on a six-pointed star—more commonly known as a Jewish Star of David—laid over a stock image of US currency—created instant unease and yet another instance of Trump associating himself with hateful language.
Although Trump's campaign eventually deleted the original tweet and replaced it with one featuring the same message, albeit with a poorly drawn circle masking the Star of David, the episode is another reminder that Trump's presidential run has had a great deal of proximity to anti-Semitic and other racist messaging. In February, he waffled about disavowing the support of former Ku Klux Klan leader David Duke. Jewish reporters who have written unflattering stories about Trump or his campaign have been sledged with abusive and threatening messages—often invoking the Holocaust—on social media. And since Saturday, Trump, his campaigns, and his surrogates, like fired campaign manager Corey Lewandowski, have claimed the star was actually a sheriff's badge, even though the "most corrupt candidate ever" image was quickly traced to an anti-Semitic message board.
Trump's mealymouthed explanation prompted Jonathan Greenblatt, the chief executive of the Anti-Defamation League, to issue a statement Monday night condemning the tweet: "This isn't a liberal or conservative issue. It's just common sense Donald Trump should stop playing the blame game and accept that his campaign tweeted an image with obvious anti-Semitic overtones and that, reportedly, was lifted from a white supremacist website."
This isn't the first time the ADL has condemned Trump. The organization had already knocked him for his recent slogan "America First," his supporters' attacks on Jewish journalists, his support from Duke and other white supremacists, and his xenophobic statements about Muslims and Hispanics. In a brief email interview with Washingtonian, Greenblatt explained why this most recent incident is particularly odious, and what he thinks Trump needs to do.
Can you briefly explain why Trump's tweet featuring a Star of David alongside a photograph of cash and allegations of corruption is so alarming?
The meme is a familiar one used by white supremacists and bigots to suggest that Jews are a corrupting influence in society. The theme of Jews, their alleged greed, and their use of money to sway influence is a classic anti-Semitic stereotype, and the six-pointed Star of David is often used by white supremacists as an anti-Semitic dog whistle.
What's more infuriating, that Trump tweeted it in the first place or that he and his surrogates keep trying to explain it away as a "sheriff's star"?
Fortunately, Trump pulled the tweet down fairly quickly, which is encouraging because he recognized its potential offensiveness right away. Still, he should stop playing the blame game and accept that his campaign tweeted an image with obvious anti-Semitic overtones and that, reportedly, was lifted from a white supremacist website.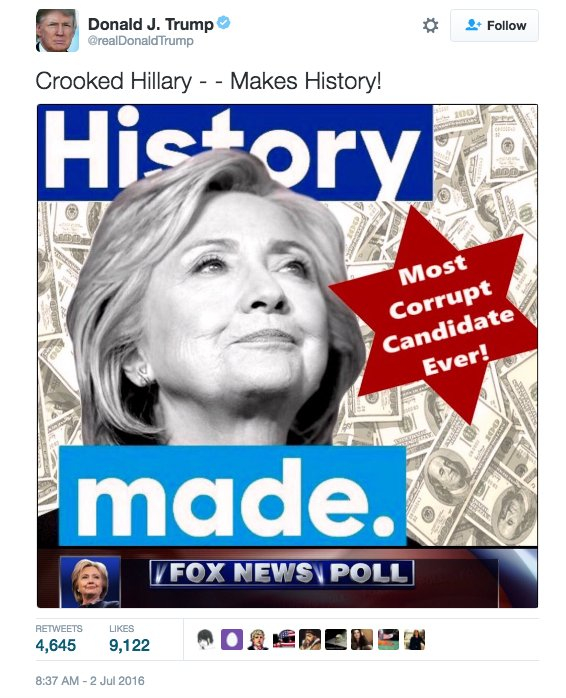 Since the presidential race started, the ADL has put out statements about Trump's proposed ban on Muslim travel, asked him to drop this new "America First" slogan, and offered assistance to Jewish journalists who find themselves at the end of horrific online abuse by Trump's most virulent supporters after reporting on him. This is a bit Haggadah-ish, but how is this election different from others you or the ADL have observed?
Just to be clear, the task force we formed was to address not just online abuse from Mr. Trump's supporters.  We have also seen similar harassment aimed at journalists from Bernie's "Bernie Bro" supporters and Hillary Clinton's most active supporters. This election is unlike any in recent memory, and one would have to go back to the pro-segregationist candidacy of George Wallace in 1968 to find a similar parallel.
Your annual audit reported that anti-Semitic incidents across the US "dramatically" increased in 2015, especially on college campuses and on the internet. Can any of this be connected to the current political environment?
We don't believe so. The audit only counted anti-Semitic incidents happening in 2015 and most of the incidents we catalogued were not politically motivated. We have no data, empirical or anecdotal, to suggest that anti-Semitic incidents have increased during this campaign season.
Is Donald Trump an anti-Semite? Or is he just incapable of seeing insulting, potentially dangerous language and imagery for what it is?
Absolutely not.  In fact, he's been a very strong supporter of the State of Israel and of Jewish charitable causes generally. And he has Jewish family members as well. But there's a group of hate-filled extremists orbiting around his campaign, and he needs to take a stand against anti-Semitism to ensure that their ideas remain far outside of the mainstream.