An occasional series of unfortunate experiences at well-known sites around DC.
To many, the Smithsonian name is synonymous with education, research, and grand architecture. But according to some, America's free museums actually have everybody fooled. Here are all the horrifying secrets of the galleries your tax dollars built, from the brave critics of Yelp and Google Reviews:
National Museum of Natural History
It's not like Night at the Museum (which is set at the American Museum of Natural History in New York).

Failure to advance human-squid relations.
?Evolution.?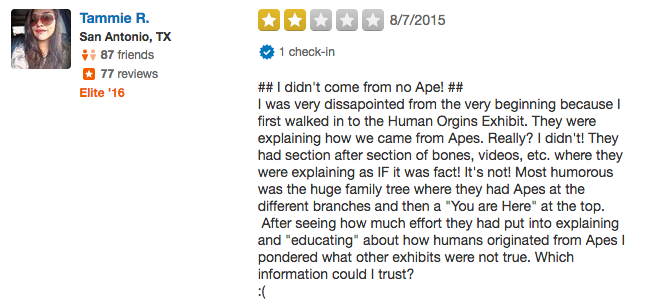 "NO DINOSAURS!!!"

(Editor's note: Kyle R. should schedule a return trip for 2019.)
Or just go to New York instead.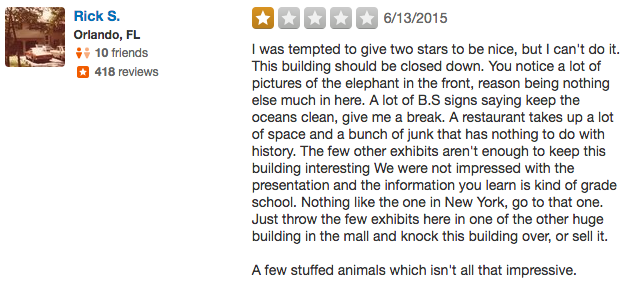 Freer and Sackler Galleries
Interesting ≠ Enjoyable.

Went looking for the Declaration of Independence, got the wrong building, grammar.
Basically just a catalog of upscale home furnishings, but without the return policy.

Paintings that look like the worst morning after.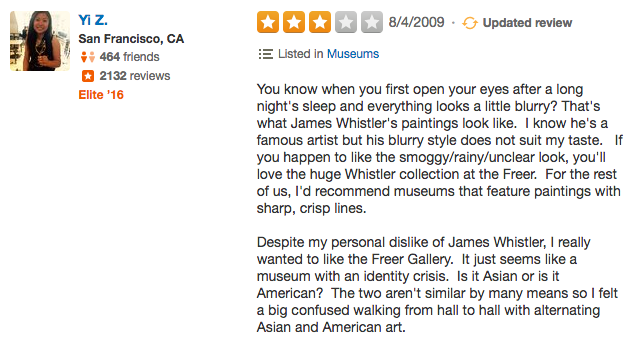 Hirshhorn Museum and Sculpture Garden
Who needs museums when you've got your own bathroom?

Museum, or horror film set?

And then there's this guy, giving a voice to how everyone secretly feels about modern art.

National Air and Space Museum
Simulations that get real.

It's been all downhill since they retired the Apple MessagePad.

From a literal Flat Earther:

Don't go unless you're into…well, Air and Space.

National Museum of African Art
Forces you to grapple with feelings.

Smithsonian American Art Museum
Prefers to respond only to the positive parts of reviews.

The worst at chess set shipping.

National Museum of American History
Some things aren't for everyone.

Beware of security staff with big sticks, especially at very specific times.

One-dimensional approach.

National Museum of the American Indian
Cafeteria fails to meet price points of America's cheapest fast food.

No one's right to review should be constrained by whether or not they've actually been to the museum.

National Portrait Gallery
Despite the straightforward name, he still felt misled.

And yet, only three stars.

National Postal Museum
This is real:

And this is actually helpful:

Renwick Gallery
No coffee, no stars.

For all of your wall-hanging crap needs.