1789 Restaurant will boast more than a new roof when it reopens on Tuesday, following a three-month closure for repairs, a kitchen renovation, and modest touch-ups. The Georgetown stalwart is taking a new direction when it comes to the menu, switching from à la carte service to a tasting menu format under the direction of chef Samuel Kim.
"I understand the reputation this restaurant has—it's been around for 54 years, so it's like an old dame fine dining restaurant for DC," says Kim, who first came to 1789 a decade ago under then-chef Ris Lacoste. "We've been talking about this as a fresh start."
Kim acknowledged the need to gain the trust of regulars before shaking things up—a relationship he's focused on building over the past two years since returning to 1789 from kitchens in New York, including the Michelin-starred Modern and Colicchio & Sons. Though longtime patrons of "The 89" can still order rack of lamb—a classic of the house—the new menu boasts plenty of trendy or boundary-pushing dishes: hamachi crudo with squid-ink rice puffs, or an "uni jar" with roasted lobster and maitake mushrooms.
"Now that the set price is the set price, I'm hoping people can be more adventurous about what they eat, and not stick to the house salad because of being budget-conscious—maybe try the sweetbreads or foie," says Kim.
The prix-fixe prices, which start at $85 for a four-course menu, could result in higher tabs for diners—though it's not a huge leap for a restaurant where à la carte appetizers hovered around $18 (and rose to $26 for the foie gras torchon), and entrees generally ran from the upper $30's to lower $40's. The new menu is broken down into six sections—hot and cold appetizers, meat, fish, cheese, and dessert—with four options in each category. Diners are free to pick four, five, or six courses from any column, priced at $85, $97, and $109 per person, respectively. Kim avoids surcharges, and set one minor restriction: diners can order a maximum of two courses from the "meat" or "fish" sections. Besides that, patrons can choose what they please—and even forgo dessert for an all-savory experience, which is generally considered more of a "deal" since an extra course of rib-eye costs more than sorbet.
That said, conventional appetizers and entrees are still in play for guests who don't want a tasting menu—you just have to know to ask.
"I don't want to lose the guests who've been loyal to us for 20 or 30 years," says Kim.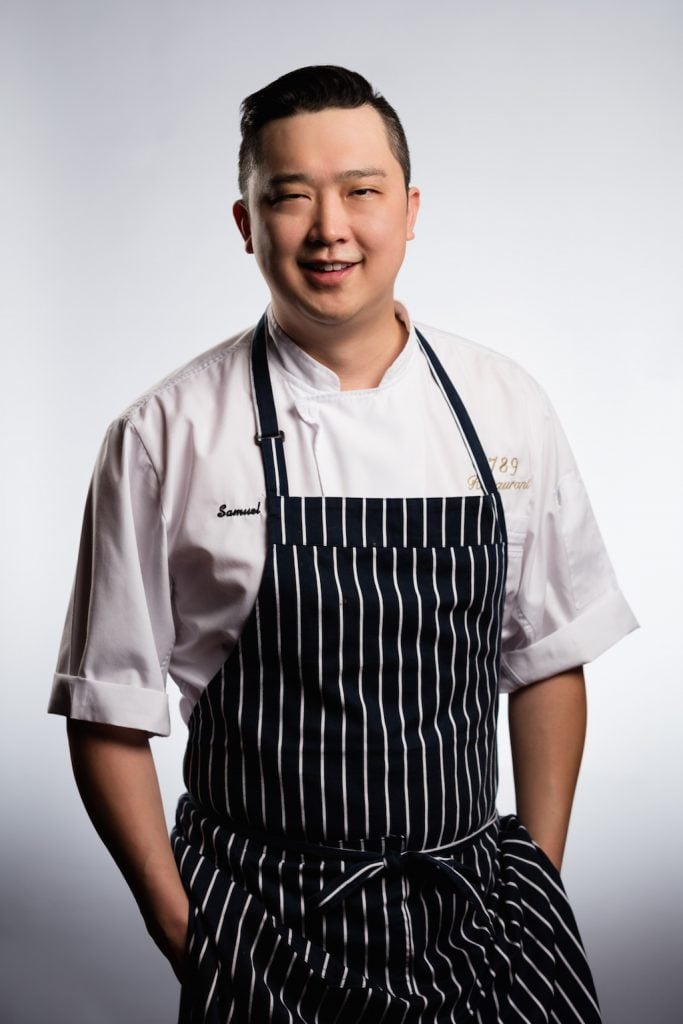 A new kitchen equipped with a French top range, induction burners, and sous-vide equipment were also part of the motivation behind a more ambitious menu. This is just phase one of 1789's long-term revamp plans. Next year, the Clyde's Restaurant Group—which operates the restaurant as well as the adjoining Tombs and F. Scott's event space—will permanently close F. Scott's and incorporate the large bar and dining room into 1789 (which currently boasts a very cozy four-stool bar). For that space, Kim is planning a more casual menu, designed with neighborhood diners in mind.
But first, Kim wants to establish 1789 as a tasting room—not just a spot to celebrate college graduations and birthdays with grandparents (which is how Kim first came to know the restaurant, before he was a chef). Tasting menus are on the rise in Washington, with new fine dining ventures like Masseria launching with prix-fixe-only menus, and older institutions such as Fiola adopting what you could call "tasting-encouraged" formats (i.e. mainly prix-fixe, but with individual plates still available). The trend is part of what many see as DC's rise as a dining destination.
"You're starting to see DC blossom," says Kim, a native Washingtonian. "As a result, the chefs have become more recognizable—people come to eat the food the chef is cooking, and the interest in tasting menus has flourished."
1789 Restaurant. 1226 36th St., NW; 202-965-1789