Our Washingtonian Recommends lists bring you the best places to eat, drink, and be entertained—all selected by Washingtonian editors.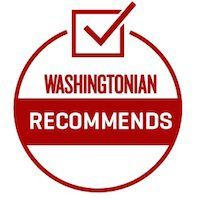 Whether you're catching a show at night or touring the historic theater by day, here's where to eat—all of these spots are open for lunch and dinner.
The blond-wood decor could use a refresh, but foodwise, the late Michel Richard's bistro is as terrific as ever. That's especially true when it comes to a meal's bookends, including appetizers like the goat-cheese Caesar and bacon/onion tart, and desserts like the show-stopping Lemon Eggceptional, as tasty as it is fun to eat. 1001 Pennsylvania Ave., NW; 202-626-0015. 
Jose Andres's standard-setting tapas house is used to getting folks fed as quickly as they need, so this is a good bet if you're cutting it close to showtime. Go for the excellent gin and tonics (especially the London Dry), the array of Spanish hams and cheeses, and classic small plates like brittle tomato bread and goat-cheese-stuffed piquillo peppers. 480 Seventh St., NW; 202-628-7949. 
The Partisan/Red Apron Butcher
Triple-stack burgers, beef fat fries, Kung Pao sweetbreads, and other meaty delights are on offer at the dark, moody Partisan. If you're hitting a matinee, adjoining sandwich shop Red Apron is a good spot for Italian subs and other hefty sandwiches. The Partisan, 709 D St., NW, 202-524-5322; Red Apron, 709 D St., NW, 202-524-5244. 
Pi Pizzeria 
DC isn't much for deep-dish pies, but we're fans of the ones at this St. Louis-based chain. The buttery-crusted rounds, loaded with super-tangy crushed-tomato sauce, don't need much—but mushrooms and pepperoni make for good accessories. 910 F St., NW; 202-393-5484.
Former Trummer's on Main chef Austin Fausett recently took over the kitchen at this snug, wine-focused restaurant. He's smartly balancing fresh ideas (octopus skordalia) with longtime favorites (foie gras with cherry shortcake). Monday through Saturday from 5 to 7 PM, Adam Bernbach's excellent cocktails are discounted to $8 at the bar. 775 G St., NW; 202-737-7663.