A guide to the newest places to eat and drink.
Curt Hansen, the owner of Old City Market and Oven on K Street, grew up in New York City. He's had every kind of job you can think of, beginning with summers spent clamming along the coast of NY at fourteen, to a four-year stint as a photography assistant. He's even dabbled as a jazz trumpeter. But mostly, he's worked in restaurants and as a lawyer. In 1977, at the behest of a friend, Hansen moved to Washington DC and began working as a dishwasher the Tune Inn Restaurant & Bar in Capitol Hill. It wasn't long before he moved up the ranks, working as a cook in the kitchen at Harold's Rogue and Jar Club where drinks were served in cleaned-out jam jars, perhaps a precursor to the mason jar trend. He briefly worked at a wholesale fish market before, as he puts it "trading in one slimy business for another" and returning to school for his law degree in 1987.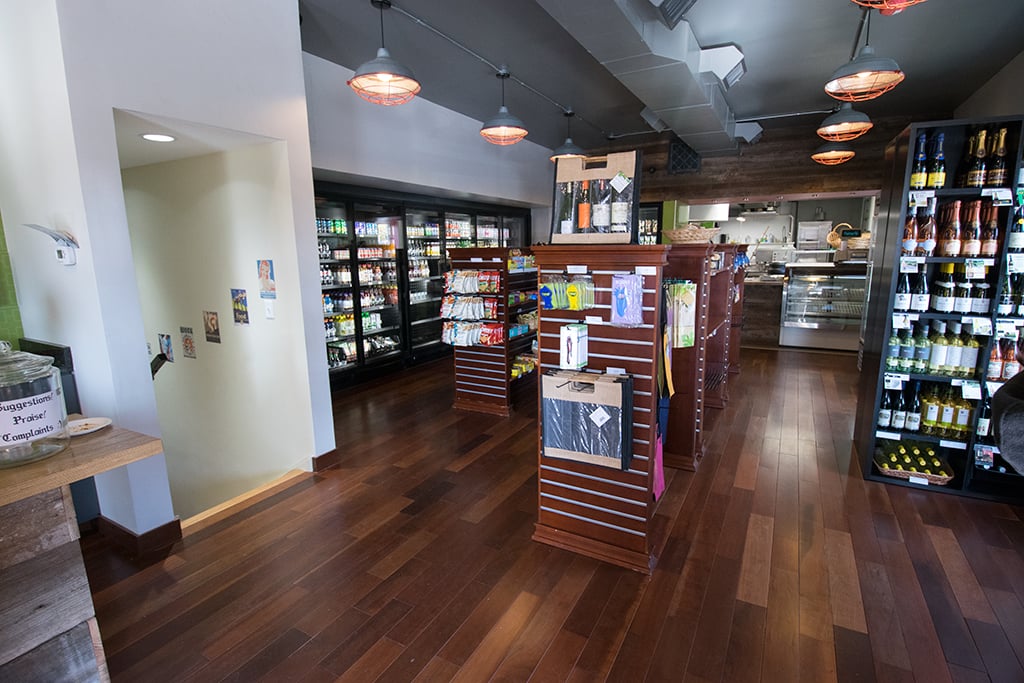 After years as a lawyer, including a stint in criminal law, working with Greta Van Susteren at Milliken, Van Susteren and Canan, Hansen took a job in Indonesia working for their State Department. When he returned home after four years overseas, he was looking for a change of pace. A tenant from a property Hansen had acquired in the early 90s, a two-story corner Victorian-style building on K Street, was moving out. With his years in the restaurant business, Hansen fixated on the idea of bringing in a rustic Italian concept to the venue. His wife, however, was wary of the long hours a restaurant entailed. They compromised: Curt began sketching out a concept for a neighborhood convenience store in the building's tradition, but the venue would also serve take-out pizza. The resulting project, Old City Market and Oven, opens today at 522 K Street NE in the H Street Corridor.
The Old City Market and Oven is, in some ways, like your traditional corner convenience store and coffee shop. It's handsome blue and orange facade opens up to a sunny gathering place where you can get espresso, drip-coffee and lattes made with Swings Coffee. You can also pick up pastries and scones from Baguette Republic and sit at a wood bar with your laptop and hang.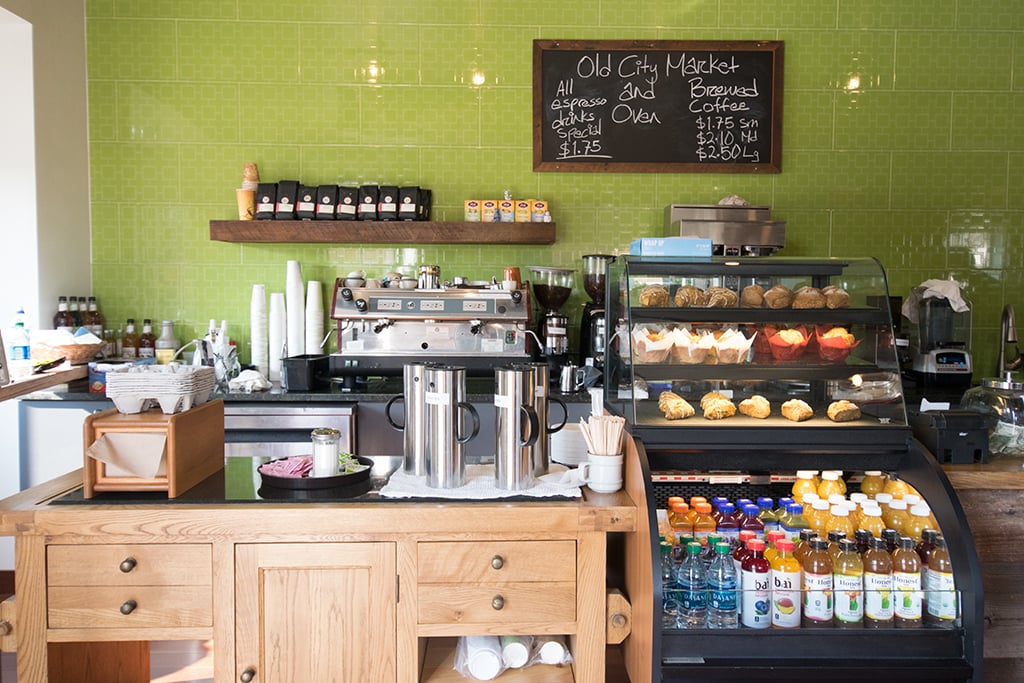 In the back of the shop, Hansen has installed a Forno Bravo wood-fired pizza oven. Though he has yet to finalize the menu, in the next few weeks he plans to begin offering roasted meats and vegetables during the day. The fare will be mostly Mediterranean, drawing heavily from Lebanese, Turkish, Moroccan, and Italian influences. Roasted lamb shanks, pork shoulders, and vegetables like beets and squash will be available along with whole grain salads featuring rustic options like quinoa and farro. After 5 pm, the oven will crank up from a comfy 450 roasting temperature to 700-plus degrees, and Hansen himself will be in back to put together fresh pizzas for neighborhood pickup. Hansen plans to be very hands on, the "guiding force in the kitchen."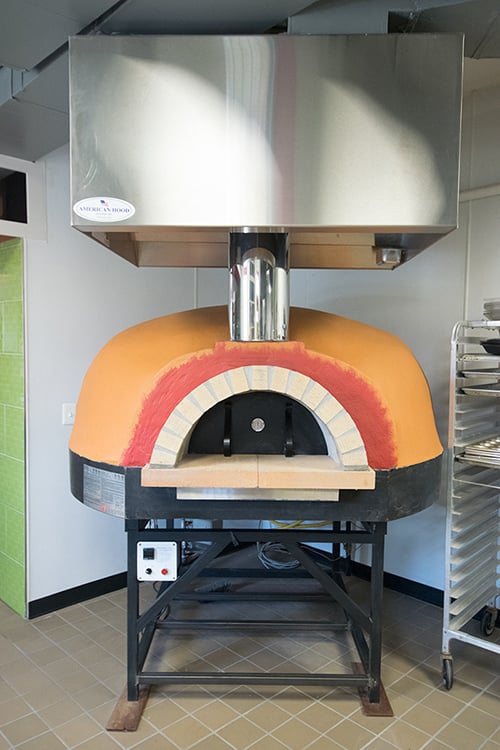 But the real project for Hansen lies downstairs where rows of artisan and local foods, cooking supplies, funky gifts, locally-made soap, art, and books are sold. Eventually, Hansen plans to build up a lending library. There are chairs and tables for sipping lattes, and a pop-up art gallery wall Hansen plans to rotate regularly. Right now the featured artist is Cleve Overton, an 88-year old DC artist who works in mixed media, painting and sculpture. There is also a jazz listening station, with a record player hooked up to noise-canceling headphones and cozied up to stacks of jazz classics including Miles Davis, Dizzy Gillespie, Freddie Hubbard, and Clark Terry, whom Hansen once played with. Everything, including the vintage albums, is for sale.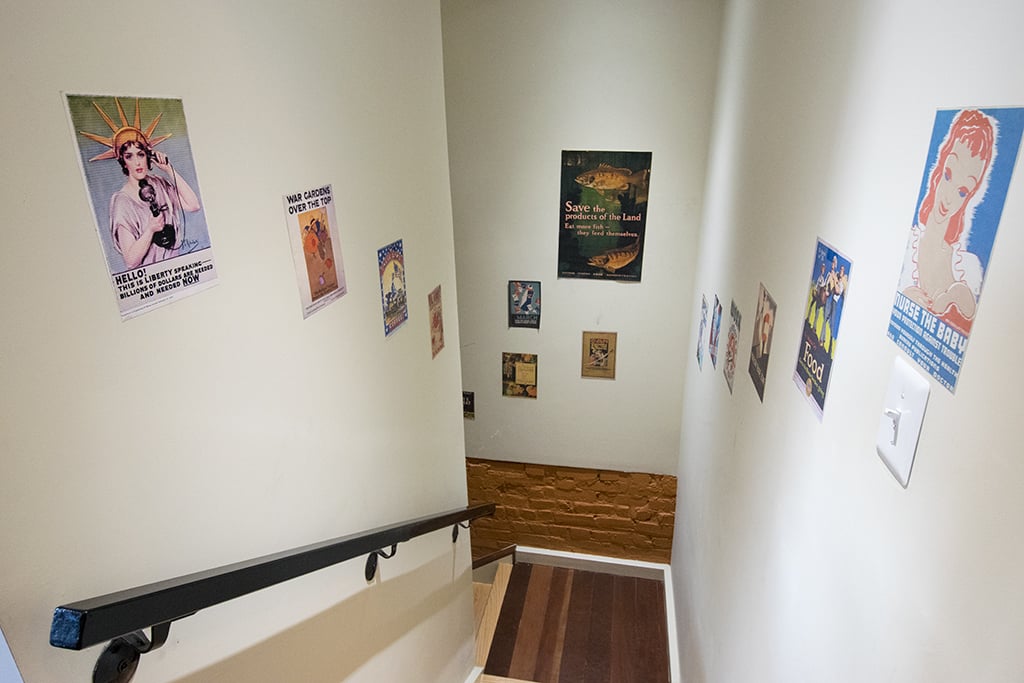 When asked why he incorporated the music, art, and pizza, and didn't simply open a corner grocery, Hansen's response is "Why not?" It is clear that this project is more about fostering community than making money for the 63-year old self-proclaimed socialist. "If I can employ a half dozen people well, than I did good." Hansen says. "The neighborhood has seen me working on this for over a year—I think we will be serving an important need. All the guys here are excited and heavily invested." Part of how Hansen encourages his employees to be invested is to give each their own shelf in the shop to display and sell their work. For 22-year old Mahadi Lawal, the draw was enough for him to leave his job at Union Market in order to come on full time with Hansen. "I've met a lot of people who have known Curt a long time and no one has a negative thing to say," says Lawal.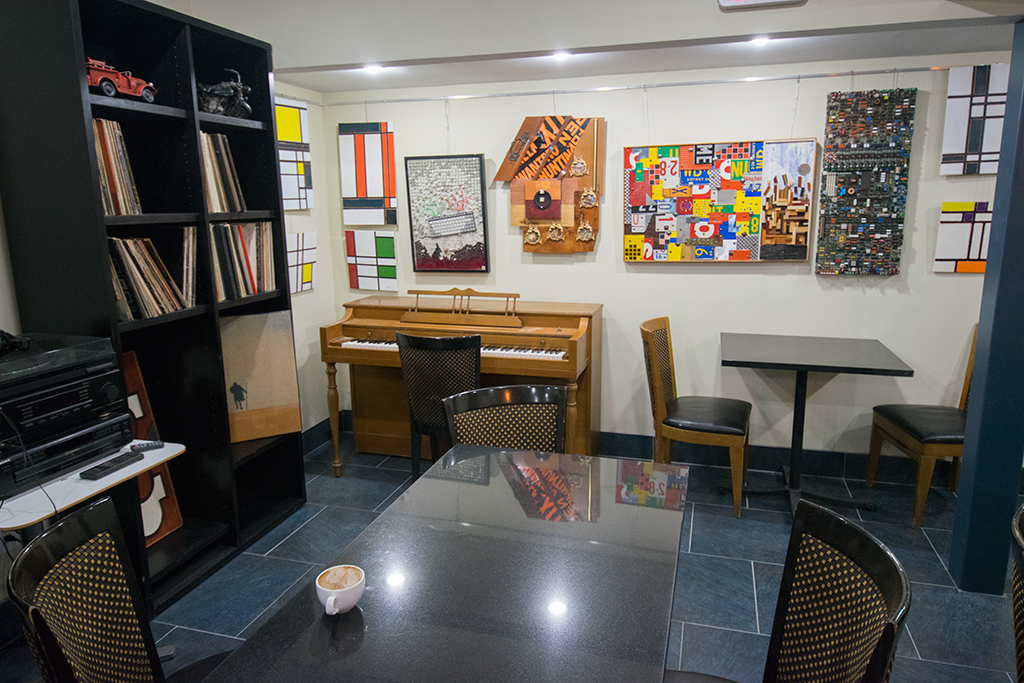 As for the community, the response so far has been that of quiet anticipation. A local woman stops in, baby strapped to her chest, wandering the space. "When will you be making pizzas?" she asks, "I live in the neighborhood and we are really excited." A minute later another woman pops in "Do you all have wifi?" Hansen is patient and amiable with his answers. At one point the multi-disciplinary enthusiast had even fiddled with the idea of including a workshop and repair space in the basement, just to make it that much more useful. "You know, fixing toasters and what not," he explains, but practicalities interfered. "We just ran out of room," says Hansen.
Old City Market and Oven. 522 K Street, NE; 202-544-0600. Open seven days a week, 7:30 am to 9 pm.
Correction: A previous version of this article spelled Hansen's name as Kurt Hansen. The correct spelling is Curt Hansen.