No matter who you ask, packing lunch is THE. WORST. It often feels monotonous and time-consuming, yet the fact remains that food made at home can not only save you money, but it can save you calories as well.
Healthy, homemade lunches don't have to be boring or laborious. To prove this point, we met up with Charmaine Jones, the registered dietician behind Food Jonezi, to hunt down healthy lunch options at Whole Foods. Jones is a pro at the grocery store—she often meets up with her clients to grocery shop and to show them how to best stock their kitchen. Below, Jones chose six different lunches that provide a mix up nutrients and flavors to keep your stomach full and your taste buds happy.
Turkey Meatballs and Green Beans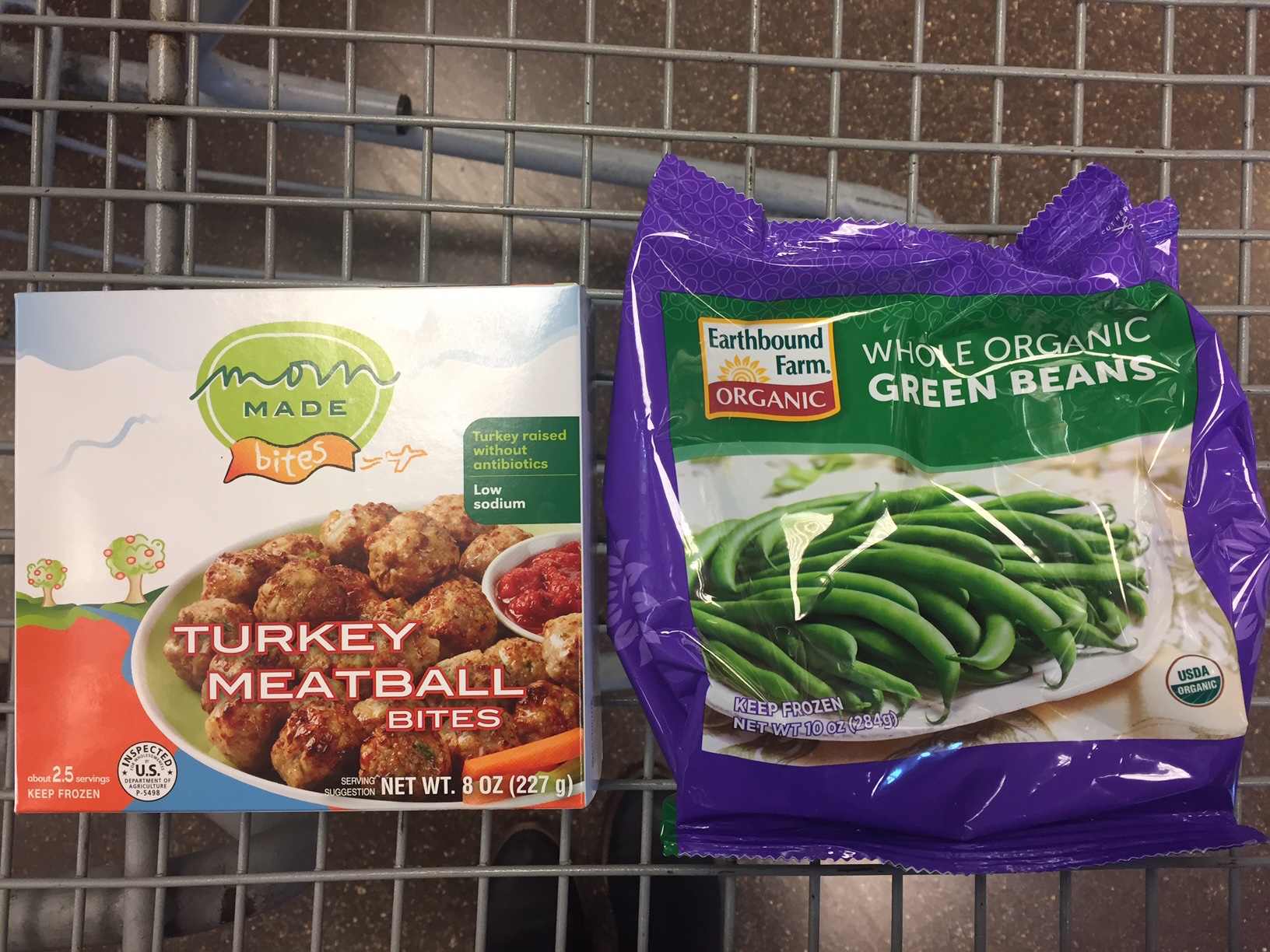 The microwave (and office freezer) are your friend. When it comes to frozen entrees, Jones tends to steer away from anything slathered in sauces, as those tend to hide a lot of sodium in a dish. Jones likes these meatballs for their relatively low sodium content (130 mg—or about five percent of your daily value—per serving) and as a source of lean protein. Pair half the box of meatballs with half the bag of green beans—which you can steam in the microwave—and add in a piece of whole fruit to complete your meal.
Waffles, Peanut Butter, and Strawberries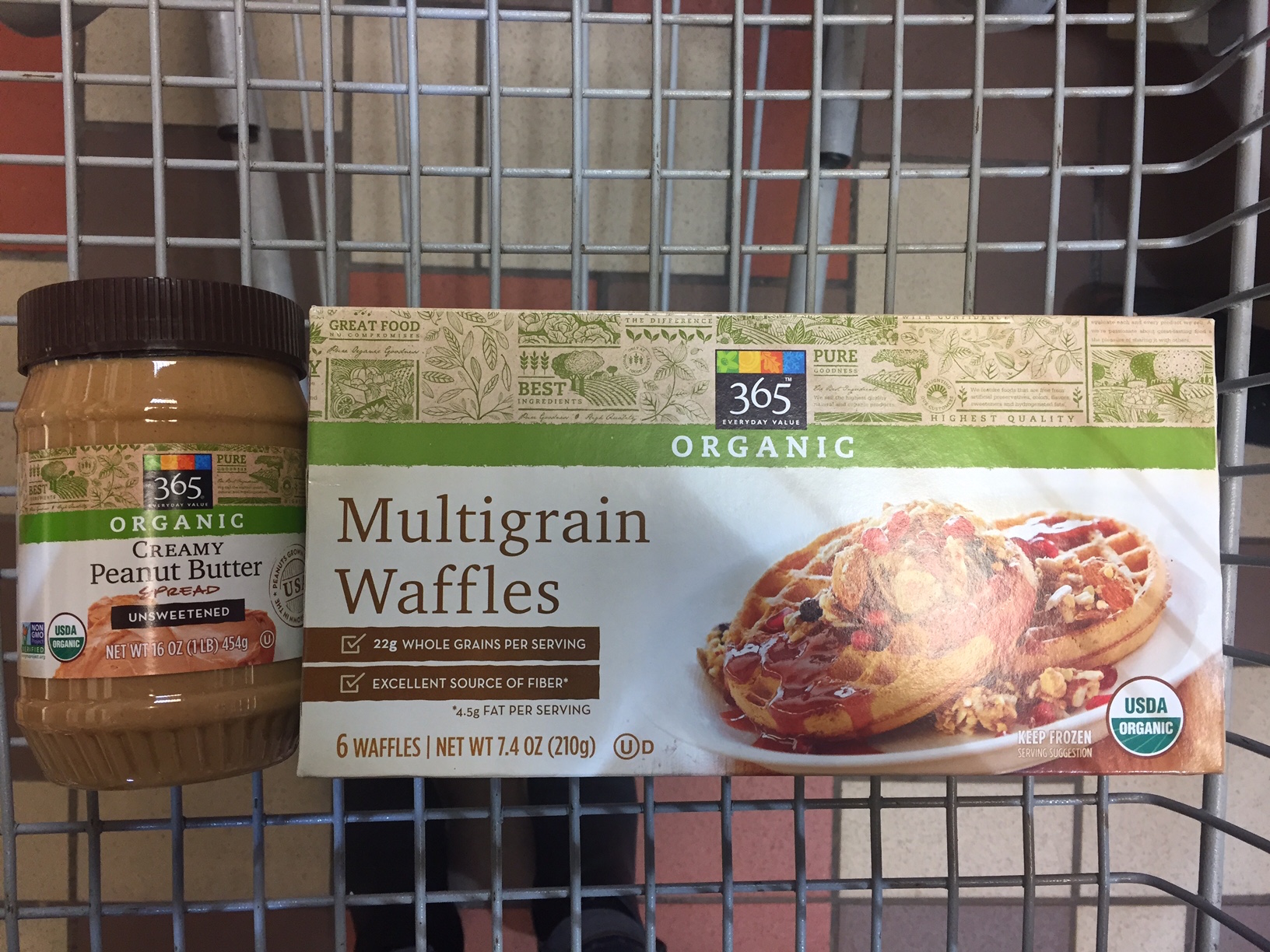 Not big on big lunches? If you prefer to snack your way through the middle of the day, Jones likes multigrain waffles topped with peanut butter and fresh strawberries. Want something a little creamy? Add a dollop of plain Greek yogurt on top—which will also add a small boost of protein. To satisfy you sweet tooth and your snacking habits without going overboard, opt for two waffles cut in half.
Tuna-Topped Bell Pepper, Greek Yogurt, and Apple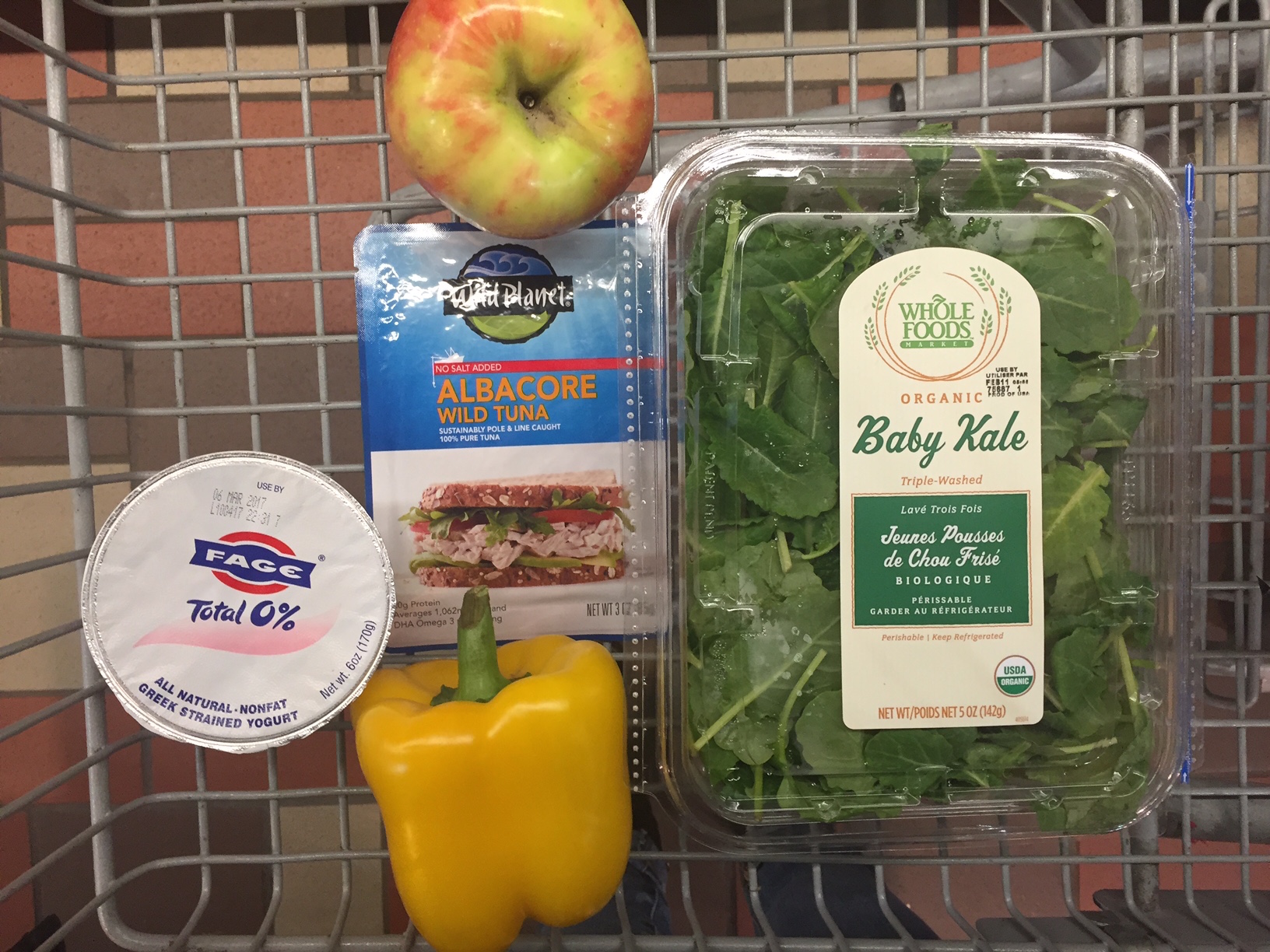 Jones likes these tuna packets because they don't require straining out liquid the way cans do, and they're easy to grab and go. Cut up the bell pepper and top it with some tuna and some baby kale. If tuna without mayonnaise is unpalatable for you, stock up on packets of low-fat mayonnaise, suggests Jones. With single-serving packets, you'll be less likely to overdo it with the mayo. Round out your meal with more protein and dairy in the form of plain Greek yogurt (you can top it with fresh fruit to sweeten it) and a whole piece of fruit, such as an apple.
Balsamic Chicken Breast, Emerald Sesame Kale, and Cucumber Tomato Salad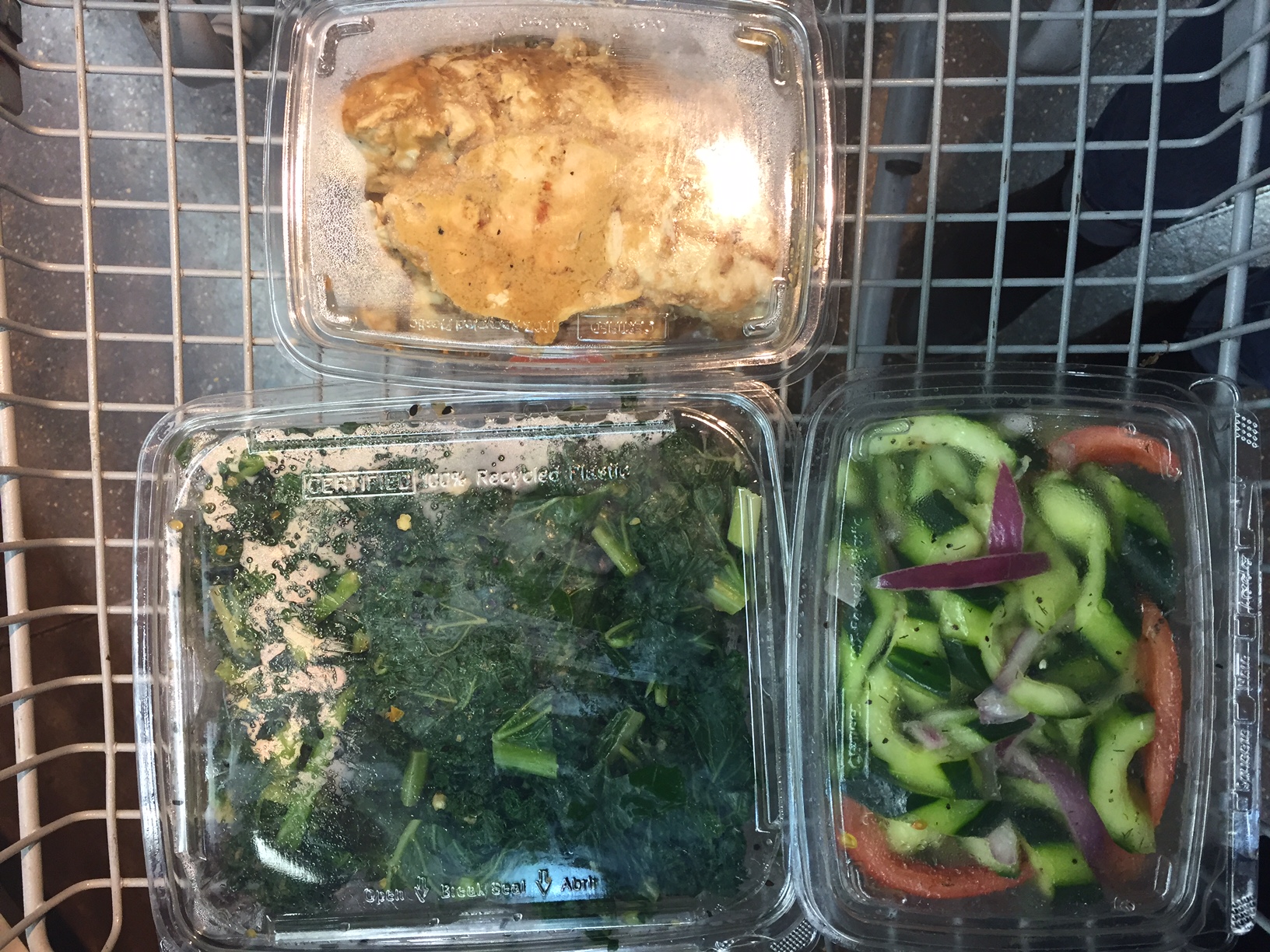 In Whole Food's chilled prepared food section, these containers are marketed as enough to feed a family of four. That means you can get nearly a work week's worth of lunches out of these three items. Start with a basis of kale, top with one (of four) chicken breasts, and the cucumber tomato salad. These foods are already seasoned, so there's no need to add salad dressing, and you'll be getting lean protein with a lots of veggies at each midday meal. Add a piece of whole fruit to end the meal on a sweet note.
Tabbouleh Salad with Multigrain Tortilla Chips and Fruit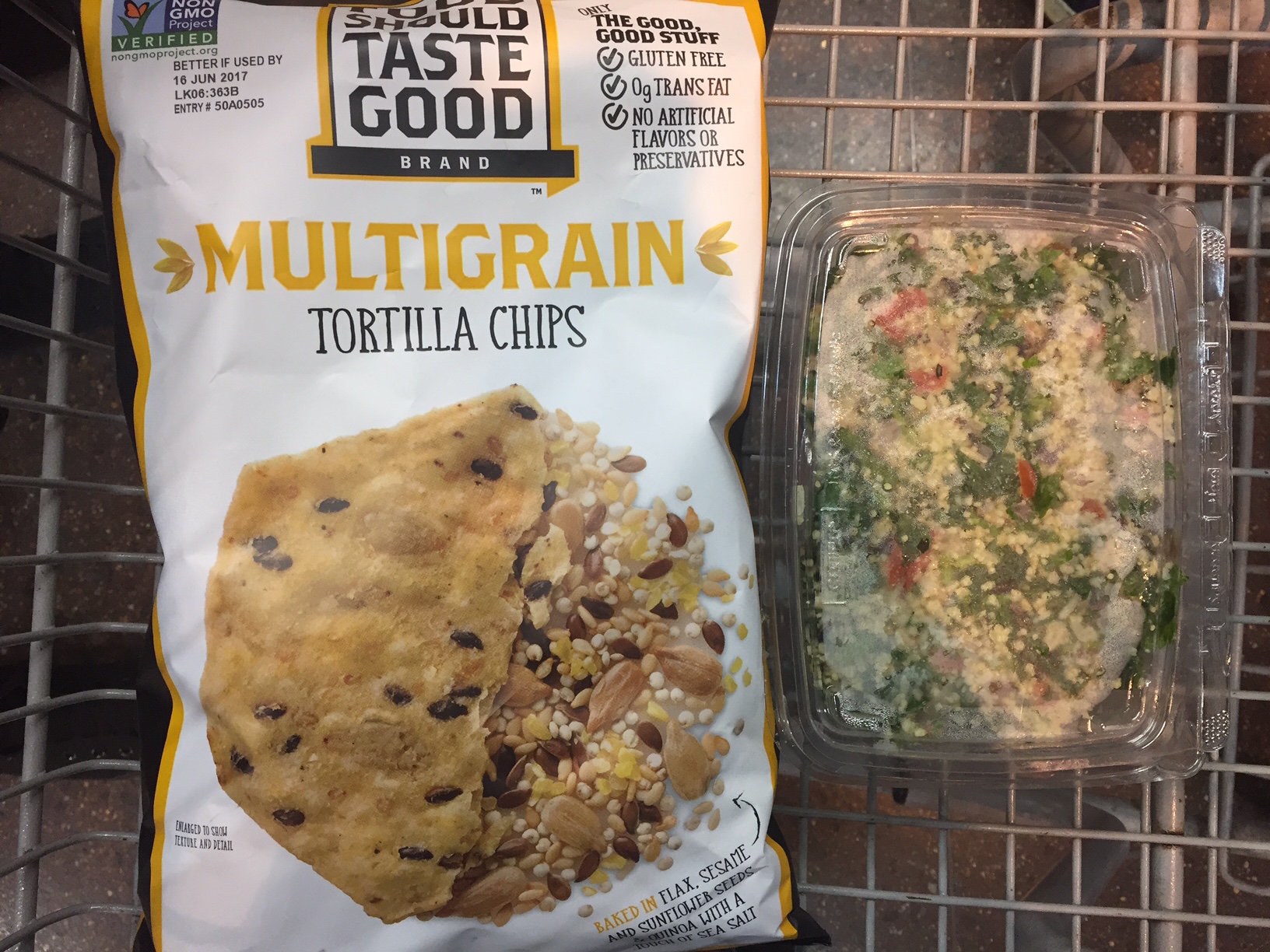 Jones loves tabbouleh for its healthy mix of grains—and the fact that it's a source of protein. The salad is fine on its own, but you can also eat it with multigrain tortilla chips. Pack the chips in a baggie at home and only plan on eating a portion or two of the tabbouleh—there's six servings in the container—to keep an eye on your portion sizes. As always, munch on a piece of whole fruit on the side.
Turkey and Cheese Sandwich with Multigrain Tortilla Chips and Fruit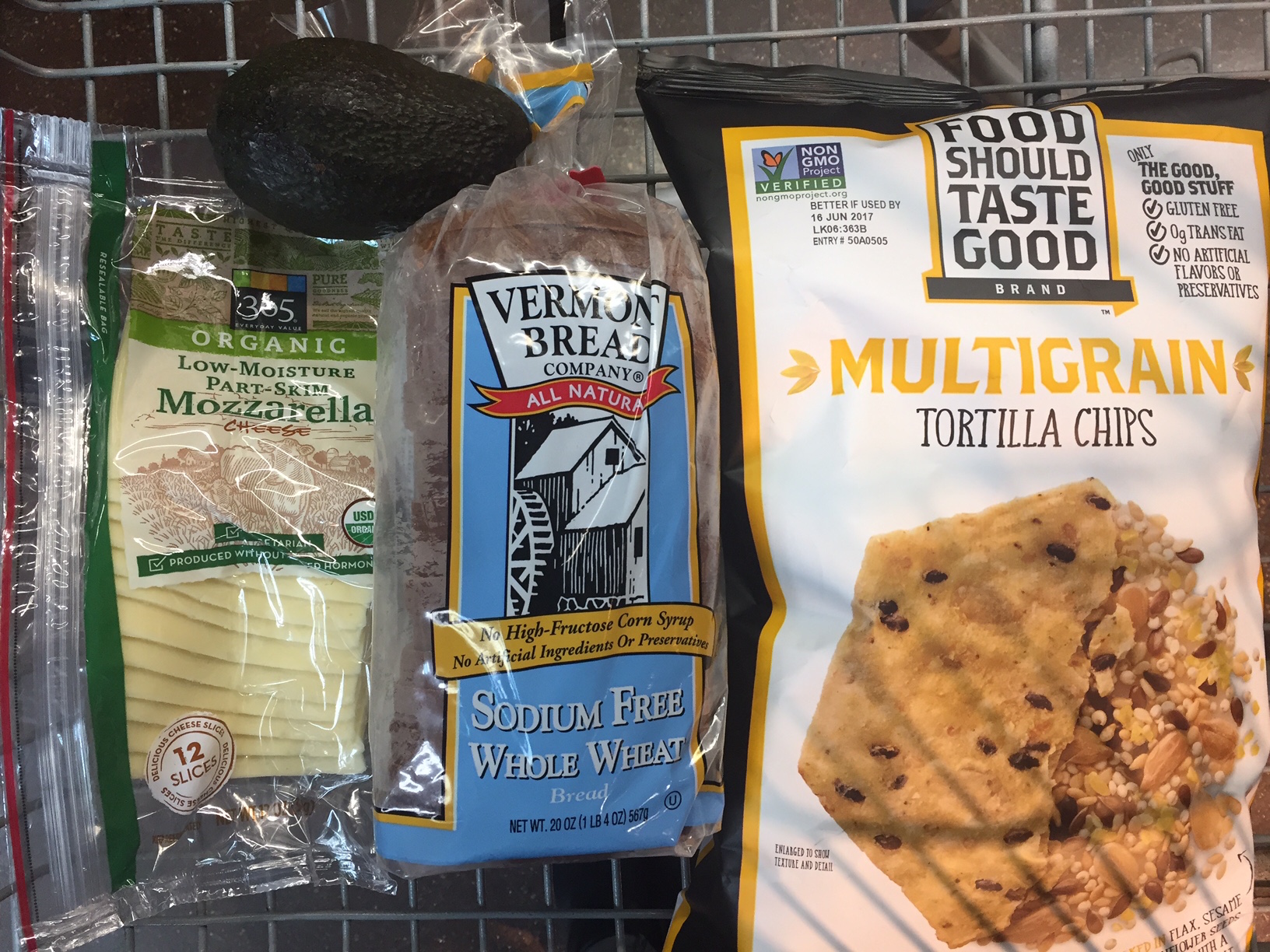 For sandwiches, Jones always likes to start with a whole grain bread. To determine if it's truly whole wheat, however, Jones says she ignores what's on the front of the package and instead goes straight to the ingredients list to see if whole grains are mentioned first. Next, Jones likes to skip the mayonnaise entirely—it's too easy to use too much—and to replace it with a swipe of healthy fats from a ripe avocado. For meat, Jones always opts to have her turkey or chicken sliced at the deli rather than buying packaged, processed meats hanging in the refrigerated section. Finally, she tops her sandwich with some low-fat cheese and a leafy green, like spinach (the darker, the better, says Jones). To add some crunch, Jones will also pack a baggie of multigrain chips or some Skinny Pop popcorn. Throw in a piece of fruit, and your lunch is complete.