Washington Post employees got free pizza in the newsroom Thursday thanks to a crowdfunding effort led by a retired journalist  who wanted to recognize the Post's "extraordinary work during the first weeks of the Trump administration."
Hey dear readers: thanks for the pizza! pic.twitter.com/CK0SEABQUe

— Gene Park (@GenePark) March 16, 2017
There is so much donated pizza for @washingtonpost employees, they're bringing it in on carts pic.twitter.com/rfV4Zh8QkU

— Peter Stevenson (@PeterWStevenson) March 16, 2017
The crowd-sourced, pizza-for-journalists arrives @washingtonpost. Food in a newsroom evaporates. pic.twitter.com/nls2NhU4lD

— Lee Powell (@leepowellTV) March 16, 2017
Thanks from a very pregnant reporter to everyone who donated free pizza to The Post today. pic.twitter.com/Hel51PscuI

— Katie Zezima (@katiezez) March 16, 2017
The pizza came from Fuel and Pete's. Deputy Managing Editor Tracy Grant alerted staff in a memo: "A little pizza, a little March Madness all while working in the greatest newsroom on the planet: what's not to love?" Reached by email, Grant tells Washingtonian, "We saw it as a nice gesture by a group of readers; and the per capita contribution was well below any gift threshold."
We hear the pizza went quickly. In a video thank-you note, David Fahrenthold, Rosalind S. Helderman, and Robert Costa, among others, say they enjoyed their slices.

Executive Editor Martin Baron says thanks; you can also see him grabbing a slice in this screengrab.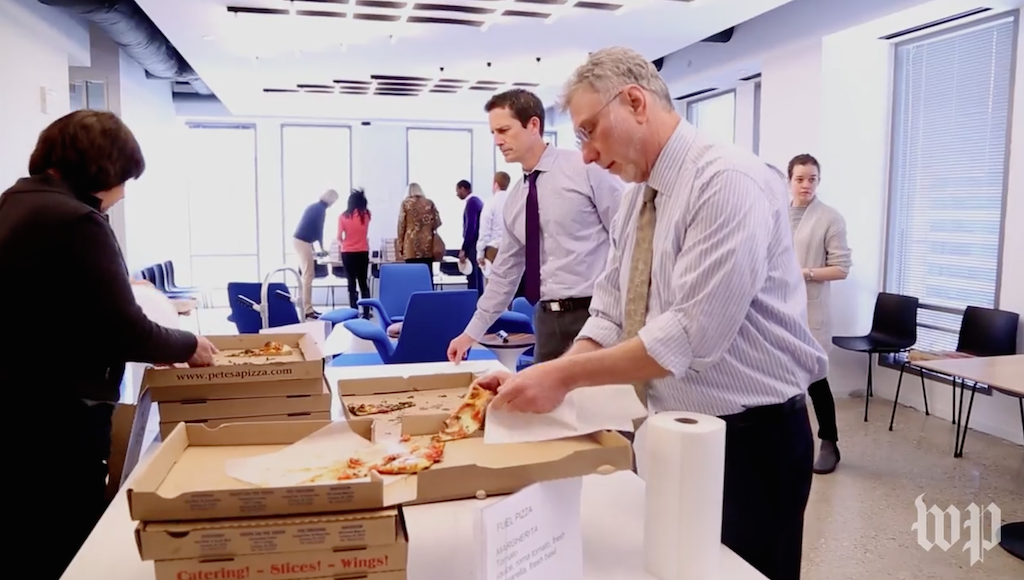 There will be more pizza served to nightside staff at 6 p.m. Thursday. Important note: You've got to provide your own drinks.
Austin intended to raise $2,000 for his project but raised $7,800. The New York Times already got its pizza, Grant says in her note; Austin says on his page he intends to send pizza to lots more newsrooms, many of which are in Washington.
Here's the full memo:
You may have heard about a Go Fund Me effort started by Kevin Austin, a retired journalist from the Atlanta Journal-Constitution. As a way to thank folks at The Post and The Times (and other newspapers) for the great work we are doing, he solicited donations to buy pizza and drinks for the newsrooms. Hundreds of people donated far more than he expected. (We hope that right after they donated, they subscribed.) The Times got their pizza last week and tomorrow we will get ours. Lunch-time pizza will be delivered at 1 and set up in the west side kitchens on 7 and 8. (So come to the brown bag, have dessert first and then grab lunch after.) For night-side folks, another round of pizza will be delivered at 6 p.m.

A little pizza, a little March Madness all while working in the greatest newsroom on the planet: what's not to love? And while your chowing down, please say a big "thank you" to Michael Cotterman who worked with Kevin Austin to coordinate this.

Tracy Grant
Deputy Managing Editor