It's 8 o'clock on a Friday morning, and the waiting room at Shady Grove Fertility's K Street office is filling up. Every few minutes, a name is called and one of the women—many in office-appropriate slacks and heels, clutching metal coffee thermoses—disappears with a nurse. Minutes later, her seat is filled by another hopeful patient.
This constant flux lasts from 7:15 to 9:15—the practice's monitoring hours, during which women undergoing in vitro fertilization (IVF) or intrauterine insemination (IUI) must have blood work and ultrasounds done. As Shady Grove Fertility's only downtown DC office, the K Street clinic is what one former patient calls "Grand Central station for infertile women in DC."
Bring up Shady Grove Fertility in a room of women of a certain age in Washington and it's likely someone will know a woman who's been a patient there. It's not just the biggest fertility clinic in the area; it's the biggest in the country, with 39 physicians spread across 25 clinics in four states.
In 2014—the most recent year for which data is available from the Society for Assisted Reproductive Technology—Shady Grove Fertility started 7,648 cycles of IVF at its Rockville headquarters alone. The third-largest practice in the area, after Shady Grove's other surgery center in Towson, is Dominion Fertility in Arlington, which started 1,485 cycles.
SGF wasn't always so big. Twenty-five years ago, it consisted of three physicians in one Maryland office. Since then, it has helped produce more than 40,000 babies. How did one small practice grow to be the largest baby-making center in the country? Like the service it provides, it was a mix of natural processes and a little mad science.
***
Shady Grove's founders, Dr. Michael Levy and Dr. Arthur Sagoskin, say there was never a master plan for SGF to expand as it has. Though Levy and Sagoskin argue that the growth was organic, fueled by the clinic's attention to patient satisfaction, it wasn't unconscious. Nothing about SGF is lacking in careful consideration—a sense you pick up on the minute you step through the door, thanks to the clinic's full-time interior designer, April Hatton. She makes sure the offices are flooded with natural light, seamlessly branded, and designed with the patient in mind. For example, the large waiting rooms—necessary for the number of patients the clinic sees—are divided by translucent walls, so even when they're filling up, they don't feel overcrowded.
However, the most patient-centered policy had nothing to do with design. After launching SGF in 1991, Levy realized that all the medical care and attention to detail wouldn't matter if patients couldn't afford treatment. One cycle of IVF—in which an egg is fertilized outside the uterus, then implanted—cost about $6,000 at that time, according to Levy (it's $10,000 today), and many patients were forced to pay out of pocket.
So Shady Grove did something kind of controversial.
In 1992, Levy piloted a Shared Risk Program, in which patients who meet certain health standards—for instance, women must be under age 39 at the completion of their IVF cycles—can choose to pay roughly twice the amount for IVF with the promise of a refund if they don't go home with a baby.
The K Street clinic is what one former patient calls 'Grand Central station for infertile women in DC.'
Levy was inspired to launch the program by a patient who had paid out of pocket for IVF at another clinic. She hadn't had a baby from it and broke down in tears as she explained that if she continued paying for unsuccessful treatment, she wouldn't have money to adopt a child.
The program made marketing sense, taking away a reason why some patients might have avoided IVF, but did the numbers add up? Levy looked at the statistics—65 percent of SGF's patients were ending up with a baby. If the clinic charged everyone about double the normal cost of IVF for six cycles of treatment, it could afford to refund fees to the 35 percent who didn't give birth.
Of course, the idea of linking payment to success raised ethical questions: Would it create an incentive for providers to act in medically unwise ways? The initiative worried some, including Resolve, a national infertility advocacy nonprofit. Levy submitted the program to an ethics review committee of the American Society for Reproductive Medicine.
"I wrote a letter—very naively at the time—to the National Advisory Board on Ethics in Reproduction," he says. "I said to them, 'This is the most ethical thing we do, our patients love it, and I would appeal to you to debate it, and if you think it's unethical, we'll stop doing it.' I wouldn't have said that today, but I was 33 or 34 years old."
The board released recommendations for keeping the Shared Risk Program ethical, and today fertility clinics around the country have adapted their own payment plans. The introduction of shared risk, not surprisingly, was a big reason for Shady Grove's growth.
"We were a small practice at the time—we were probably seeing 40, 50 patients a month," Levy says. "We went on [Dr. Phil]; we had 400 patients call us in a week, from all over the country."
Dealing with infertility is stressful, and given that IVF is so expensive—even more so when combined with new genetic and chromosomal testing options, such as preimplantation genetic screening—shared risk can take away some of the anxiety.
One 35-year-old patient from Arlington who opted for the Shared Risk Program had luck with her first IVF cycle. She's expecting her first child, which means no refund. Even though it cost more, she says it was worth it: "Because we were paying out of pocket, it did help me feel more relaxed about it and not so much like it was all riding on one cycle."
***
In 2007, Levy was on a train ride when his brain started churning again. How could Shady Grove Fertility make its donor-egg program more affordable?
In egg donation, one woman's ovaries are stimulated to produce multiple eggs—as many as 20 at a time—which can be retrieved and donated to a woman who can't use her own eggs. Because the donor is paid for her time and the medical process itself is complicated, the donor route is very expensive for patients—to the tune of $29,000. Levy wondered: What if those eggs were shared among multiple recipients?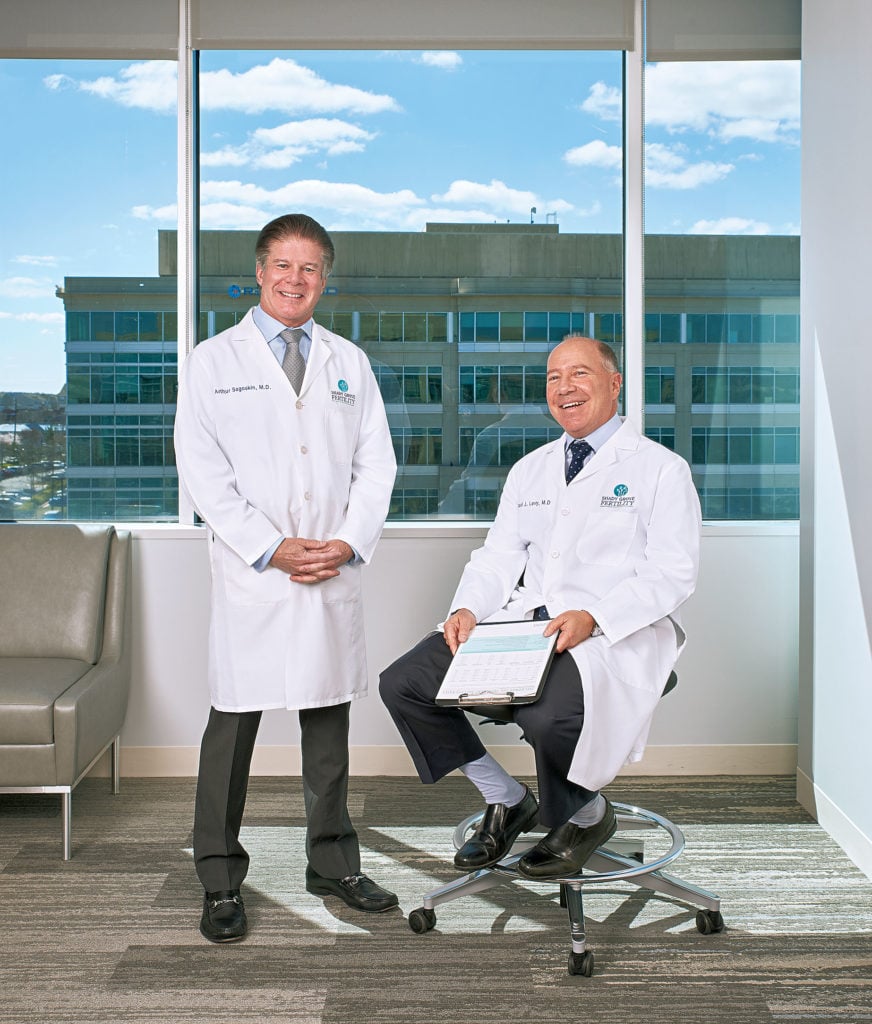 "We realized that the 20 eggs or so that a single donor cycle produces is more than one recipient needs," he says. "We developed a shared program, where a donor would share her eggs between two or three recipients. Three recipients use one donor's eggs, and it's half the cost [it would be] if they were using all the eggs."
While making pricey fertility treatments more affordable helped Shady Grove grow, the clinic also benefits from its location. Many affluent women here are invested in their careers and often put off childbearing, yet the fact that SGF is headquartered in Maryland may be an even bigger catalyst than area demographics: That state, which covers $100,000 of IVF treatment, is one of only 15 to have an insurance mandate.
"Probably 60 percent of our patients have insurance coverage, at least partial, and 40 percent are self-pay," Levy says. "I think without those 60 percent, we wouldn't be the biggest program in the country."
Though Maryland has mandated insurance coverage since the 1980s—long before Shady Grove Fertility existed—the clinic has been very engaged in ensuring that the mandate remain in place. National organizations such as Resolve keep an eye on legislation and enlist practices like Shady Grove to testify when any pertinent issues pick up steam.
Barbara Collura, president of Resolve, says some clinics are hesitant to participate in advocacy because it appears self-serving, but she has never had a problem getting SGF physicians to testify: "I know state legislators value the opinion of physicians and want to hear from them. It helps my patients. It helps our community."
Levy himself has testified, including in 2015 when a same-sex couple was seeking IVF coverage for same-sex female couples. In March, two SGF physicians showed up to testify to have egg and sperm freezing covered for patients who could have their fertility jeopardized by medical treatment, such as radiation for cancer. At the annual fertility advocacy day on Capitol Hill, it's not uncommon for 20 SGF staffers to attend in support. SGF is a powerful ally when it comes to advocacy—it has a database of 60,000 past and current patients and can rally thousands of them through e-mail and social media.
The database is the work of Patty Stull, who has run SGF's marketing and outreach programs for more than 20 years, ever since she came to Shady Grove as a patient. "We can send out announcements, and yes, that's a great purpose," she says. "We can also have people write letters to their congressman."
Stull has fostered this community by making SGF a source not just of treatment but also of information. Since she started with SGF, the practice has managed a robust education-and-outreach program, to both patients and the local ob-gyn community—something other clinics weren't doing at the time.
This year, SGF has 120 patient events on the calendar, including infertility support-group meetings and webinars about financing treatment. It also has 250 events for the outside medical community, primarily ob-gyns. These gatherings build relationships between Shady Grove and other medical practices, making it likelier that physicians will refer their patients there.
Barry Rothman, an ob-gyn with Inova Alexandria Hospital, has attended events in the past to keep up with the latest on infertility treatment, but he says it's not SGF's marketing that makes him refer patients there; it's the clinic's numbers.
In 2014, SGF's Rockville location reported that for each egg retrieval a woman underwent—potentially resulting in multiple viable embryos—treatment resulted in a live birth for 48.8 percent of patients under age 35, 38.6 percent of patients 35 to 37, and 26.1 percent of those 38 to 40. At another large clinic in the area, the numbers drop to 30.2 percent, 23 percent, and 10.7 percent for the same age groups.
The difference in success rates could be because other clinics take on more challenging cases or because of a variance in how each provides data to the Society for Assisted Reproductive Technology. Still, some ob-gyns do believe SGF has an advantage—its size.
"In such a highly technological field, there's something to be said for seeing a lot of patients," says Dr. Nancy Sanders of Women OB/GYN Physicians, in DC. "When you do volume, you get good at what you do."
And when you're so large, you can afford the bells and whistles: A custom alarm system on the egg and embryo storage tanks will call the lab director's cell phone at any hour if the tank temperature changes.
***
For many infertile couples, Shady Grove feels like a safe haven. Renee Trotter and her husband, Scott, who live in Springfield, had been through five miscarriages. She thought she couldn't carry a child, so they looked into a gestational carrier—an expensive option that involves hiring a woman to carry an embryo to term. That plan fell through. Two years later, after Trotter had given up and decided to head back to law school, her husband heard about Shady Grove and wanted to give it a try.
She was hesitant but agreed to meet with Dr. Stephen Greenhouse, who is in SGF's Fair Oaks office. "First of all, he talked to me when I had my clothes on, which sounds like something insignificant, but when you go through the process for a long time, you can almost start to feel like you're just this object," says Trotter. "We were talking across his desk, and he looks me in the eye and I started to cry. He got up, and he walked around from his desk and grabbed a tissue and handed it to me. It just struck me that I felt like a person."
Today Trotter and her husband are the parents of a six-year-old girl.
Dr. Sarita Gopal of Greenbriar OBGYN in Fairfax refers patients to Shady Grove not just because of its numbers. The staff "do a good job scientifically, but they're actually kind," she says. "Infertility sucks, so it can be a very emotionally stressful thing. To feel like people are actually paying attention to you and taking care of you is really important."
Although Shady Grove has 39 physicians, they're spread out among 25 locations, so each clinic is relatively small. That's by design. Still, some women can feel lost in the shuffle, especially when so many are showing up for monitoring at the same time .
"I sort of prep [patients] and tell them, you know, it's going to be a big operation," says Sanders. "I'm in a boutique practice, so we do a lot of handholding. I warn them that it's not going to quite be like that. But if I thought it was really bad on that front, I just wouldn't send them at all."
Another unintended consequence of being the biggest clinic on the block, with relatively high success rates, is the hope that can instill. One former patient, a 41-year-old woman from Chevy Chase DC, had multiple miscarriages. She went through IUI—in which a doctor injects sperm into a woman's uterus during ovulation—but it was unsuccessful. To her, the fact that SGF is so enthusiastic about its success stories—the website proclaims, "Over 40,000 SGF babies have been born" beneath the banner "Believe It's Possible"—can make it harder for patients for whom treatment is unsuccessful.
"When you come into Shady Grove, I think you just kind of—maybe it's naive—but you kind of assume it's going to work. When it doesn't work, you just are left a little shocked," the woman says. "If you look at the numbers, it's easy to tell that not everybody's successful. I just think that most women don't ever think, 'I won't be one of the successful people.' "
As a 41-year-old, this patient felt lumped into her age group and didn't feel SGF addressed her self-described "outlier" fertility issues—her multiple miscarriages didn't have an identifiable chromosomal abnormality, a common reason for miscarrying. She ended up leaving for a smaller clinic, where she's currently undergoing treatment and has found it to be a much better cultural fit.
Despite the fact that it's not for everybody, SGF is expanding. In August, the clinic plans to unveil a 12,000-square-foot office, with SGF's first Virginia surgery center to follow in Annandale. This will be its fourth surgery center overall, including the two in Maryland and one in Chesterbrook, Pennsylvania. Its first center outside the United States is under construction in Chile, and another location is in the works in China.
Shady Grove says it's not trying to do for infertility what Starbucks did for coffee, but it's going where opportunities arise.
"We don't have a grand design—we just sort of look at what the opportunity is, you know," says Stull. "Do we have good doctors who can go into a certain place? Do we have a team and the resources? Is there a good location? Sometimes there's a good partner in the area. That's usually how it would work."
Associate editor Caroline Cunningham can be reached at ccunningham@washingtonian.com.