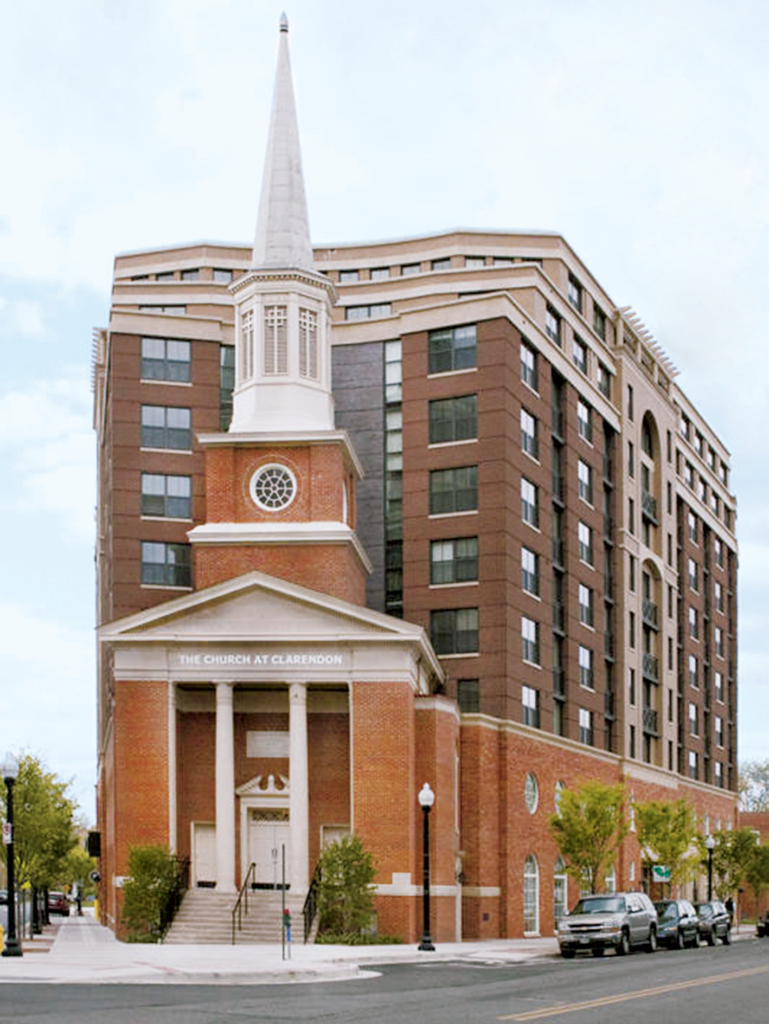 Washingtonians don't go to church like they used to. Across the area, older, close-in churches have been hemorrhaging members or even shuttering. In 2014, Gallup found that 23 percent of District residents attended weekly religious services, down from 36 percent in 2008; 47 percent attended "seldom to never." In Maryland and Virginia, 31 and 35 percent worshipped once a week, down from 41 and 43 percent.
Sociologists might interpret this data as evidence of changing social norms, while theologians might see reason to worry about our souls. People who think about our built environment are liable to focus on something else—that all of these underpopulated churches can be kind of a drag on neighborhoods.
To today's planners, few things are as important as vibrant street life. The logic of this tenet is pretty basic. Empty streets feel scary, but when lots of people are walking around, criminals make themselves scarce. That's why cities and suburbs alike are encouraging things such as streetfront retail and deemphasizing office canyons that go dark once the workday is done. (This is good for the tax base, too.)
By this logic, churches, especially the sparsely attended variety, are not terrific neighbors. Once upon a time, congregations could anchor neighborhoods, but nowadays they can feel like a void. Because many are open just a few hours a week for Saturday and Sunday services and the occasional weeknight meeting, nearby sidewalks are empty because nobody has a reason to stop in. Dark windows and closed doors—the United House of Prayer for All People, on Seventh Street, prefers to block its entrance off with large, ornate gates—send a message that people aren't welcome to linger.
Changing religious practices can also put churches on the wrong side of 21st-century thinking about parking. As fewer Americans claim a religion, houses of worship often have to go farther afield for parishioners, which means that even inner-city churches rely on souls who drive in from outside the District and leave after services, creating tension with newer residents who see the worshippers as interlopers gobbling up scarce spaces.
That's not an issue on a stable street like Northwest DC's 16th, whose stately churches are part of an existing landscape that isn't changing much. But in our liveliest corridors, the very places where people seek to gather (after all, M83 sang that "the city is my church") and where localities are encouraging more activity, a quiet church building is anything but calming. Urban architect Jan Gehl noted that people will walk faster when they pass darkened buildings. A few churches on a street might send them walking right by a local shop that they might otherwise have patronized.

Just as the look of neighborhoods has changed, so might the look of houses of worship. The church of the future could resemble Arlington's Church at Clarendon. In 2012, this Baptist congregation celebrated the opening of its new sanctuary, a few steps from the tapas bars and barre studios of Wilson Boulevard. Unlike the old building—a rather ordinary brick Colonial sanctuary—the church's preserved steeple is dwarfed by eight stories of luxury and affordable apartments. The $5.6 million the church made from selling air rights to developer Bozzuto helped pay for the new space, preserving the steeple, and renovating a 50-year-old education building.
The Church at Clarendon isn't alone in turning to developers to construct a new sanctuary in return for the chance to put something else next to it. Third Church of Christ, Scientist, fought for years for the right to scrap its Brutalist bunker at 16th and I streets so it could downsize to a smaller space inside a new office building. A few blocks away at Tenth and G, First Congregational United Church of Christ did the same. First Baptist Church of Silver Spring recently demolished its 87-year-old building to make room for luxury apartments. The developer is building a new, larger church for the congregation next door.
For these churches, the motivating factor isn't some newfound devotion to urbanist architecture. It's money. In more devout times, congregations could get by just from passing the collection plate. Take Christ United Methodist, the Prince George's County congregation I grew up attending. At its peak in the late 1960s, Christ Church had 800 members, whose donations paid for a sleek Modernist sanctuary and a school. But sprawl and white flight pulled churchgoers farther out. When my mother took over as pastor in 2001, the congregation had become older, considerably poorer, and much smaller. On a given Sunday, we were lucky if we got 11 people. Falling attendance meant fewer tithes, which meant no money to maintain the aging building, and the church closed in 2004. Other aging, broke congregations have followed suit. After the great recession, cash-strapped churches all over the United States closed as banks foreclosed on them.
With that grim scenario as the alternative, the benefits of linking up with other forms of real estate are pretty obvious. Congregations get a space that fits their current needs as well as the money to take care of it while carrying out their mission. Developers snag sought-after building sites plus a sympathetic partner able to win over abutters who may fight new construction in their back yard.
But the greatest spoils might go to the neighborhoods themselves. Instead of an aging church that struggles to keep the lights on and empty parking lots that invite teenagers looking for a place to make trouble, they get new homes, offices, or shops that put eyes on the street and provide much-desired amenities. A freshly energized congregation doesn't hurt, either.
Of course, the idea of a mixed-use church building isn't unprecedented. It exists, most notably, in a 56-year-old Rosslyn congregation. Arlington Temple United Methodist Church was born in 1961, designed to cater to stressed-out office workers as well as tourists. After years of congregating in offices and homes, the church moved into a new sanctuary in 1968 but had to lease the ground floor. The tenant helped underwrite the good works but would surely not have pleased today's pedestrian-focused urban-planning absolutists. The occupant was a gas station.
This article appears in the May 2017 issue of Washingtonian.