Washingtonian is spending the day exploring Crystal City. Read all of our Crystal City Day coverage here.
We're the only customers at Crystal City Restaurant when we arrive at 10:30 am on a Friday. The TV is blasting the latest James Comey firing news, while other screens silently flash tennis, baseball, and golf. A poster on the wall advertises $3.50 Miller Lite drafts from 10 am to 6:30 pm. We grab a tablecloth-covered booth in the back, and a friendly server hands us the breakfast menu. She's not wearing pants.
Our (admittedly limited) experience with strip clubs is a nighttime affair—or at least after noon, when most of Washington's adult entertainment venues open their doors. One of the many things that distinguishes the Crystal City Restaurant is that it's open for breakfast—served all day—starting at 10 a.m. Founder William Bayne Sr. originally opened the restaurant in 1963 "with the intention of providing quality hot meals to the Arlington area," according to its website. Though dancers were soon added "to spice things up a bit," the place still feels like a friendly American restaurant with Heinz ketchup on the tables and home-style apple pie on the menu.
Needless to say, the service is very friendly. We're doted on by two women—both wearing booty shorts that barely cover their buttocks. The menu reads like a diner's with French toast, eggs, and bacon. We ask for a recommendation, and one of the women cheerfully suggests fried chicken and waffles, an off-menu special. We're tempted by eggs and a New York strip, this being a strip club and all, but instead opt for two egg and cheese biscuits and our server's recommendation.
We even get our choice of music. Country seems appropriate. Before we know it, "Chicken Fried" by the Zac Brown Band is playing from the jukebox.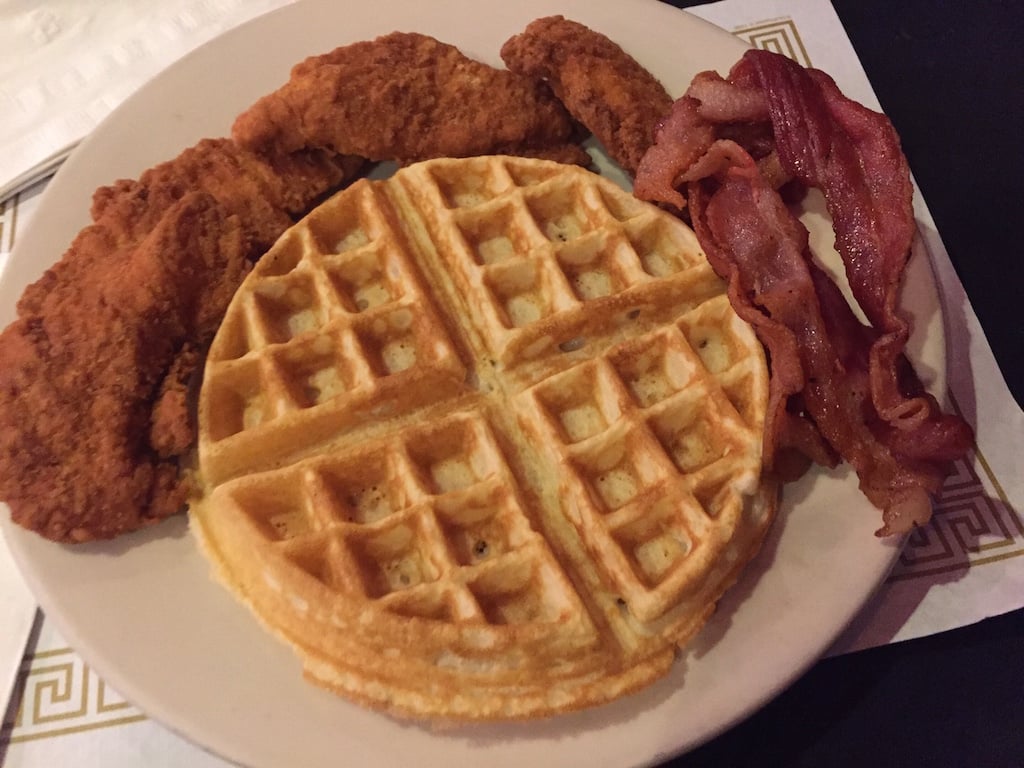 As it turns out, the fried chicken is really just tenders and the "home fries" are more like mashed potatoes. They're delicious nonetheless doused in maple syrup and hot sauce. The soft, flakey biscuits are cloaked in a greasy layer of melted pepperjack with over-easy eggs and salty bacon. We haven't widely sampled food from the city's strip joints, but the breakfast here is pretty solid. And cheap—before you start whipping out the dollar bills.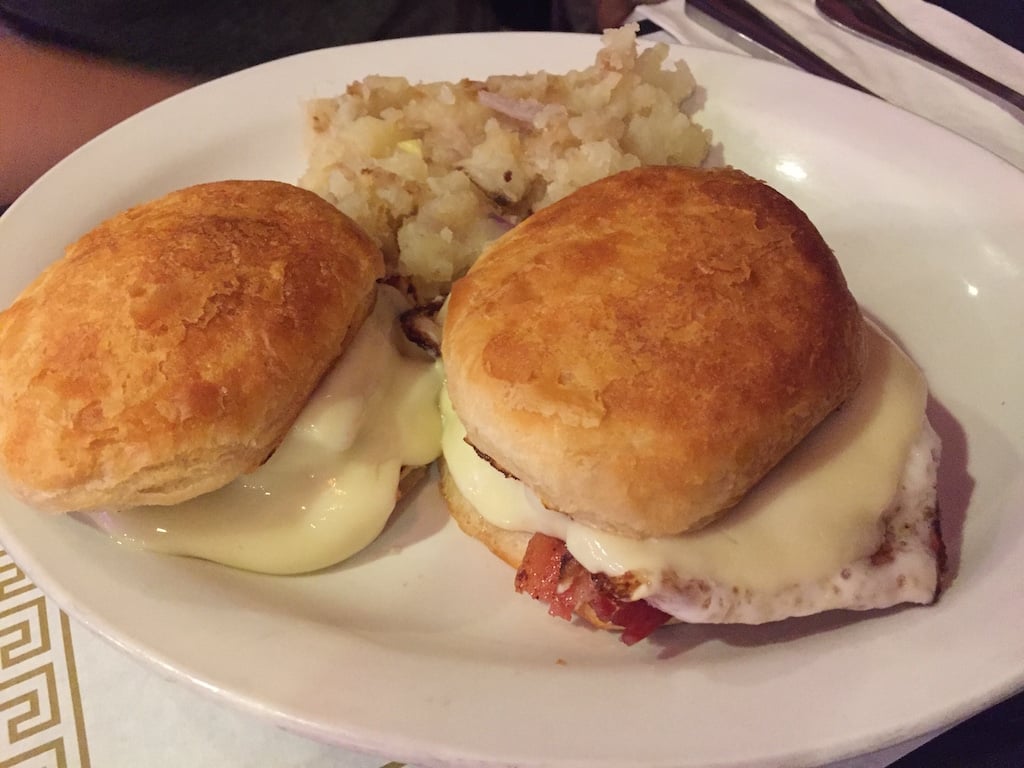 Around 11:20 a.m., the lights dim and our attention turns to the mirrored stage, where columns of bubbles are lit in rotating purple, yellow, and blue lights. A woman wearing an underwear-revealing red long-sleeved dress takes the stage in 8-inch bedazzled platform heels and begins a semi-sultry cleaning of the two poles with Windex.
Alan Jackson and Jimmy Buffet's version of "It's Five O'Clock Somewhere" drawls from the jukebox. As we finish our eggs, another performer strips down to a thong and pasties. All in all, our bill comes to $21.73. Not bad for a tasty breakfast, coffee, orange juice, and a truly masterful slow twerk.
CORRECTION: The Zac Brown Band song is called "Chicken Fried," not "Fried Chicken."
Crystal City Restaurant. 422 South 23rd St., Arlington.