Ai Weiwei's solo exhibit "Trace" will make its East Coast debut at the Hirshhorn Museum in June. The sweeping show includes 176 portraits of people the Chinese dissident artist considers activists, prisoners of conscience, or free speech advocates. Oh, and Weiwei constructed the portraits out of thousands and thousands of Lego bricks.
"'Trace' is shaped by Ai's own experiences: In 2011, he was incarcerated, interrogated and kept under surveillance by the Chinese government for 81 days and then prohibited from traveling abroad until 2015," the Hirshhorn press release says. "Since that time, his art has increasingly centered on the themes of freedom of speech and expression."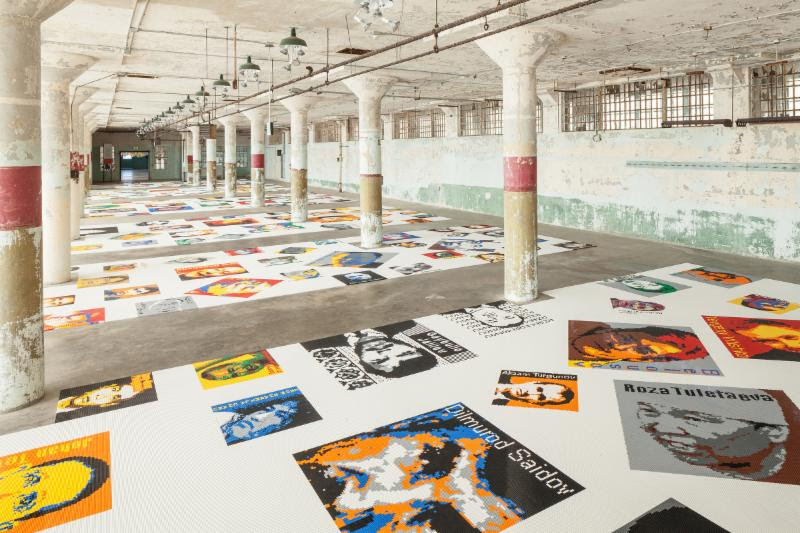 If you missed the wildly popular Yayoi Kusama exhibit, fear not: "Ai Weiwei: Trace at Hirshhorn" opens June 28 and will run until January 1, 2018, leaving plenty of time for fans to peruse. What may sell out quickly are tickets to his first-ever public appearance in Washington. Weiwei will deliver the annual James T. Demetrion Lecture on June 27. Free tickets will be released online on June 19.
"Trace" is one of the Beijing-based activist/artist's most significant US installations in recent years. It includes both recent and new art, including a never-before-seen wallpaper composition entitled "The Plain Version of the Animal That Looks Like a Llama but Is Really an Alpaca." The wallpaper is a black-and-white variation on the similarly-named, gold-colored work "The Animal That Looks Like a Llama but Is Really an Alpaca" which will be displayed on the second floor lobby.
"In all three works, the seriousness of the subject contrasts with the playfulness of the material, creating a dichotomy that characterizes the artist's philosophy and inspires conversations around the issues his art addresses," the museum says.
To create the wallpaper design, Weiwei arranges images of surveillance equipment to create intricate patterns that recall lace or a peek into a kaleidoscope. The museum says installation will span 700 feet and run around the entirety of the museum's circular second-floor galleries–a likely hit with DC's Instagram influencers and activists alike.