DC was a pretty bleak place following the election of President Donald Trump. Washingtonians sought the counsel of their therapists to help them deal with the anxiety, stress, and anger they felt following an election cycle that felt unprecedentedly personal. In response, psychiatrists recommended turning off the news and focusing on self care instead.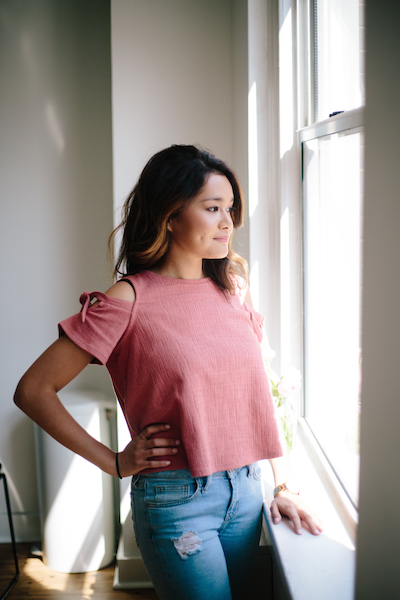 This was the climate in DC when Alisha Ramos, a tech designer and engineer, launched Girls' Night In (GNI), a brand that so far exists as a newsletter and blog. Though she'd had the idea churning in the back of her brain for a while—Ramos says she originally thought the company might focus on providing women with the things they needed to host a girls' night in—the election gave her "the final push to launch." And really, the timing couldn't have been better for a DC-based newsletter focused on taking a break and self care.
"I found that my friends, who are mostly women, were particularly stressed and overwhelmed, and we were seeking comfort and care by unplugging and instead creating community with one another," says Ramos. "I think women, regardless of political affiliation, were and are feeling this overwhelming sense even now. Girls' Night In hopes to be a place where you can recharge and find community in a world that's increasingly stressful and overwhelming."
After launching in late January, Ramos says their newsletter subscriber list has swelled to over 7,000—with a crazy-high open rate of 50 percent. GNI has also gained 2,500 Instagram followers and 1,200 followers on Twitter.
Delivered on Friday mornings, the millennial-pink-branded emails are emoji-filled, playful, and include a list of to-dos during your night in—including everything from television shows to stream to articles to read to body wash to buy—and GIFs to get readers in the #TGIF mood. And it would seem, both from Girls' Night In's steady follower growth and its Twitter feed, that women are really digging it.
Best part of Fridays? Getting @girlsnightinHQ in my inbox. Possibly the only newsletter I read in full. ?❤Get on it boss ladies!

— Katharine Tarvainen (@KatharineDuffy) March 10, 2017
.@girlsnightinHQ is my new favorite thing. Netflix & wine is the new party your face off. #adulting https://t.co/9In2iBXClY

— Katherine Bomkamp (@kbomkamp) May 12, 2017
If you're overwhelmed by the madness of this week/month/year, I cannot recommend @girlsnightinHQ more: https://t.co/0IuEHqyamn

— Natasha Geiling (@ngeiling) June 2, 2017
Ramos says that while the newsletter has no real marketing budget, around 90 percent of its growth has been through word of mouth, and that in a survey, most of its subscribers said they found the newsletter through a friend. The success of the newsletter so far seems to be based on the fact that the content is pretty great—it's like a pajama party in your inbox on Friday mornings, it signals that the weekend is almost here, and it's designed in such a millennial-friendly way (the emojis, the pink, the nostalgic font, the pop-culture references) it's no surprise that women are inclined to pass it along.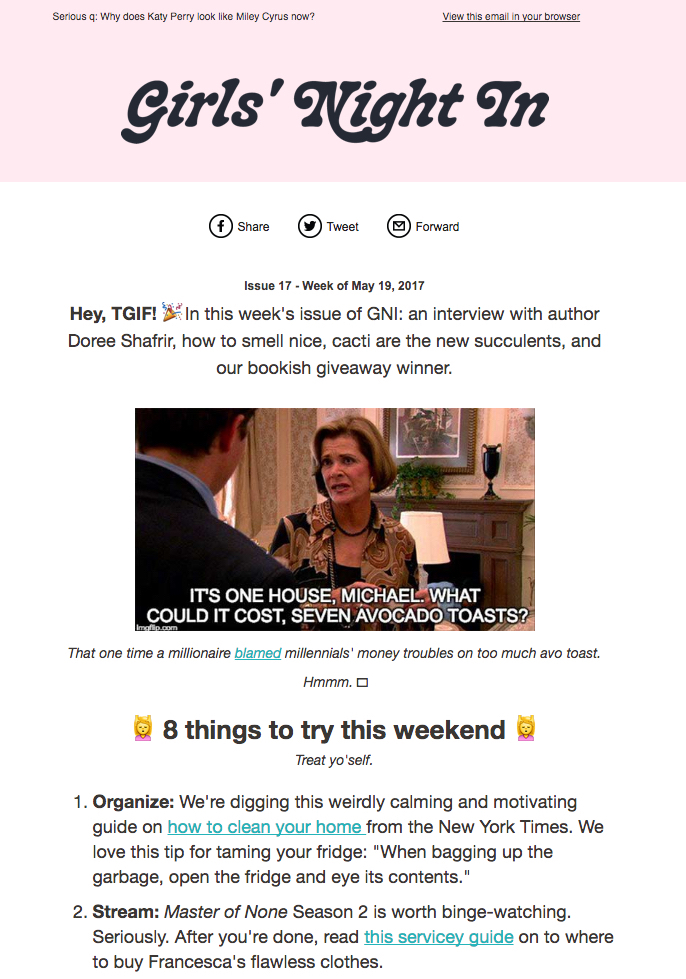 There's also one strict rule for the content that might be attracting DC women who are stressed out by the current political climate: no politics.
"We do not write about politics. As a DC-based company, this is probably really ironic," says Ramos. "But the point of GNI is to give you a break. While it's important to be engaged and informed citizens, we don't want you to read about politics in a newsletter that's all about taking a break."
Though Ramos has only begun building out GNI, she recently quit her job to focus on the brand full-time. While Ramos wrote in a Medium post about the jump that "making that decision was terrifying," she's also passionate about the project and confident that now is the time to focus on growing her brand.
"GNI was and is growing pretty rapidly, and after a certain point it became impossible for me to balance both a day job and side hustle. I've always been entrepreneurial and knew I wanted to build my own company one day, so GNI felt perfect," says Ramos. "The second point is timing: I think now is the right time for Girls' Night In and what we're trying to do. Many trends across consumer behavior, technology, and retail are converging to a place that is perfect for what we want to build."
While so far followers have only experienced the newsletter and blog posts, GNI has its first event coming up on June 22, part of a new event series that Ramos is launching. Ramos says she has other plans for GNI in the works, which are currently TBA. Overall, though, she intends to continue examining how women approach wellness and take care of themselves.
"We'll be focused on building products that fit within our mission to make wellness accessible and fun for the busy millennial woman through community," says Ramos.