While Mollie Thorsen always has to eat well to keep up with her modeling job with THE Artist Agency, entering the realm of pageant competitions has presented its own challenges. As she's currently preparing for the America's Miss World pageant in August, Thorsen is focusing her eating around staying fueled and energized.
"When I signed up in April to compete this August, I had no idea just how much that would entail," says Thorsen. "I started to evaluate my daily food intake and reassess what I was eating to help with my physical training. After talking with nutritionists and studying food blogs, I realized what exactly my body was reacting positively to and what it was reacting negatively to. First things first, I immediately cut out all bread, alcohol, and sweets. This was very difficult, but I found that the more I didn't eat or drink these items the better my body felt."
By paying attention to the foods that Thorsen found energizing, she was able to put together an eating plan that works for her. Below, take a look at what Thorsen eats in a typical day.
Morning Coffee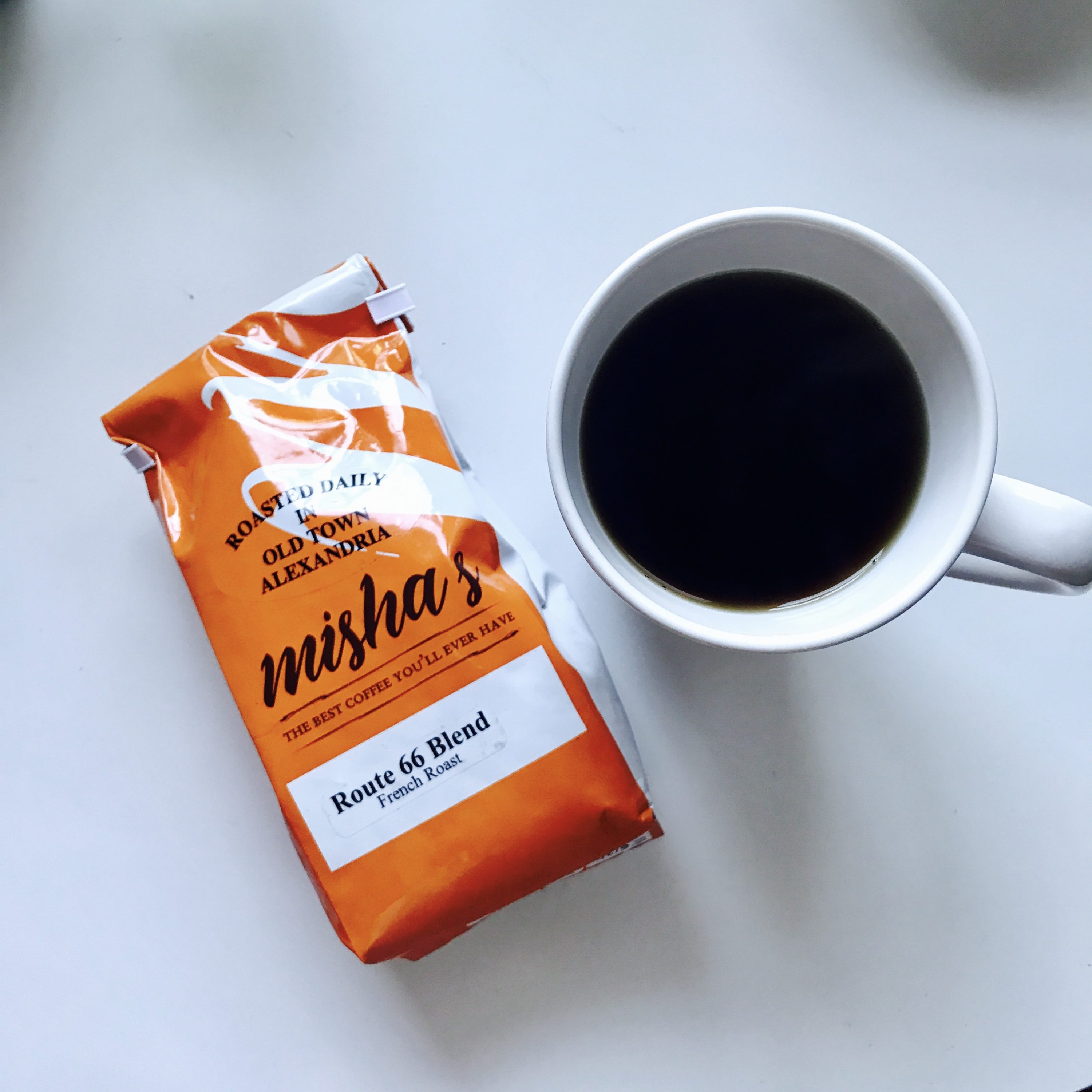 "When I don't have shoots in the morning, I usually do 7:30 AM Yoga Sculpt at CorePower, but since I have a 9:00 AM shoot I have time to make what I call my 'vacation breakfast,'" says Thorsen. "I always make 'vacation breakfast' on the weekends—or basically any time I have more than ten minutes. First, I grind and make coffee. I am a loyal coffee enthusiast and if I am making the coffee I really will only drink Misha's from Old Town Alexandria. They have an amazing roast called Route 66 that isn't too bitter; I prefer smooth coffee."
Breakfast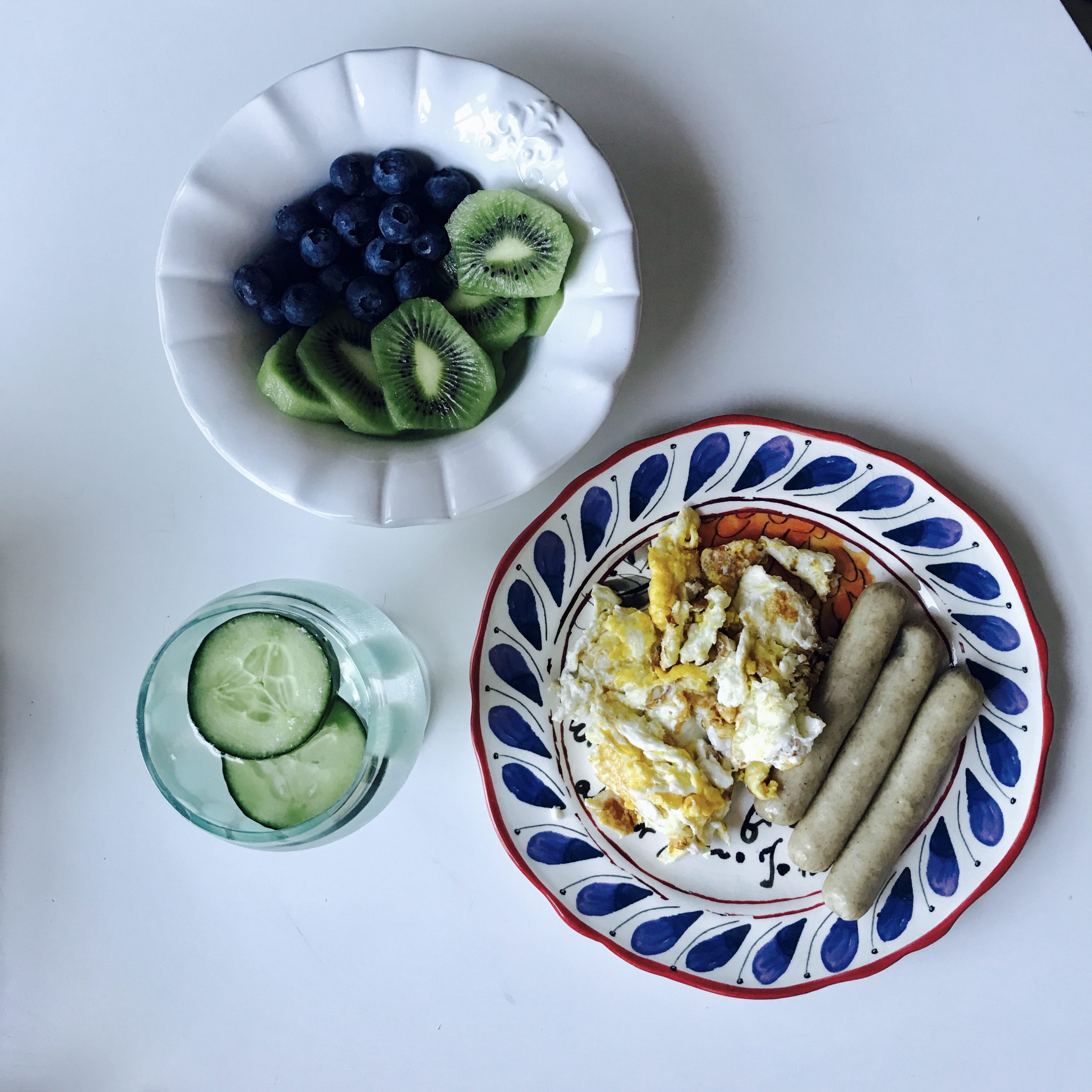 "I cook three chicken sausage links from Whole Foods and three eggs (two egg whites and one whole egg) to get all the protein I need. I used to cook only egg whites because I didn't want the calories, but the yolk has a lot of health benefits and it is important to put one in the mix," says Thorsen. "I add blueberries and kiwi on the side to give an extra interest and add Vitamins B and C. With all the health benefits that kiwis have to offer, people should eat them more often! I add cucumber to my water because with no alcohol and sugar, water is really my major drink. It can obviously get mundane, so when I can, I add cucumber to encourage me to drink more. I head to the shoot full and energized!"
Lunch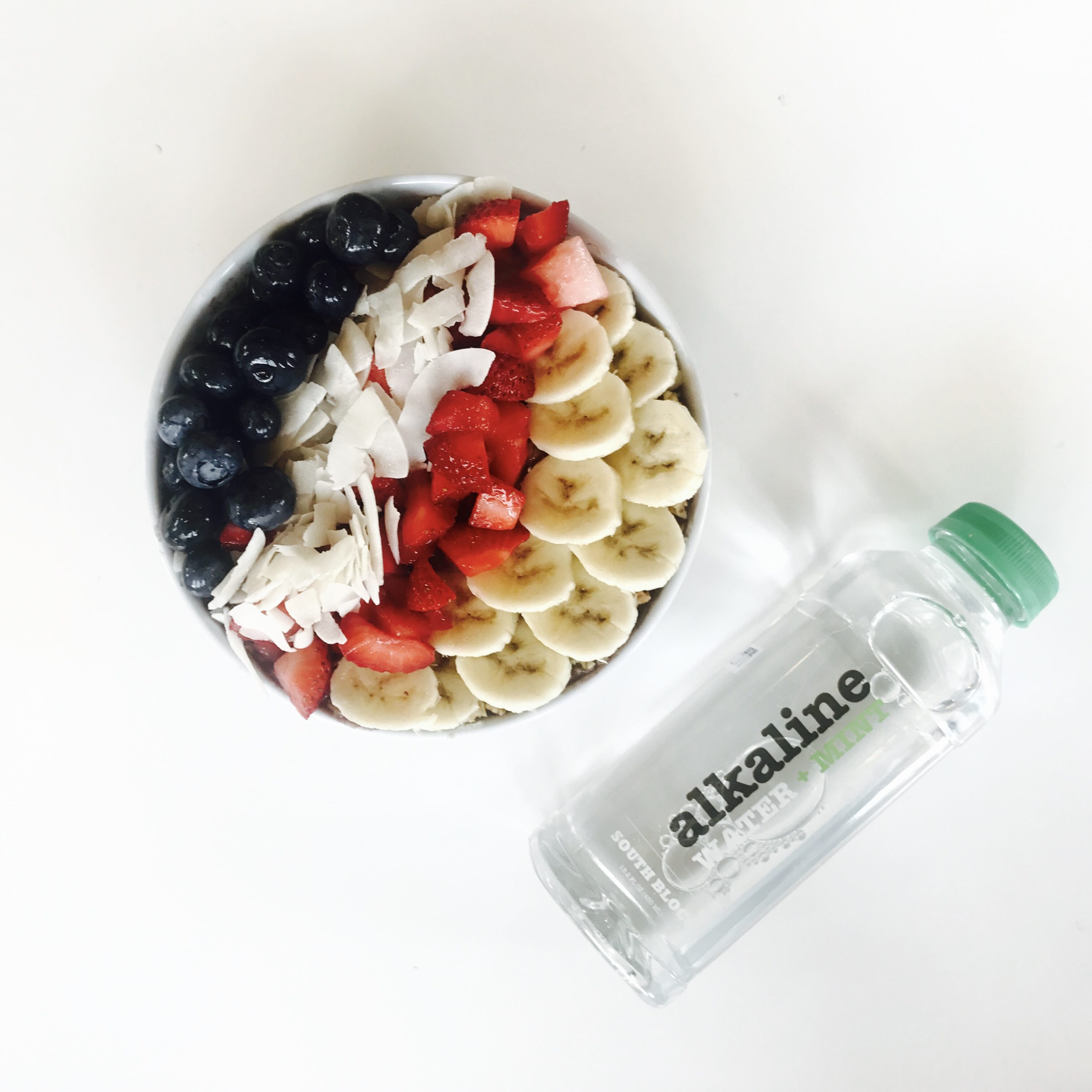 "I wrap up the shoot around 12:00 PM and head back to Alexandria to get to work in my office at Little Burros—the innovative garden tool company I run with my family. On the way I stop in Del Ray and grab an Aqua Bowl at South Block," says Thorsen. "It's filled with coconut water, which I prefer to the other bowls that have an almond milk or coconut milk base. I add some banana on top, since I didn't snack in between meals. South Block has created the ultimate summer drink that is so refreshing: the Alkaline Water + Mint. I grab one of these because anything to jazz up your water is delightful."
Afternoon Drink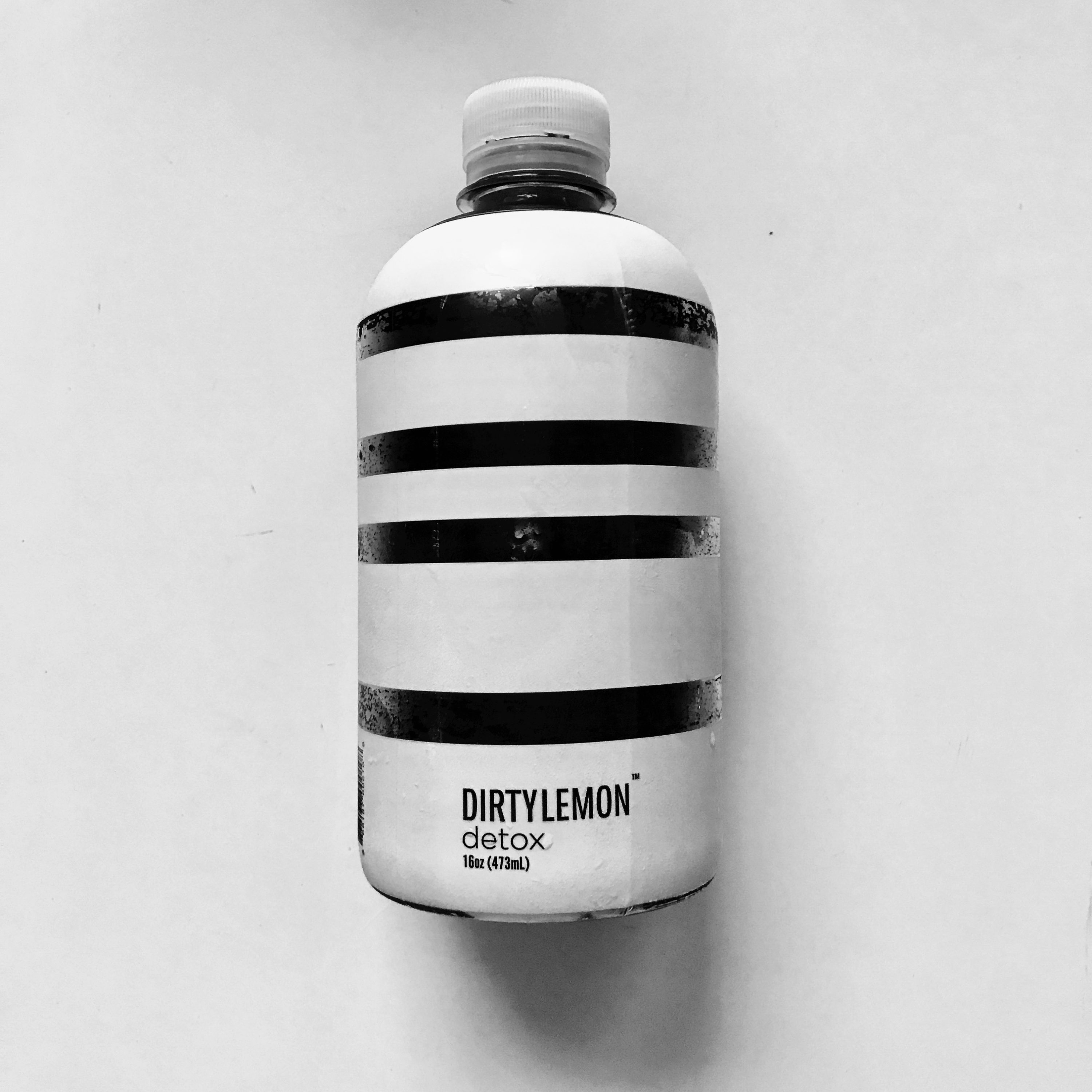 "I really don't snack, but always keep a Dirty Lemon water in the fridge and drink one of those between lunch and the gym. Today I am drinking Detox, which consists of activated charcoal," says Thorsen. "I am a firm believer that what you put in your body shows through, and since I have started drinking these, I have seen a noticeable difference."
Dinner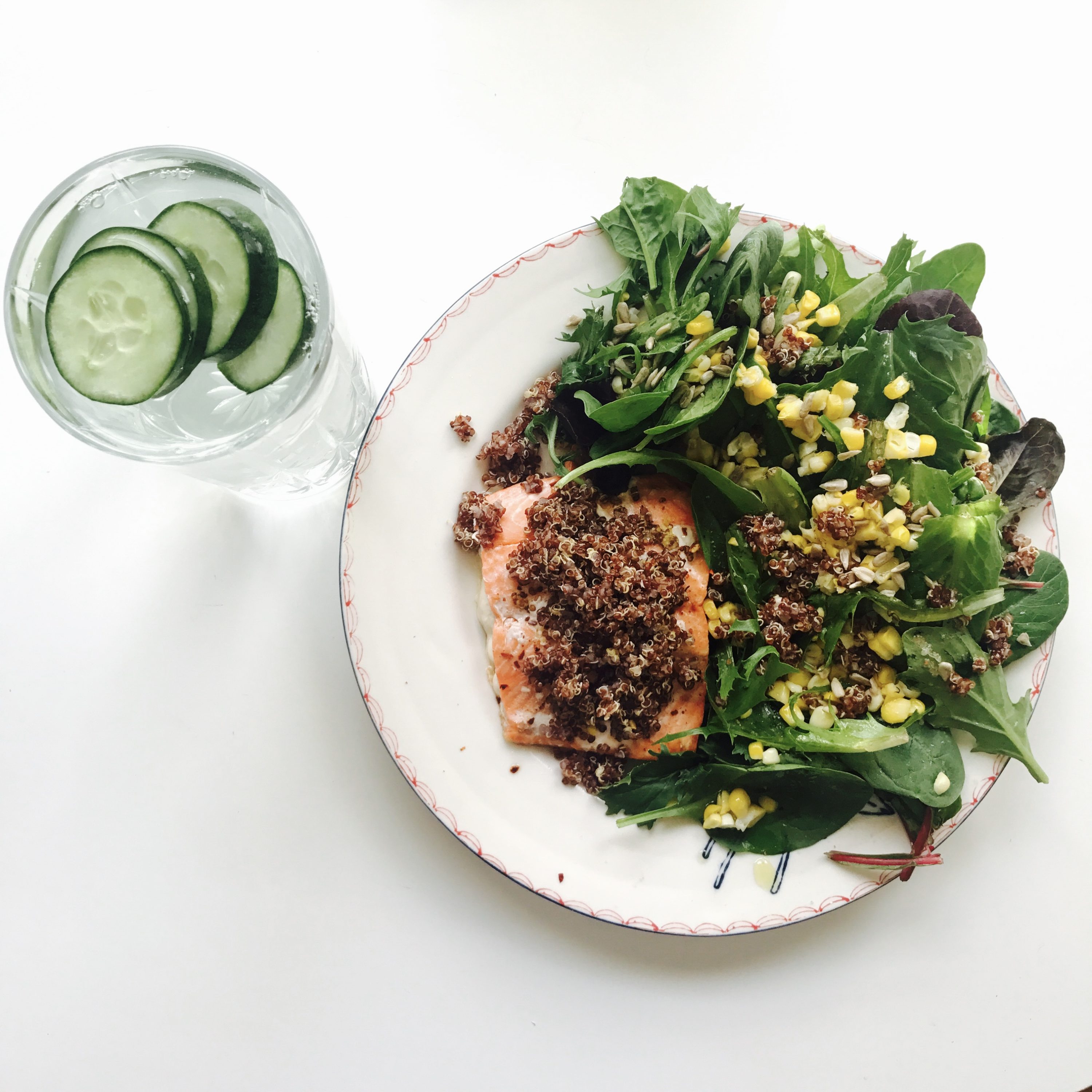 "After work, I head to the gym to do a Yoga Sculpt because I missed it this morning. Since I do heated classes, it really makes a difference how much water you drink throughout the day," says Thorsen. "I finish class and head home to make dinner. I drink a cucumber water once again and get cooking. I make a wild caught salmon filet with a mixed greens salad that has corn, quinoa and sunflower seeds. I'm really particular about my meats and fish. I will not eat farm raised fish and everything has to be non-GMO, and where it pertains, grass fed. Like I said earlier, everything you put into your body is really important, so I do everything I can to always eat organic. I put some quinoa on the salad this time because I know I have to wake up early and hit the gym, so I don't want to wake up hungry. The dressing I make is just oil, vinegar, Himalayan salt, and a little mustard—very clean and nothing too rich before bed."
Something Sweet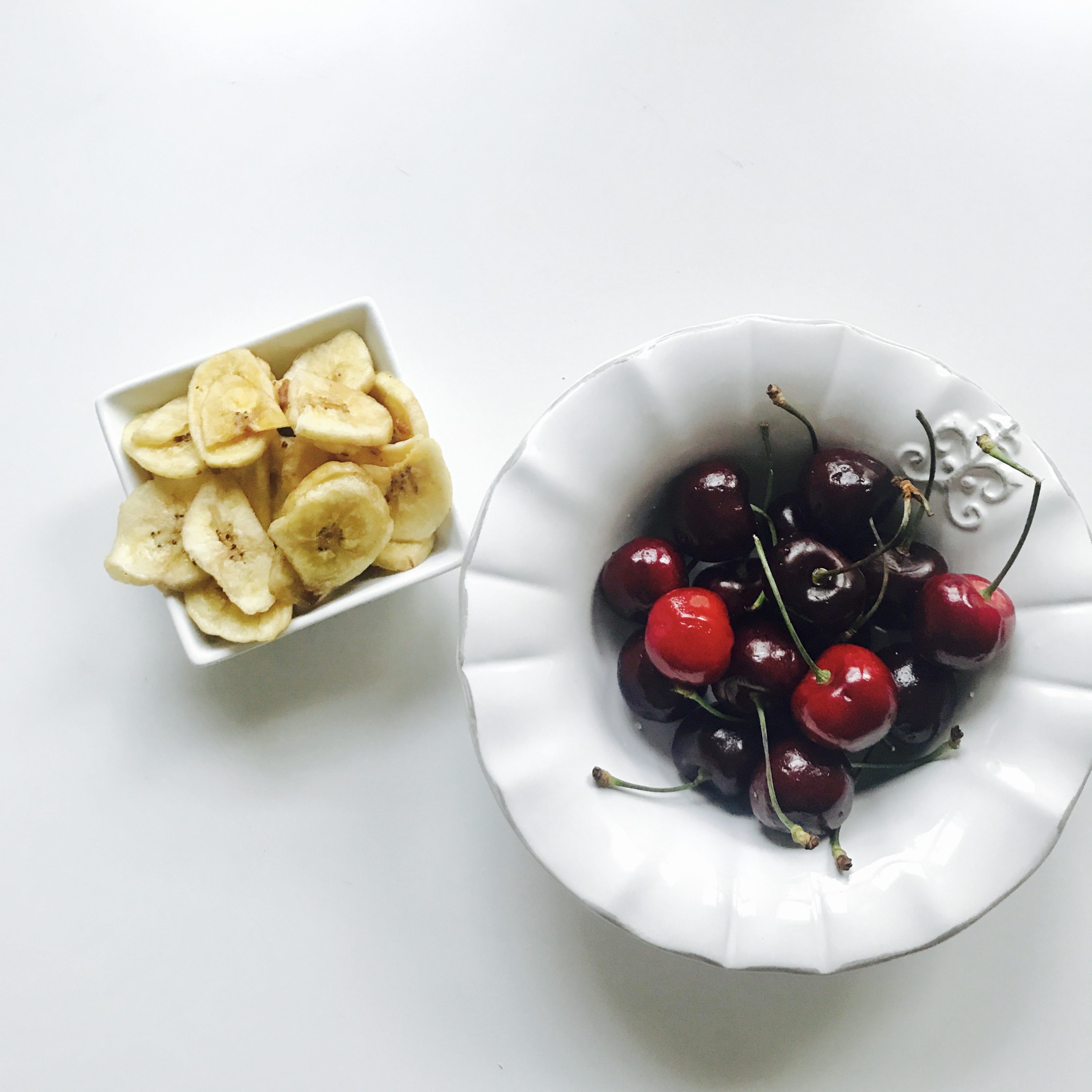 "Cutting out desserts has been the absolute hardest, but I have found natural sugars to be just as sweet!" says Thorsen. "I have amazing cherries from the Del Ray farmers market and eat some non-sweetened banana chips to treat myself."
Have a Food Diary you'd like to share? Email ccunningham@washingtonian.com.
Consult with your doctor before beginning a new diet. Washingtonian does not endorse any diet without the supervision of a medical professional.