Chercher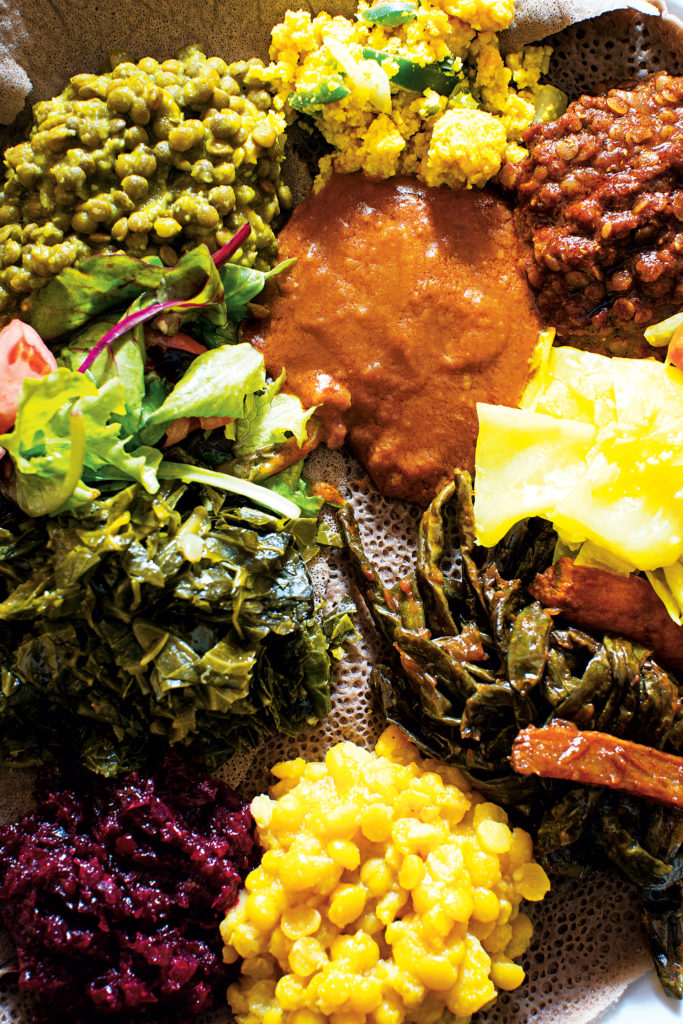 Shaw, 1334 Ninth St., NW
DC's Little Ethiopia, around Ninth and U streets, boasts many tasty spots. But Alemayehu Abebe's cooking offers a reason to stray a few blocks south. In a subterranean rowhouse dining room, the vegetarian deluxe platter features ten dishes including stellar classics (spicy lentils, garlicky tomatoes) and unusual finds, such as sunflower-juice-soaked injera. That said, don't miss the meats—especially the soulful bone-in lamb stew (yebeg wat),  whose ginger-and-cardamom-laced sauce demands mopping with extra injera. Look for a new Arlington branch with a wine bar later this year.   
Also good: Doro wat; kitfo.
Dama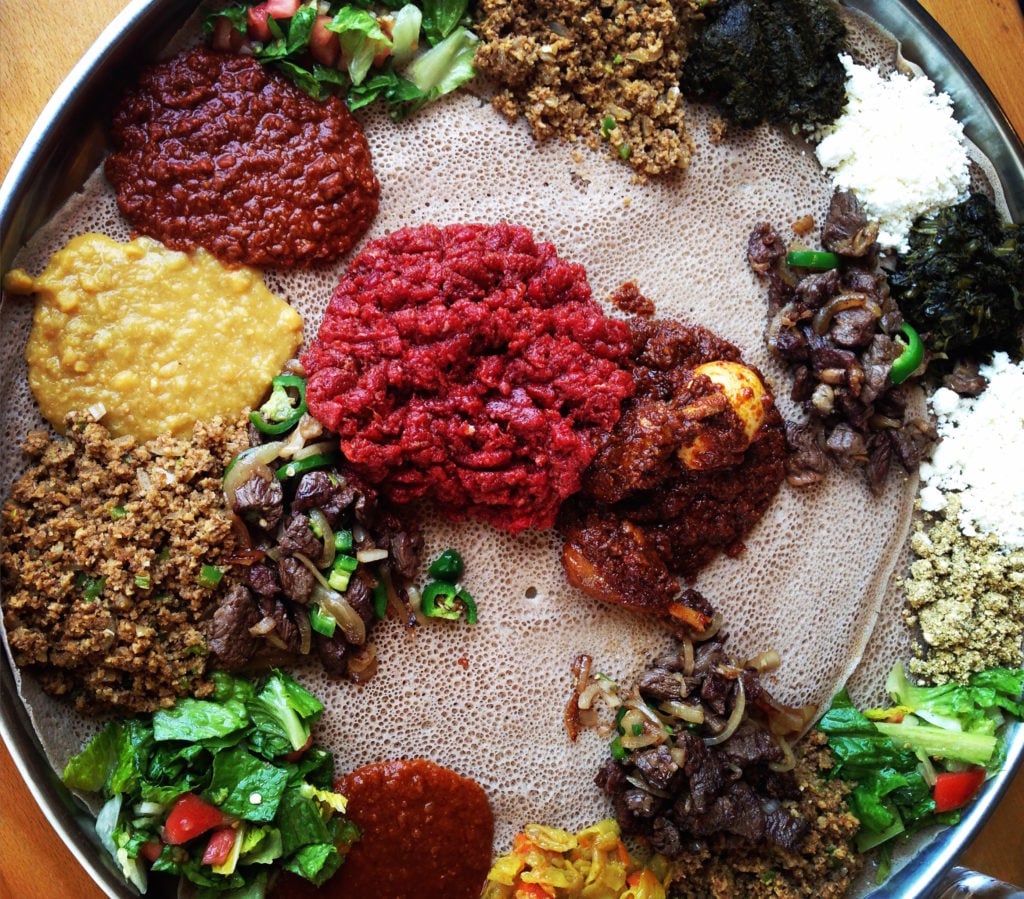 Arlington, VA, 1505 Columbia Pike
It's hard to conceive of vegetarian dulet—typically an offal-heavy dish of ground beef, liver, and tripe—let alone a delicious one. Leave it to this crowd-pleasing bakery/butcher/restaurant to deliver on both the classic and tofu renditions, seasoned with caramelized onion and ginger (ditto for the traditional and veggie versions of beef-tartare-like kitfo, with herbed cheese). Dama's big appeal is the freedom to dabble—whether at breakfast or the lunchtime buffet, or on the all-day menu of vegetables, tibs, and stews. Chef/co-owner Almaz Dama crafts the lovely European-inspired cakes and pastries, that, like the rest of the lineup, include speciaties for vegans.
Also good: Vegetable combo platter; Dama special lamb tibs.
Alexandria, VA, 4709 N. Chambliss St.
Beginning a meal with a chopped injera salad seems counterintuitive, given the abundance of the spongy sourdough bread that takes the place of plates and utensils. Go for it anyway—the timatim fitfit, similar to an Ethiopian panzanella, sings with sweet tomatoes, peppers, garlic, and olive oil. Such high-quality ingredients and vivid flavors are typical at this ochre-toned restaurant. Order the superb vegetarian sampler (few places make better yellow split peas), then build from there; we love the tender lamb-shank stew or rib-eye tibs fried in lots of butter.
Also good: House special kitfo; doro wat.
Columbia Heights, 3100 14th St., NW, Suite 121
There's a chic gallery vibe—concrete floors and white walls enlivened by gorgeous textiles—at this fast-casual eatery. Though the food has a modern spin, it's still deeply authentic. Vegetables are a standout—look for collards with a hit of jalapeño or finely chopped mushrooms, tossed with bits of red onion, garlic, hot peppers, and olive oil. Doro wat—the spicy, bright-red stew of chicken and hard-boiled egg—has a hint of sweetness to mellow the fire. Tamer but no less flavorful is alicha siga what, a curried beef stew, and lega tibs (ask for it dry so the morsels of beef turn crisp).
Also good: Chicken tibs; string beans and carrots with caramelized onions.
Hyattsville, MD, 6040 Baltimore Ave.
Color-splashed paintings of village life hint at the culinary exuberance to come at this cafe, which has a more varied menu than many other Ethiopian spots in the area. Sambusas, savory fried pastries, are expertly done, especially the delicately seasoned beef version. Vegetables also get plenty of love. Caramelized carrots and onions elevate sautéed cabbage, and azifa, a cooling salad of lentils, peppers, and tomatoes, is a welcome counterpoint to the heat of ultra-spicy yebeg wat, a lamb stew. Yebeg alicha, a milder lamb stew flavored with ginger, garlic, onions, and herbed butter, is pretty wonderful, too.
Also good: Awaze tibs, sauteed beef cubes in a red-pepper sauce; collards with house-made cheese, herbed butter, and chili powder.
---
Cheat Sheet
Drinks
Refreshing lagers such as Meta and St. George; tej, a sweet, mead-like honey wine; spiced black tea.
Condiments
Awaze, a smoldering chili paste; ayib, a crumbly fresh farmer's cheese often served as a cooling spice tamer.
Pro Tip
Even though injera, a flatbread, is used in place of utensils, Ethiopian Spots can be great for gluten-free diners. Just ask for 100-percent teff injera.
Desserts
Desserts aren't a big part of Ethiopian cuisine. Instead, seek out Ethiopian bakeries or coffeehouses, which typically offer European-style confections (cream puffs, tiramisu).