Glancing at Chelsea Williams' colorful wellness website and Instagram feed show that she's a dedicated health blogger, but her back story provides a more personal reason for her love of nutrition. Williams, who has both her masters in public health nutrition and is a certified communicator in public health, started her wellness journey after years of dealing with Graves' Disease and hypothyroidism. The conditions, which cause an overactive thyroid, led Williams investigate how changing her diet could help her better manage her health.
After becoming a vegetarian in 2012, Williams switched to a vegan diet in 2015. Currently, Williams tends to stick to a "Raw Till 4" rule—though she gives herself some flexibility here—which means she only eats whole, raw, plant-based foods until dinnertime for the purpose of optimizing digestion. Additionally, Williams tries to prioritizes "water-rich" foods to help her stay hydrated.
To see how Williams' healthy eating plan plays out in real life, take a look through the photos below of a day in her diet.
Pre-Breakfast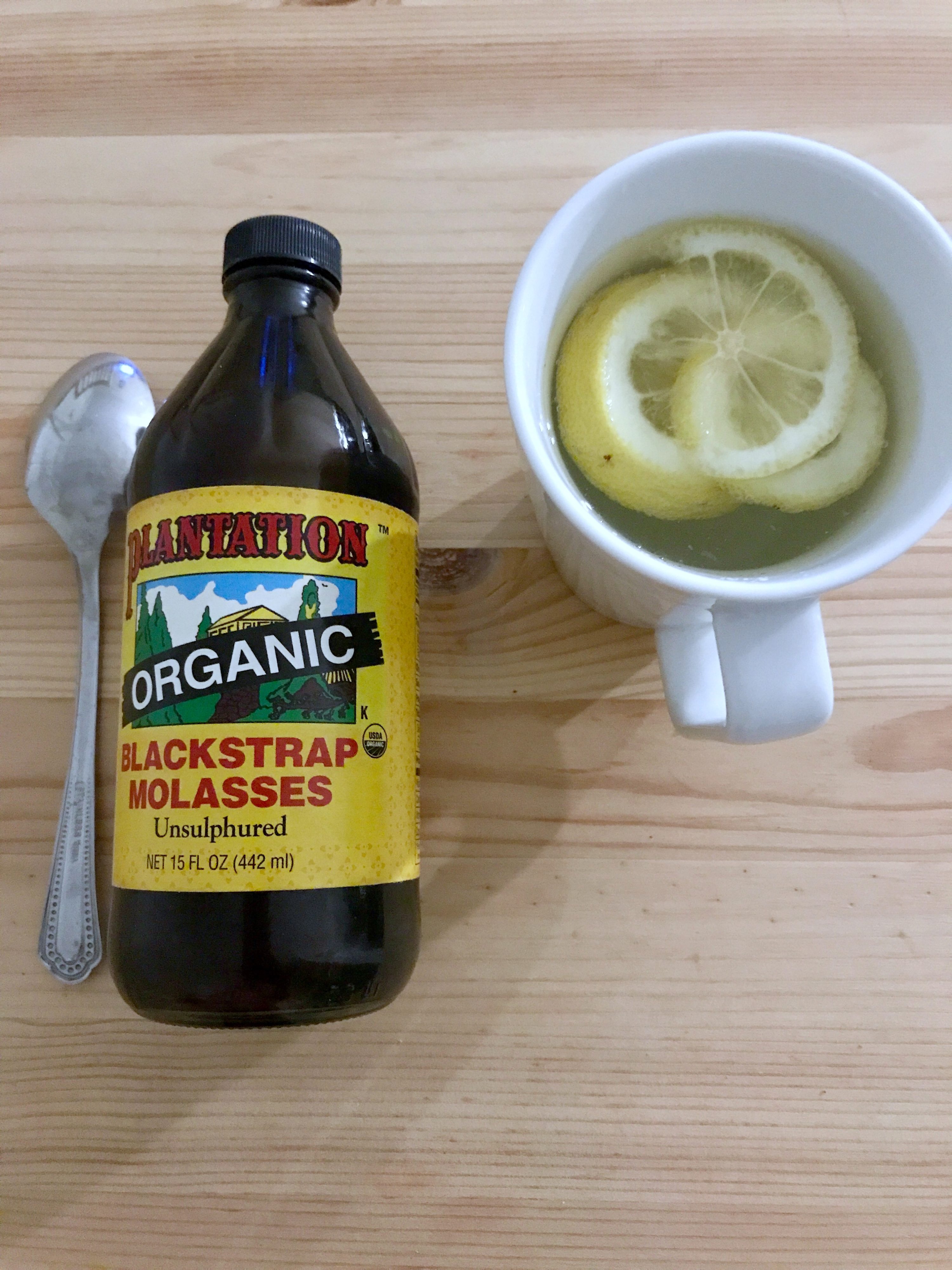 "I always start my morning with two tablespoons of blackstrap molasses, followed by a glass of warm lemon water," says Williams. "I don't consume animals or animal byproducts, so this helps with my iron intake. Blackstrap molasses is also great for healthy hair growth, rich in calcium and potassium. I chase the molasses with lemon water because it optimizes iron absorption. It's also a great energy booster."
Breakfast
"Breakfast is a must for me. On most mornings, I have a green smoothie," says Williams. "Kimberly Snyder's Glowing Green Smoothie is my favorite. This smoothie helps me stay full and energized. It's also a great way to get your greens in early in the day."
Second Breakfast
"For my 'second breakfast' or morning snack, I usually have a bowl of fruit," says Williams. "On this day, I had a bowl of blackberries and blueberries. Both of these are packed with antioxidants. Blackberries can be a little tart. Mixing in some blueberries provides the perfect amount of sweetness."
Lunch
"I usually eat a salad for lunch, but not a boring one!" says Williams. "I love making salads with quinoa as one of the many sources of plant-based protein. Pictured here is my Quinoa Arugula Salad."
Afternoon Snack
"When I want something really sweet, without a crash, I usually reach for dates," says Williams. "Many people don't know this, but dates are a great source of protein. They're also rich in fiber and can help stabilize your blood-sugar levels."
Dinner
"I'm usually headed to meetings in the evenings so veggie wraps and Buddha bowls work best for my busy schedule," says Williams. "There really is no perfect formula. You can throw whatever you have in your refrigerator into a bowl or roll it up in a wrap and voilà, dinner is served."
Have a Food Diary you'd like to share? Email ccunningham@washingtonian.com.
Consult with your doctor before beginning a new diet. Washingtonian does not endorse any diet without the supervision of a medical professional.