Justin Schweiger has become a viral sensation for setting up six back-to-back dates in one night at the same bar—a plan that back-fired when the women rallied together, leaving him with the bill.
But it turns out this wasn't Schweiger's only date gone terribly wrong. A few weeks earlier, he was kicked out of another DC bar for allegedly hitting on women around the room—even though he was on a date.
Crisp Kitchen & Bar owner Jamie Hess tells Washingtonian that Schweiger arrived at the Bloomingdale restaurant on a Saturday night with a "really pretty blond girl." But as she sat by the window drinking, Hess says Schweiger started hitting on other women around the bar and the bartender, making them uncomfortable.
In a phone interview with Washingtonian, Schweiger counters that he was not hitting on other girls, but walking around trying to meet people. "I talk to people and I network," he says. "I'm a mover and a fucking shaker."
Regardless, the bartender told him she thought it was time for him to go, Hess says. When Schweiger refused, she pulled aside Hess and told him what was going on. Crisp has a zero-tolerance policy toward harassment, Hess says, and after observing Schweiger, the owner decided he was no longer welcome. "I said, 'Hey, you've got to calm down, and I think it's time for you to get out of here.'"
Schweiger closed his tab, leaving a 10-percent tip and a salty message on the signature line: "FUCK OFF, FELICIA!"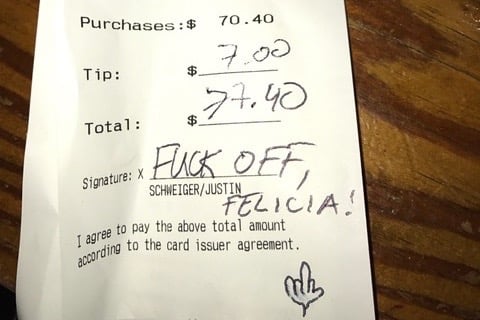 On his way out, Schweiger turned around and told Hess, "Just so you know, I know the owner and I'm going to get you fired for this." Again, Hess is the owner.
Schweiger denies that he was asked to leave. "They did not kick me out," he says. "I cannot be kicked out of anywhere in DC." He doesn't remember what he might have said to the owner. 
As for the receipt, he says it was a response to bad service. "I loved that restaurant. It was the best fried chicken place," says Schweiger, who lives in Bloomingdale. "Now, it's a place where a bunch of shit-heads bartend until they get fired."
And the Felicia reference? Schweiger thought it was humorous. "Google, 'bye Felicia,' and you'll get that reference. 'Fuck off Felicia'… first of all, that's an alliteration so it sounds cooler," he says. "It's just a funny thing to say. And if you get the reference"—"Bye, Felicia" is an oft-quoted rejoinder from the 1995 film Friday—"it's even funnier. If you don't, it's like who the fuck is Felicia? And you talk about something else."
Hess says Schweiger's date and the other women in the bar thanked him after kicking out the now-notorious Mr. Six Dates.
This is not the first time Schweiger's name has appeared in the news. In 2007, a group of Montgomery County high-school students were arrested after after attempting to hold up a Smoothie King—including a Justin Schweiger, who was found guilty of a misdemeanor conspiracy to commit robbery. When asked if he was the same person, Schweiger grew angry. "I don't give a fuck, what's done is done," he says.
Now, though, it seems Schweiger's on to bigger things since cashing in on his 15 minutes of fame. "Oh shit, I gotta call German TV," he says before ending his interview with Washingtonian, for which he'd asked to be paid. (He wasn't.) "I'm going to be the next David Hasselhoff. Anyway, talk to you later, bye."