"The thing is, I do not want to be the keeper of the flame. Ben does not need me to keep the flame, you know? He didn't need that, and I don't need it."
It's a gorgeous spring morning, and Sally Quinn—the hotshot journalist turned wife of legendary Washington Post editor Ben Bradlee turned gatekeeper of Washington society turned religion columnist and about-to-turn evangelist for mysticism, magic, and the divine—is tucked into a wicker settee behind her Georgetown mansion, awaiting the arrival of an ABC News crew.
The sun-soaked back yard, the setting for a thousand Ben-and-Sally soirees, is a riot of roses and dogwoods. On the shady back porch, Quinn looks cool and camera-ready in a royal-blue belted dress, her silver-blond hair just so. She's actually forgotten the subject of today's interview. (A Watergate anniversary, maybe?) But it won't be hard to summon her best lines. People are forever asking the 76-year-old Quinn to revisit chapters from her and Ben's lives. His friendship with the Kennedys. The Pentagon Papers. Taking down the President.
And yet. Bradlee has been gone almost three years. It's no longer Ben-and-Sally—now it's "just Sally," as their old newspaper declared after his death—and there's more than her 36-year marriage on Quinn's mind these days. "I want to honor Ben in every way I can, and I'm enormously proud to have been his wife," she says. "But my whole life is not about that." Her rough, moneyed voice rises a tick. "It's not healthy. I want to move on with my life. That's what he would want me to do, and that's what he told me to do."
For now, Sally would like to talk about Sally.
Over the past month or so, Quinn has been scrambling to finish a new book. Just hours before I showed up on her doorstep, as a matter of a fact, she had stitched together the final bits of the manuscript and e-mailed it to her editor. This is not her first rodeo. She has penned read-at-the-beach novels, an account of her ill-fated stint as a morning-news anchor, and a how-to for "adventurous entertaining" chock-full of tales from her A-list parties. But this book is different.
It's a spiritual memoir, called Finding Magic, that charts her path from "angry atheist" to—well, Quinn's spiritual classification is a bit hard to define, even for her. A sort of Eat Pray Love for the This Town set, the memoir offers an intimate, at times painful look inside her exceedingly public life. There's less glamour and cutthroat ambition, more vulnerability and personal anguish. She outs herself as a believer in the occult and as an erstwhile practitioner of voodoo, and she packs the book with moments that have made anxious friends wonder: Are you sure you want to share that?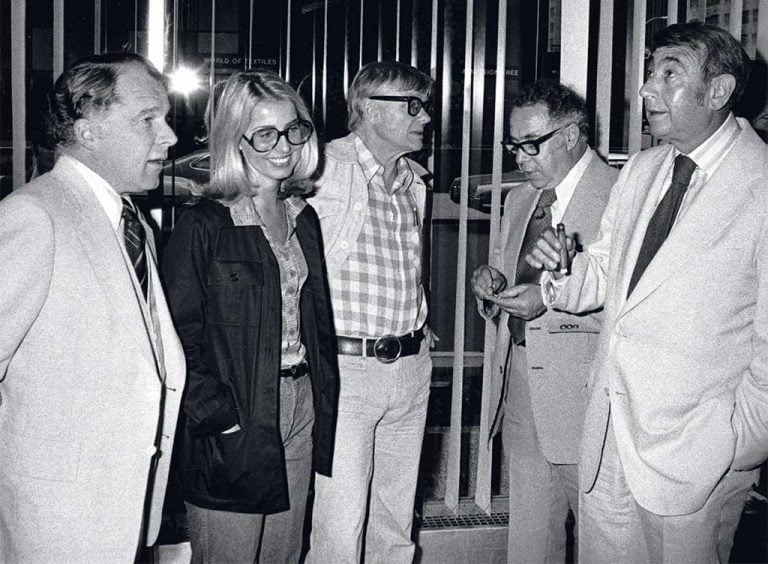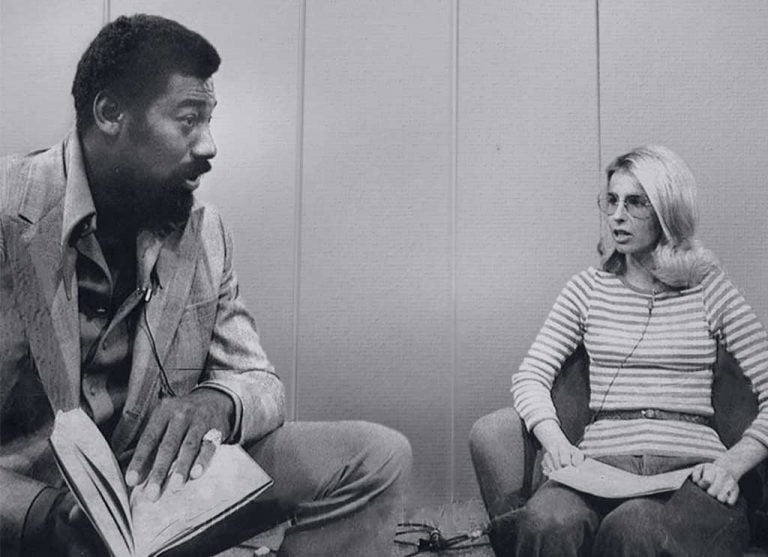 But then, if you know Sally—a seasoned provocateur who has regularly reinvented herself over 50 years in Washington's spotlight—the answer is self-evident. Ben is gone, and the capital's social scene has changed so dramatically as to render an über-hostess largely irrelevant. What better way to reinsert herself into the conversation than shaking up buttoned-down Washington by letting her spiritual freak flag fly? Quinn knows how the game is played. "She understands that the coin of intimacy is revealing yourself," says journalist Elsa Walsh, a longtime friend of Quinn's. "Sally is an entertainer in all the best sense of the word."
---
Do not call Quinn a spiritual seeker. (She rejects the terms as empty.) Don't say she's been on a spiritual journey. (She hates that.) And don't try to attach a traditional label to her brand of religion—Sally Quinn has never fancied herself conventional. Finding Magic is really the story of Quinn's life, from her childhood as an Army brat through the year following Bradlee's death, seen via the lens of faith—and, of course, with her trademark mentioning of boldface personalities (don't use the term name-dropping). "I think people will read it and see . . . that I've had these episodes in my life which have changed my life," she says, "and each one has some special meaning for me."
As Quinn tells it, she gave up on God at age four, after stumbling across her intelligence-officer father's scrapbook documenting the aftermath of the liberation of Dachau. The graphic images sparked the classic "How could a loving God allow this?" psychic turmoil in young Sally. A few years later, when the family was living in Japan and her father was off fighting in Korea, Quinn got a firsthand look at wartime suffering when she fell ill and wound up spending months in military hospitals.
Her account of being evacuated to the States on a plane filled with wounded soldiers is not for the weak of stomach: "Blood was everywhere—dripping from the top litters down onto the lower ones, running along the floor in rivulets, soaked into towels and bandages, on people's hands and arms, and all over the nurses' clothes." In the following years, when her Episcopalian father would root Quinn out of bed for Sunday school, she was increasingly annoyed that he was forcing her to live a "big lie."
Quinn's book is packed with moments that made friends wonder: Are you sure you want to share that?
Bill Quinn made general during Sally's senior year of high school, and the family spent the next four years in a house overlooking Arlington National Cemetery. Smart and worldly, Sally frequently attended embassy parties with her parents and could hold her own with Washington's posh crowd. But even this golden existence had dark spots. The summer after her sophomore year at Smith, she hung out with Senator John Tower at a party her parents were throwing for Barry Goldwater, a close family friend. Through a series of unfortunate events, a few nights later she found herself in a cab with Tower, who she says was stupid-drunk and intent on raping her. It was an experience "so searing and so traumatic that I never got over it," she writes. "I felt that I had seen the face of evil, up close and personal." (The Senate later declined to confirm George H.W. Bush's nomination of Tower as Secretary of Defense because of allegations of drinking problems and womanizing.)
Quinn has long had a reputation as ferociously ambitious and relentless in her pursuits, but for a few years after college, she was a bit aimless. Bumping between Washington and New York, she flirted with becoming an actress, worked random jobs (Kelly Girl, go-go dancer, social secretary for the Algerian ambassador), and had a smattering of love affairs (most seriously with journalist Warren Hoge).
It was when Bradlee hired her in 1969 to be a party reporter for the Post's brand-new Style section that she began her conquest of the capital. With a wicked eye for human weakness and a knack for getting people to say the darnedest things, Quinn made her name writing blistering profiles of Washington's elite in the manner of the Tom Wolfe–inspired "New Journalists" then in vogue. She soon became as much a celebrity as those she skewered—Norman Mailer dubbed her "Poison Quinn." And while she may have given the impression that she was immune to critics of her work, who could also be cutting and personal, Quinn shares in Finding Magic that she was not: "[I]t was painful to realize that people had an entirely different view of me than I had of myself, and I began to doubt my own decency, my own worth. I thought I was a good person. A lot of people thought I was not."
For his part, Bradlee found Quinn's edge irresistible. "Ben, of course, was fanning the flames," she laughs. "The more outraged people would get by what we wrote, the more he loved it."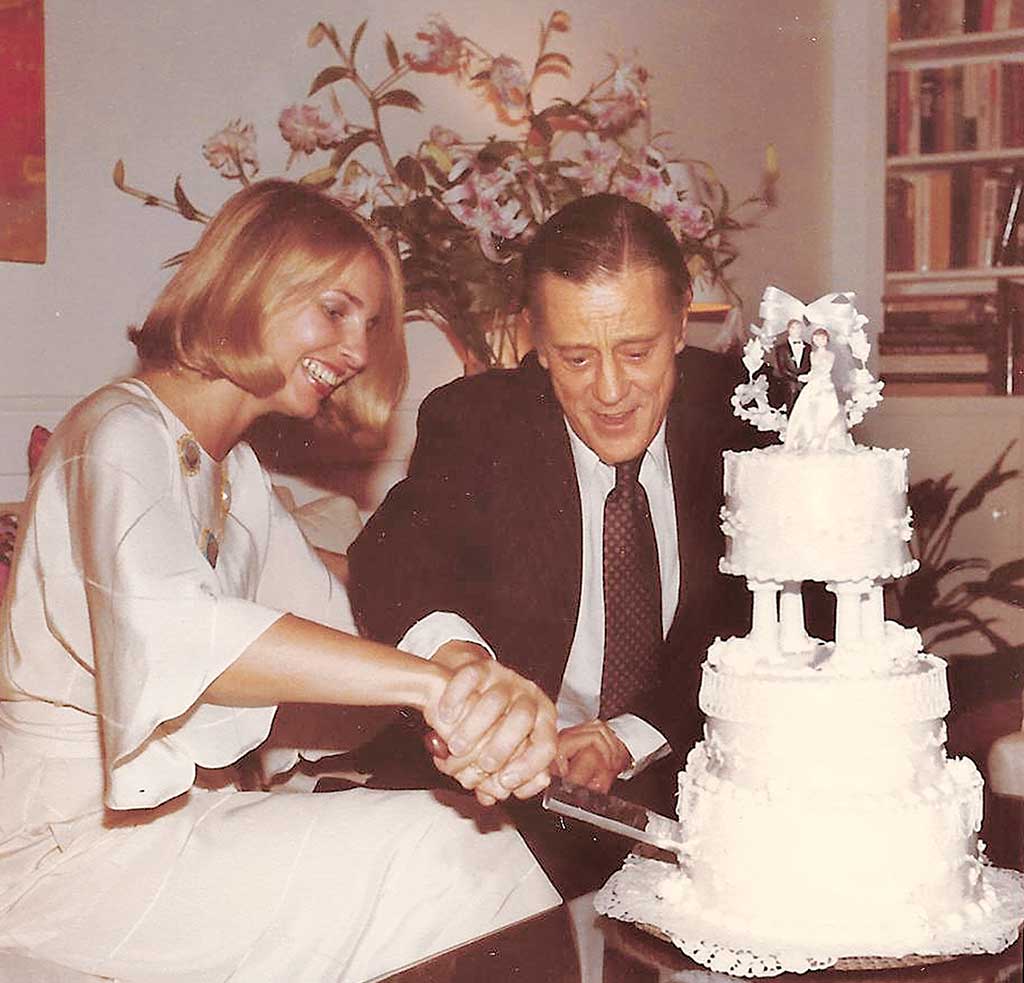 By 1974, the pair were an item—quite a scandal, seeing as he was her boss, 20 years her senior, and married. The first time they had sex, in fact, was after a lunch meeting at which Quinn weepily told him she had taken a job at CBS in New York as a way to escape her forbidden love for him. Instead, the two wound up in bed. (Yes, it's in the book.)
"What I felt for Ben was so transcendent, so sacred, so divine," she writes of that night. "I had never experienced anything like it. It was magic in the sense that it was otherworldly, life enhancing, life transforming. . . . I merged with another being, another soul." Quinn describes the day that their son was conceived—on the banks of the Cacapon River in West Virginia—in equally exalted terms. (Yes, that's in the book, too.)
It took a while for Ben and Sally to go public with their relationship. (After flaming out at CBS, she eventually settled back in at the Post.) It took longer still for them to get officially hitched, in 1978—Bradlee was nervous about wading into a third marriage. Once at Ben's side, Sally morphed into a different kind of Washington macher, the ruler of Georgetown salon society. An invitation to one of her intimate dinners or grand cocktail parties was a sign you had arrived. Certainly Quinn had: In 1978, she appeared with Henry Kissinger, Ted Kennedy, and Elizabeth Taylor on the cover of this magazine for a story entitled "Who's the Biggest Star in Washington?"
'What I felt for Ben was so transcendent, so sacred, so divine,' she writes of the first time she had sex with the then-married Bradlee.
Not that she was content to be a mere socialite. From her perch atop the establishment, Quinn positioned herself as public arbiter of the town's social mores. She began dispensing advice to incoming Presidents and other luminaries about how to get along with the natives. When someone violated establishment norms—or snubbed her invitations—she was quick to scold, often in acutely personal terms. Her flogging of President Clinton for "fouling the nest" with Monica Lewinsky remains the stuff of local legend.
In private, though, Quinn was struggling. Her and Bradlee's only child, Josiah Quinn Crowninshield Bradlee, had been born in April 1982 with a raft of health problems eventually diagnosed as velo-cardio-facial syndrome, a chromosomal disorder that results in terrifying combinations of congenital heart disease, developmental delays, odd facial features, seizures, and kidney malfunction, among other things. Baby Quinn was fragile from day one. Over the years, he required surgeries to reverse cardiac failure and correct everything from malformed feet to his lack of a pharyngeal flap. Sally chronicles the grinding anguish of forever wondering whether her son would survive, much less have a "normal" life. (He is, in fact, thriving.)
Unsurprisingly, the experience frequently led her to rethink her faith, or lack thereof. She opens her chapter on her son with this observation: "Nothing reveals to us more clearly that we are dependent on grace and love than becoming a parent . . . ."
---
After Quinn Bradlee left for boarding school at 16, his mother had time to start freaking out about what to do with her life. She discovered that the world around her had changed irrevocably. The preeminence of the Washington hostess was no more. Well before any talk of swamp-draining, bipartisan hobnobbing was on the wane and new classes in power were dismissing Sally and her ilk. The Clintons, and their boomer coterie, resented the stuffy Georgetown set. The Obamas, and their even younger in-crowd, simply ignored them. Quinn was in search of a new focus. "No one was going to dinner anymore," observes a friend. "[President George W.] Bush had no interest in Sally. That genre was sort of sputtering."
Meanwhile, with the death of her parents and having nursed her son through endless struggles, Quinn found herself returning again and again to questions of faith and the meaning of life. ("My nascent quest for meaning and my understanding that there is no universal answer mostly came to me when Quinn was born," she writes.) She had gotten heavily into meditating and had had a life-changing experience while walking a labyrinth at a California spa. She later had a labyrinth of her own built at the family's home on Maryland's Eastern Shore—a 50-footer modeled after the one at Chartres Cathedral in France.
Increasingly, Quinn felt certain she was not alone—that the entire field of spirituality remained underexplored. "Religion is a huge story," she says. "In all this foreign policy and American politics, religion plays a huge role, and we were not covering religion."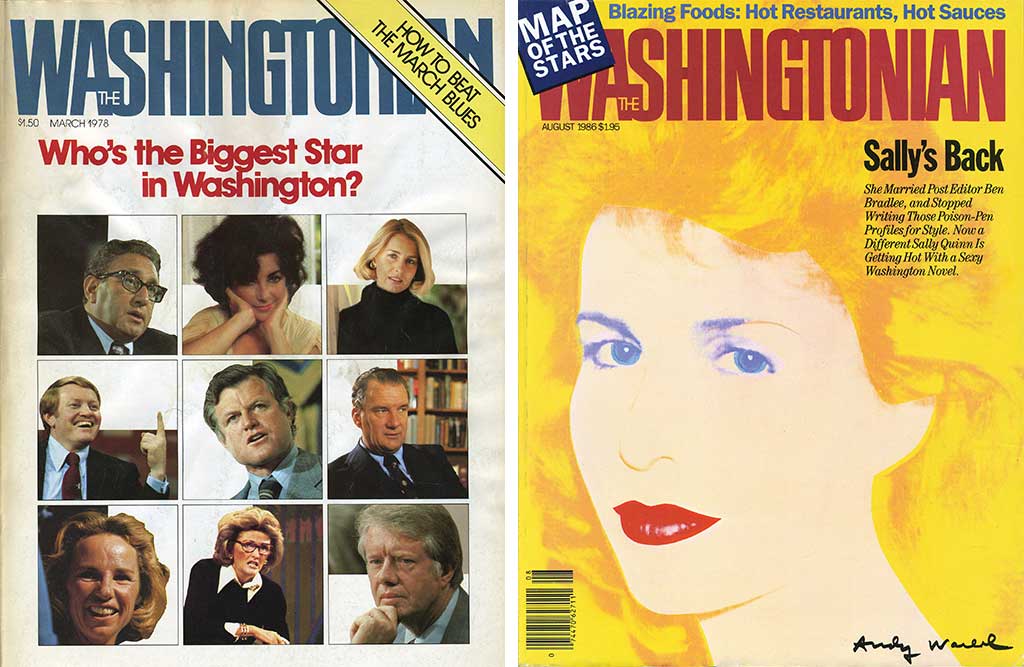 Quinn says she approached Post executive editor Leonard Downie Jr. about what she saw as an oversight. "I wrote a memo. I talked to him and talked to him, and nothing. Nothing! Finally, I had lunch with Don"—as in Graham, the paper's chairman at the time—"and I said, 'We're just not covering religion.' " His response: Take it to the web.
These were the early days of Wash­ingtonpost.com, "when you could do anything," Quinn says. Thus was born On Faith, a section devoted to all things spiritual. Quinn admits it was an "off the wall" move for a long-professed atheist, but as her co-moderator, she recruited longtime journalist and then–Newsweek editor Jon Meacham.
The site attracted high-octane guests, including Archbishop Desmond Tutu, Queen Rania of Jordan, and the Dalai Lama. But as a financial proposition, it wasn't all that attractive to the Post. This was pre–Jeff Bezos, when the paper was forever contracting, and Quinn eventually grew nervous enough about On Faith's future that she and Graham agreed she should shop it elsewhere. She secured a new partner in 2013 and sold it in 2015.
During this same period, Quinn found herself facing another personal crisis: her husband's slow descent into dementia. For quite some time, Brad­lee had been behaving strangely toward her—angrier, less patient, more uninterested, and he mocked her new interest in faith. The couple began therapy in 2003 to address the friction. By early 2010, his manner and memory had changed enough that Quinn insisted he get tested for dementia.
"He knew—dreaded—and so did I, what the diagnosis would be," she writes. "We were right." They told no one, and as Brad­lee's confusion worsened, Quinn found herself covering for him more and more. His calls were screened, interviewers were kept at bay, and his rare public appearances were strictly controlled. But even then there were glitches, and by fall of 2012 Quinn knew it was "time to come clean."
The gauntlet of Bradlee's illness and death form the emotional core of Finding Magic. These were the first chapters Quinn put to the page, starting just a couple of weeks after his passing. She tells me about how her husband spent his days in the library of their Georgetown home, napping and watching TV. To be nearer to him—she was his full-time caregiver for two years—Quinn converted the adjacent pantry into her makeshift office. "He might need help getting to the bathroom," she says as we drift through the house, "or he might try to disappear, to walk out the door. I had to be right there with him all the time."
The book doesn't overshare in this area—Quinn is careful not to tarnish how her husband is remembered—but the decline of one of the most powerful men in Washington nonetheless makes for startling reading. Bradlee couldn't tell whether it was night or day, a symptom of Alzheimer's called sundowning, and he'd often be up at 2 or 3 am trying to dress for the office. One of the rare evenings Quinn was away, he suffered a psychotic episode.
She writes of the next morning's scene: "He had turned over the chairs, torn the skirt on my dressing table, taken all the clothes out of the closet, trashed the medicine cabinet, cracked a mirror, broken a metal lamp with his bare hands, and knocked over the TV. He was sprawled across the bed dressed in my clothes, sound asleep." When they were finally able to wake him, Bradlee didn't recall a thing.
"Two things kept me going," Quinn tells me. "One was that Ben knew who I was all the time, and he never lost his personality. Even when he was totally confused and out of it and all that, he was still Ben. He was still giving people the finger. The other thing was he became so dependent on me, so needy and loving. That was just an extraordinary experience."
The years right before and after Brad­lee's death were "spiritually overwhelming" for Quinn. She found herself taking comfort in spiritual retreats, prayer, and rituals, which she had long scorned as "shallow, mawkish, self-indulgent . . . meaningless, misused, even dishonest."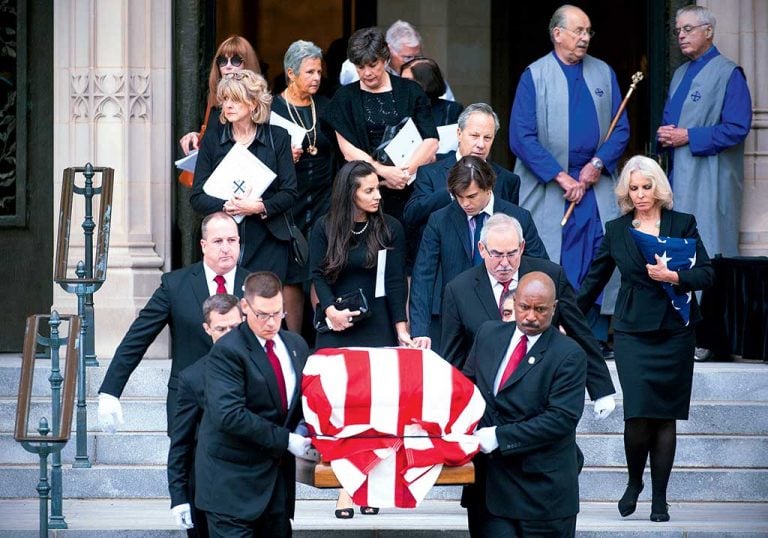 It's not as though losing her husband made her suddenly turn from atheism. It's more that when she began looking back over her life, she decided that, in fact, she had never really been an atheist. (Processing the pain and loss, she writes, "gave me a new lens to survey some of the major events in my past and to see whether I could try to understand the meaning of life—with Ben and without him.") She had always believed in magic and divine transcendence. It simply took until her mid-seventies to have the "epiphany" that "believing in magic is as legitimate as any religion or faith."
Beyond the particular anecdotes, this book is Quinn's coming-out as an ardent believer in the supernatural. For the long­est time, she declares, "I had been afraid to discuss my occultism for fear people would think I was crazy, and then I was reluctant to discuss my blossoming faith for fear my friends would think I had gone over the edge." But now Quinn is going all in. She recounts numerous moments that she sees as brushes with the divine—moments as prosaic as noticing the splendor of a pine tree and as psychedelic as, while yachting as a teenager, experiencing "flash-forwards" in which "[m]y whole emotional future passed before me."
The roots of Quinn's mysticism run deep. When she was a little girl, she and her siblings spent summers with her mother's family in the southern Georgia burg of Statesboro. Much of the clan embraced the spookier side of its Scottish heritage. "The stones and the past lives and time travel and psychic experience," says Quinn. "They were all psychic, believing in ghosts, palmistry, tarot cards." The "help," meanwhile, had a way with voodoo.
"So those are my first religious memories," she explains. "And these are the things that have stayed with me. I can sort of intellectualize and say this is all nonsense. The fact is that, deep down, I mean if you're brought up Catholic and you think you're going to go to hell, [even if you leave the church] you're never quite sure whether you're going to hell or not. It's always there in the back of your head."
Quinn has consulted psychics for years and, until recently, would conduct readings herself for family and friends. "When I first met Sally and Ben, it was right after Watergate," recalls ABC News correspondent Martha Raddatz, who was once married to Quinn's stepson Ben Bradlee Jr. "She took out the tarot cards, and I was like, 'What the heck is she talking about?'"
Quinn also introduces the ghosts—literal, not metaphorical—she has met over the years, including at Grey Gardens, the East Hampton estate she and Bradlee bought from relatives of Jackie Kennedy. Some spirits were regulars whom Quinn knew by name; others popped up only now and again. "Big Edie" Beale, one of the deceased former owners of Grey Gardens, was forever sending Quinn messages and signs. "Did I really believe she had made everything perfect for us for so many years?" writes Quinn. "Yes, I did."
Quinn would practice her own magic in the gardener's cottage. "She used to take her cards out to the little thatched hut," recalls writer Leslie Marshall, an ex-wife of Quinn's stepson Dino Bradlee and one of Sally's closest friends. "The place has the right ambience for the occult."
Ouija boards, astrological charts, palm reading, talismans—Quinn embraces it all. And yes, she has been in contact with her husband since his passing. Through a medium. Repeatedly.
Some friends have voiced reservations that Quinn is now showing all her cards, so to speak. "Don't play up the voodoo too much," one implored. But Sally does nothing by halves. She reveals that, in her less mellow days, she put hexes on three people who promptly wound up having their lives ruined, or ended.
The first, cast in 1969, was spurred by old-fashioned jealousy. Some exotic beauty at a Halloween party inspired lust in Quinn's beau at the time—and then killed herself just days after Sally cast her spell.
Her second victim was Clay Felker, the longtime editor of New York magazine who oversaw a brutal profile of Quinn in 1973, just before her catastrophic debut on the CBS Morning News. Quinn hexed Felker not long after flaming out at CBS and returning to Washington. "Some time afterward, Rupert Murdoch bought New York magazine in a hostile takeover, and Felker was out," she writes. "Clay never recovered professionally. Worse, he got cancer, which ultimately caused his death."
Target number three: a shady psychic who, the autumn after Quinn Bradlee was born, ran afoul of Sally's maternal instincts. The woman dropped dead before year's end.
Quinn has long consulted psychics and has done readings for family and friends. Yes, she has been in contact with her dead husband. Repeatedly.
Now and again, Quinn stresses that she doesn't take her psychic abilities too seriously. "I still don't know whether I believe in hexes or not," she writes. "All I can say is that there always seemed to be some cause and effect." (Certainly Bradlee did not: "Ben found the whole idea of these hexes completely ridiculous, as do most people. However when he got mad at someone, he'd look at me with a mischievous grin and say, 'Go get 'em, Sal.' ")
But the denials ring hollow. The book is awash in tales of Quinn's occult prowess—she wants people to take this seriously, or at least to believe she takes this seriously. At the very least, she scared herself so badly when her third curse hit its mark—prompting a panic that her previous hexes had been karmically responsible for her son's illness—that she vowed never to dabble in the dark arts again. Period.
Which is probably for the best in these overheated political times. "You can't imagine the number of people who have asked me to put a hex on Donald Trump—I mean, I have got friends lined up," she says. "This is my biggest restraint now."
---
Quinn has not been shy about how she thinks the current President will play with the tribe she once oversaw. She told Politico back in the summer, "I think you are going to need a very strong blender to mix the Washington community with the Trump crowd, and I don't think it's going to end up being a smoothie."
When I ask if, with Team Trump in charge, she feels like an alien in a strange land, she shoots back: "No. I don't. I feel like they're the aliens. There's always a sense if you've lived in Washington for a long time and seen administrations come in that are not friendly, it's kind of like having an occupying army."
Quinn is happy to relate how the controversies attending this occupation remind her of Watergate. "I really do see impeachment looming," she says. "He's really building up to something. I just don't think it's going to stop."
In other words, don't look for Quinn to emerge as Trumplandia's hot new hostess.
Not to worry—with Finding Magic, Quinn stands poised to power the gossip machine anew. More than a few eyes are sure to roll as well. And those who long ago dismissed her as a "dinosaur socialite" (see Gawker, circa 2012) will feast on the wackier revelations. Remember all the Nancy Reagan–astrology snickering?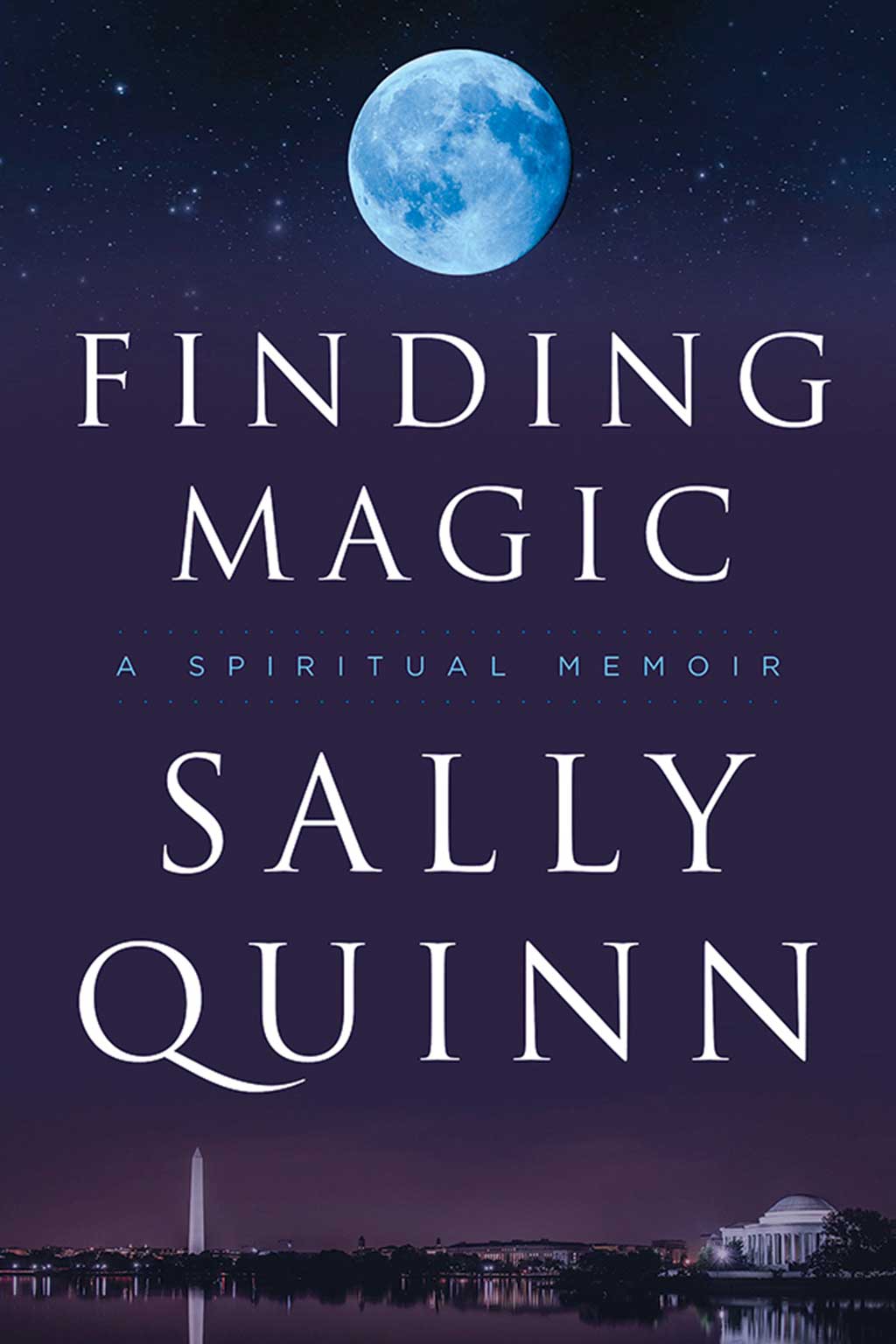 But Quinn grasps the value of even negative attention—and heaven knows she enjoys a good comeback. After her fiasco anchoring the CBS Morning News—inexperienced and ill prepared, she bumbled her way through four excruciating months before network executives pulled the plug—she wrote a tell-all, We're Going to Make You a Star. With dishy bits about the ineptness of both the author and her bosses, the book earned mixed reviews but kept her in the spotlight. (As People magazine snarked in 1982, "Her talent for bitchy prose even managed to redeem her mercifully brief appearance . . . .") From there, she turned herself into a pulp novelist—also a short-lived showing: Vanity Fair dubbed the offerings "clit-erature." (It took Sally a while to get over that one.) But by then, she had Ben and their son and her social standing to occupy her.
Of course, even Quinn's powers of re-invention have their limits, as demonstrated by the bloody demise of her late, in-no-way-lamented Post column about entertaining, called The Party. In February 2010, Quinn felt moved to write about how her son's wedding wound up scheduled for the same day as that of her step-granddaughter Greta, the child of Ben Bradlee Jr. and Martha Raddatz. In the process, Quinn nodded to long-simmering hostility between her and Ben Jr., infuriating him and Raddatz that she'd taken private family matters public. Given the tribal nature of Washington's media circles, alliances quickly formed.
"Friends of mine inside the building and outside felt really strongly about the whole conflict," says then Style-section editor Ned Martel, who worked with Quinn on the piece. "They were siding with Martha or siding with Sally. People were really emotional."
Outside outlets pounced, with the likes of Politico, HuffPost, Washington City Paper, and The Awl serving up stories laced with various degrees of tongue-clucking and/or scathing mockery. (The word "narcissist" got a good workout.) The Washington Post took a beating, too, prompting the editor at the time, Marcus Brauchli, to kill the column, generating even more nasty coverage and schadenfreude.
Seven years later, Quinn still feels that the episode was blown absurdly out of proportion, and she remains miffed that Vanity Fair ran a juicy feature on the whole mess. (Both Raddatz and Quinn say they've made up.)
For this next act, Quinn says one of her great challenges will be balancing her storied past with a fresh start. (Finding Magic is set for release September 12.) She's involved in a forthcoming HBO documentary about Bradlee and is advising on the Steven Spielberg–directed Tom Hanks/Meryl Streep movie about the Pentagon Papers. She's done some public speaking about Ben's struggle with dementia and is working on another novel as well as a second memoir, this one based on her life at the center of the Washington establishment.
Those who dismissed her as a 'dinosaur socialite' will feast on the wackier revelations. But Quinn grasps the value of even negative attention—and heaven knows she enjoys a good comeback.
She continues moderating panels, attending conferences, and otherwise keeping up on the whole religion thing: "It's sort of what I do right now." Quinn is also an increasingly familiar face on the political-chat-show circuit, commenting on politics and foreign policy with an anti-Trump bent.
In other words, life as "just Sally" is getting easier.
And while some areas remain too raw to touch—she still can't read the boxfuls of condolence letters that came in the wake of Bradlee's death, for fear of getting "pushed back down in there"—Quinn has begun pondering what's next on the romantic front. Bradlee may have been her great love, but she makes clear he won't be her last. Late in Finding Magic, she waxes rhapsodic about a hunky vintner/mayor she met on holiday in Corsica in the summer of 2015: "I took all my houseguests for the next few weeks to visit the vineyard, and everyone insisted I invite the mayor for dinner. The truth is, I really wanted him for more than dinner."
Though ultimately deciding she wasn't ready to take the plunge, Quinn expresses confidence that some day there will be "someone to love and to make love to, to love me and make love to me."
As her friend Jon Meacham puts it, "There's always going to be a next chapter with Sally."
Washington writer Michelle Cottle (@mcottle on Twitter) is a contributing editor at The Atlantic.
This article appears in the September 2017 issue of Washingtonian.