A crisp autumn night in Downtown Columbia, Maryland is reason enough to gather family and friends for a stroll through the wooded fields and rambling pathways of Symphony Woods Park. Considered one of the nation's first truly planned communities, the area was conceived as an intimate village where one could live, work, and play. Now, to cap off the celebrations of Columbia's 50th year, the lush parkland surrounding the city is about to come alive with a spectacular array of music, art, and theatricality.
The OPUS 1 Festival will be the final ceremony celebrating Columbia's golden anniversary, concentrating everyone's gaze toward a new future inspired by art, culture, and activity. The day-long experience set for October 7th will reimagine the area through an inventive convergence of sight and sound that blurs the line between observation, participation, and collaboration.
The day's activities are in many ways a sneak peek at what's to come for the city itself. For The Howard Hughes Corporation, the master developer revitalizing Downtown Columbia, the OPUS 1 festival is meant to give a glimpse into the next phase in Downtown Columbia's cultural evolution.
"OPUS 1 is the first day of the next 50 years of Columbia," according to executive John DeWolf. "It allows us to begin shifting perceptions of a sleepy suburb and paint the picture of what we imagine the future of Downtown will look like. A center of culture and commerce for the Baltimore—Washington corridor."
Ultimately, OPUS 1 is celebration of the very principles on which this thriving community was first based. The idea of a village of individuals all working together to create a cohesive and thriving community strengthened by diversity and inclusivity is at the heart of the festival concept, where varied nationalities and ethnicities, styles and genres, disciplines and mediums, converge to form something far greater than the sum of its parts.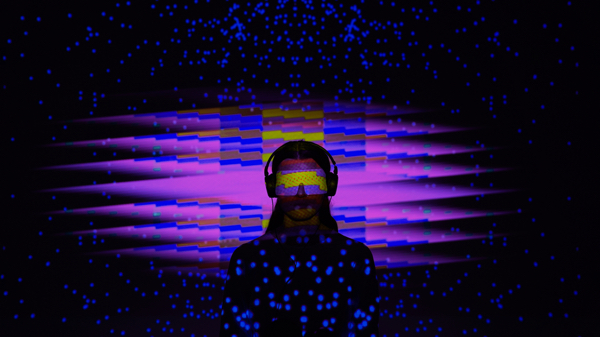 Description falls well short of doing OPUS 1 justice, but some highlights of this collision of  immersive art installations, mesmerizing music performances, and treetop projection mapping include:
The Lighting Cloud – an inflatable air pavilion designed by architect Jesse Seegers offers a performance environment for dynamic projection art.
Híbridos Live – the US premiere of the Vincent Moon-curated performance project explores Brazilian ritual dance and soundscapes through live video mixing and performance.
Color Field Immersion – Audience members are blindfolded with semi-transparent masks, onto which shifting shapes and colored light is projected. In this trance-inducing experience, each viewer's brain fills the gaps in stimuli, and then becomes the conductor to an orchestra only they can hear.
The Mutual Wave Machine – An interactive neurofeedback installation that embodies the elusive notion of 'being on the same wavelength.'
The Dream Machine – Brion Gysin's hallucination-inducing sculpture elevated to an immersive performance environment on the iconic Chrysalis stage, led by Darkside's Dave Harrington and a host of special guests.
EXO-TECH – Sophia Brous lights up The Hearth stage with her star-studded improvisational ensemble exploring free jazz improvisation alongside expansive R&B exotica.
New Optimism – Miho Hatori, lead singer of Cibo Mato, is bringing her solo project to the lightning cloud where she'll combine mind-bending projections and lighting controlled by headlamps worn by the audience into an ethereal experience.
Gang Gang Dance – the NYC-based indie-experimentalists return to the Merriweather Post Pavilion with fresh takes on classic material and a glimpse of what's to come.
The Video Cube – an immersive experience where guests are surrounded in a 360° environment of video art, curated by multimedia artist Peter Burr.
George Mason Pep Band – Voted Best Pep Band in the Country, the eccentric bandleader Doc Nix kick off the festival with a performance featuring over 50 of the group's top players and a set of energetic tributes to today's hits of EDM and pop.
In addition, OPUS 1 will extend the multi-sensory experience to an upscale culinary village, providing guests with bites from regional purveyors. This event is free but requires an RSVP. Get your free ticket today.