Rob Jones loves a challenge.
In 2012, he trained for the Paralympics in rowing—he'd never even been in a scull prior to this—and won a bronze medal. In 2013, he took a 5,180-mile bike ride from Maine to California. And now, he's trained to run 31 marathons in 31 days in major cities across the country. 
He's done all of this as a double amputee. After joining the Marine Corps before his senior year of college at Virginia Tech, Jones was deployed to Afghanistan as a combat engineer. His job was to locate IEDs, and in 2010, as he says, "One found me before I found it."
In the hospital and during his rehab at Walter Reed, Jones was already researching sports he could compete in. Rowing was a natural fit, and a year after his accident, he was back to running and biking, this time with prosthetics.
His first major challenge, the cross-country bike ride, raised $126,000 for the Coalition to Salute America's Heroes, the Semper Fi Fund, and Project Hero's Ride 2 Recovery—three organizations that had helped him and continue to support wounded heroes. His goal, ultimately, is to raise $1,000,000 for the charities, and his 31 marathons in 31 days is the latest physical feat he's cooked up to garner support.
He's planning is to start on October 12 in London and finish in Washington, DC on Veterans Day, November 11. Since there aren't organized marathons in every city on the day he'll be there, Jones will run 26.2 miles on his own. His full schedule can be viewed on his website, and he's more than happy to have runners join him for all or part of a run.
While he's run the Marine Corps Marathon twice, running multiple marathons on consecutive days is a whole other animal. To find out how he's going to get it done, we chatted with Jones about his training, diet, and motivation.
What interested you in training as a full-time athlete? 
It requires a sense of dedication above all else. You have to put what you're training for before any other thing in your life—any kind of social commitment or family commitment or what have you. 
Did you run any marathons to prepare for your 31 in 31 challenge?
I've been training for this one for the past year and a half and I would say I probably have run 20 marathons total during the training process for this.
Have you run any marathons two consecutive days in a row? 
During the course of the training, I would do a training block for six weeks, then I would do a test. Last year around this time, I did a six week training block and then I ran the Marine Corps Marathon. Then I did another six weeks and then I ran two back-to-back. Then I did another six weeks and then I ran three. I've done up to five at this point. I figure if I can do five and feel pretty good, there's no reason really to go over that because I might as well just do the full 31 at that point.
How did you feel after running five marathons, five days in a row? 
I felt pretty good, actually. I felt the soreness that you would expect, but it wasn't a level of soreness that I thought was overwhelming or concerned me. It made me feel pretty confident that I'd be able to do 26 more.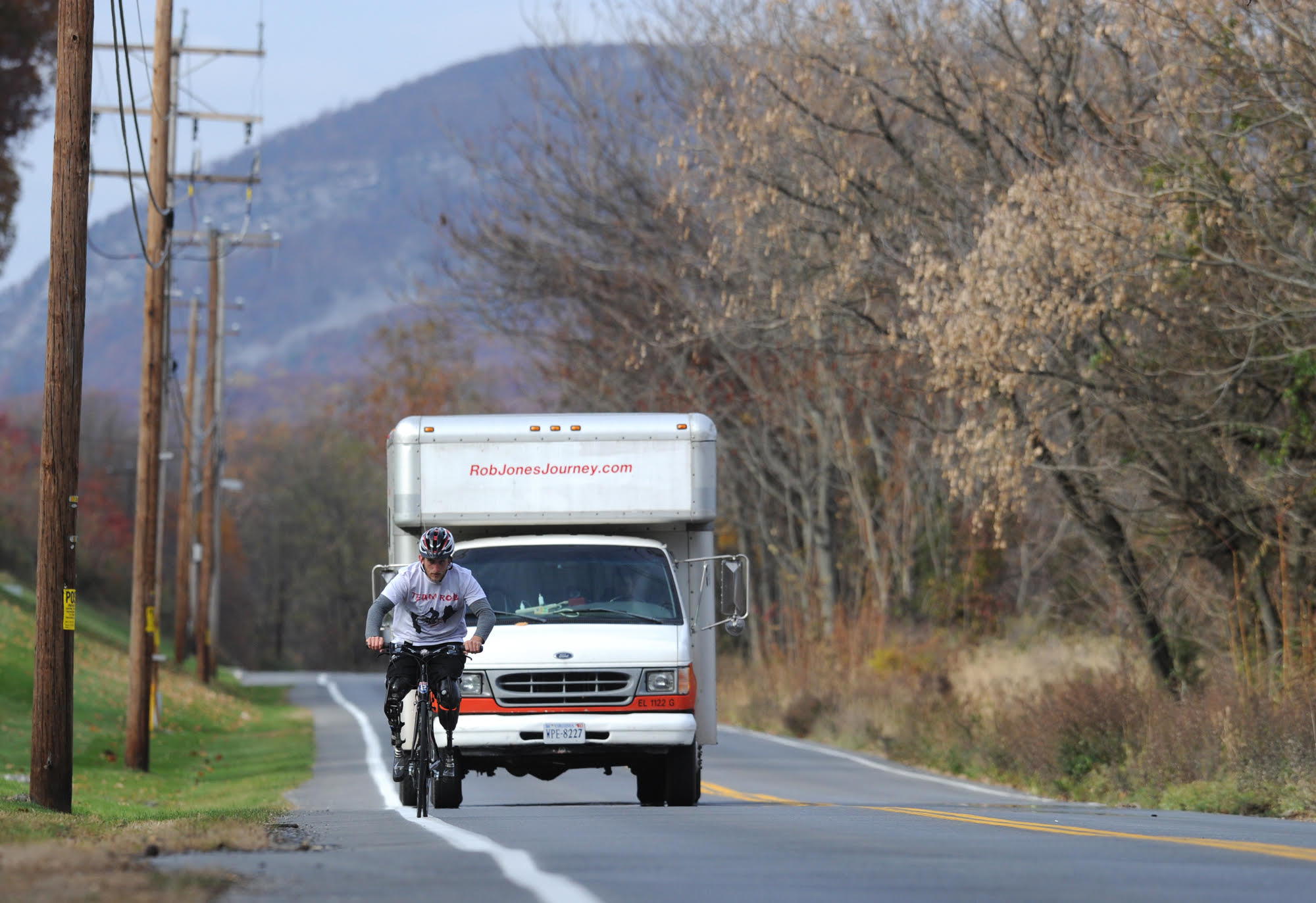 You'll also have to plan for commuting from city to city. 
We're going to have an RV so that way once I am done with the marathon I can pretty much just start resting right away. My mom will be coming to give me massages because she's a massage therapist, and my wife will be there, and she'll be cooking and organizing everything for me, so that I can pretty much just focus on running. I'll probably wake up either 5:30 or 6 AM and then I'll plan to start running at 7 AM wherever I am. Then hopefully I'll be done every day by 2 PM and, depending on how long the drive is, I'll either leave by 3 or 5 PM to arrive at the next place.
What's your marathon race time?
Lately, it's been taking me between four and four-and-a-half hours of actual running. But the way that I've been doing it is I'll run 12 kilometers and take a 20 minute break. Then I'll do that again, then I'll run nine kilometers and take a 20 minute break, then I'll do that again, and all that will add up to 42 kilometers. So the whole thing takes between five and five-and-a-half hours or so.
What will you eat to refuel?
I am on a relatively low carbohydrate diet to improve my utilization of fatty acids, but I can tell you when I did my five marathons, I would eat two Bonk Breaker bars while I was running. Then I would come home and eat six eggs in two tablespoons of butter and four slices of bacon and two bags of pork rinds. I would have two big pieces of this low-carb lasagna that I make, a banana, a yogurt, and some sweet potato chips, all over the course of the day. It requires roughly 2,700 calories for me to run a marathon and then maybe 1,500 calories to live for the day, and then however many calories it requires for me to recover, so I have to make up that deficit. I think it comes pretty close with all that food. It was actually pretty hard to cram all that down into my stomach, to be honest with you. 
And all of this is to raise money for the charities.
The other objective is to prove to veterans that they live in a country that appreciates them and they're not alone in their struggles, whether they're struggling with post-traumatic stress or injuries. The way I'm proving that is by all the support I'm getting along the way, and raising the money for the veterans charities that are obviously there to support them.
This interview has been edited and condensed for clarity.