Since the 2016 election, it's been chic to bash "identity politics." But there was no shortage of identity politics—at least of the pro-Donald Trump variety—last month when a few hundred of the President's supporters gathered on the National Mall for what they called the Mother of All Rallies. Women wore shirts that said "MAGA Girl." There were Hispanics For Trump, Grandmas For Trump, and Gays For Trump. This last group was headed up by Peter Boykin, whose speech to the rally proudly claimed the identity-politics mantle.
"Yes, it's identity politics at its largest degree," Boykin, 40, told the crowd when speaking about his organization, which he started in 2016 at the suggestion of his husband. But Gays For Trump's mission is broad and vague. Its website features a dizzying array of rainbow-colored memes and tweets in support of the LGBTQ community. On his personal Twitter account, Boykin often posts videos of himself riffing on everything from gun control to Israel. He considers himself an "influencer," and adheres more to the "Make America Great Again" philosophy than any traditional Republican Party line.  
"Ronald Reagan, Bill Clinton, Donald Trump: they all believed in making America great again, they all talked about it, they all said it," says Boykin, who was born in Florida and grew up in Danville, Virginia. Boykin's parents worked on Reagan's campaigns—Boykin even remembers visiting "Grandpa Reagan" as a young boy on a trip to DC. While Boykin says he voted mostly for Democrats throughout the 1990s and early 2000s, he says he grew disillusioned with the Democratic Party in 2008, when it nominated Barack Obama without, in Boykin's judgment, giving sufficient consideration the young Illinois senator's record.
But now that Trump has taken over the GOP with his revanchist playbook, Boykin sees an opportunity for a new wave to take over: "This is the T Generation, he says. "It's just Generation Trump. You don't have to be a Republican or a Democrat to like Trump."
When we meet in the lobby bar of the Trump hotel a day after the rally, though, Boykin is vague about exactly what he wants to get accomplished with his organization, MAGA MEGA LLC. He talks about throwing "MAGA"-related events, and expresses support for the President's agenda, especially his plan to erect a wall with "big, beautiful, doors." More than anything, he's adamant about how important it is to reclaim identity politics from the left.
"Identity politics is very popular, and very important," he tells me. "We have to continue to identify as gays for Trump. Especially gays for Trump, because gays for Trump is the real rainbow. We are black, white, Mexican, Latino, Asian. We are everywhere. Male, female. You can't get rid of gay people. We're not going anywhere."
Boykin is far from the only gay individual to come out for Trump. The Silicon Valley entrepreneur Peter Thiel was an early and prominent supporter of Trump's campaign; the President also gets a lot of adulation from openly gay provocateurs like Scott Presler and former Breitbart editor Milo Yiannapoulos.
But despite what they perceive as an LGBTQ-friendly attitude from Trump, his presidency has been the most socially reactionary in decades. In February, Trump withdrew federal protections that had allowed transgender students to use the bathroom corresponding with their gender identity. In July, he used a string of tweets to boot transgender individuals out of the military.
And yet, those moves and others haven't shaken Boykin, who still sees Trump, however inexplicably, as an ally.  "He's always been for gay people," Boykin says. "He employs thousands of people across the world, and lots of people who are gay. And he's involved in beauty pageants."
Boykin was quick to rationalize the transgender ban. "A team is as good as its weakest link," he says, "and if that weakest link is a…suicidal, discriminated-against, transgender person, I'm not going to give that person a gun. That's not a good idea."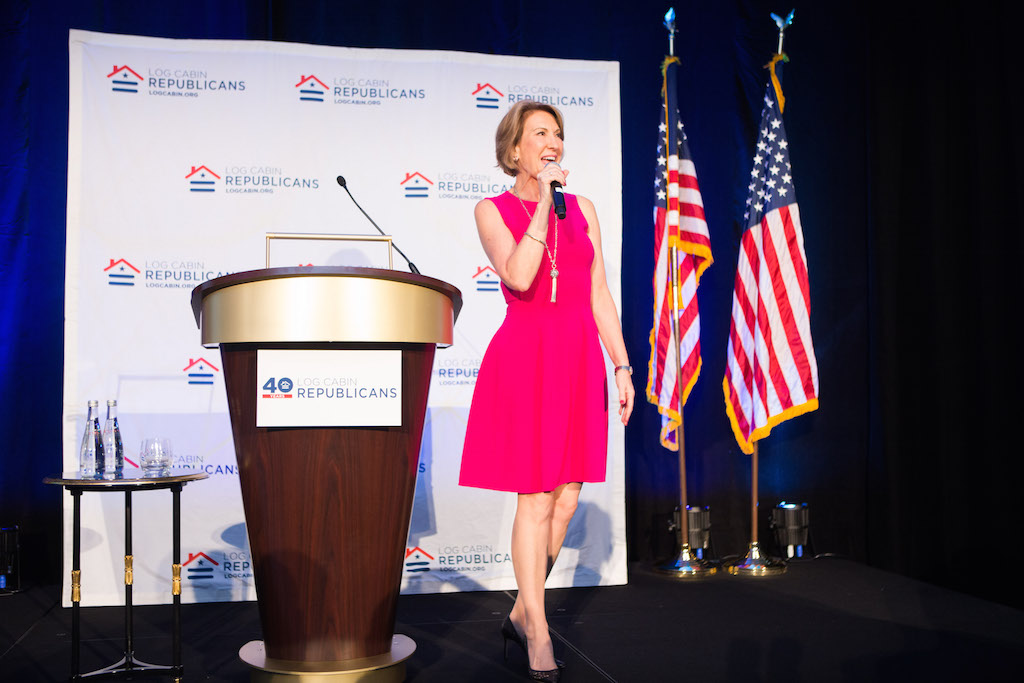 That attitude isn't limited to new players on the GOP scene who came up via their Trump support, like Boykin. When the Log Cabin Republicans held their 40th anniversary fundraiser last week at the Trump hotel on Pennsylvania Avenue, retired diplomat James Patterson expressed a similar opinion: "These people should serve our country before they get these medical benefits to transition," he said.
The phrase "gay Republican" has always been loaded with apparent contradictions, and members of organizations like the Log Cabin Republicans recognize that. The organization has worked inside the GOP to strike down discriminatory legislation such as the Briggs Initiative, which would've banned gays and lesbians from working in California's public schools, and Don't Ask, Don't Tell. But unlike Boykin, its president, Gregory Angelo, chose to steer clear of Trump talk at last week's fundraiser.  
"There were more than ample things to celebrate and to devote our time to, to more than fill the program for the evening," Angelo says in response to criticisms that he intentionally avoided talking about Trump. (Angelo has spoken out against the transgender ban circuit, but remains confident his organization can effect change from within the Republican Party.) And despite the fact that last week's fundraiser was largely attended by white men, Angelo says, "We represent the entire community here."
"One of the things that could potentially be Trump's legacy is averting a decade-long culture war between evangelical Christians and advocates of LGBT equality," he adds. But Angelo's hope that his fellow Republicans will come around to championing gay constituents now that Trump is in office seems as unlikely as ever considering the administration's policy moves, and political developments like former Alabama Supreme Court Justice Roy Moore's likely election to fill the US Senate seat once held by Attorney General Jeff Sessions.
In terms of political philosophy, Trump supporters like Boykin are worlds away from the traditional party represented by Angelo's group. Boykin, like many of Trump's most vocal supporters, are new to the GOP's activist ranks, and are more hyped about the possibility of upending the country than any LGBTQ-centric issue.
That's where Boykin's embrace of identity politics folds in on itself. When I remind him that Trump has been widely criticized for not making stronger denunciations of the white supremacists who support him, Boykin accuses Democrats of playing the race card.  "They play all the cards, he says. "Thank god we got the Trump card around. It's like we're playing Uno and we pull out the wild card."
Not long after this conversation, a security guard from the hotel comes over to us. We're sitting on a couch, surrounded by other Trump supporters in red hats, who were in town for the rally. The staff tells us that interviews are not permitted inside the hotel, citing a loosely enforced policy to protect the "privacy of the guests."
The order shouldn't have surprised anyone aware of the Trump brand's chaotic relationship with the press. The only one who seems surprised by the intrusion, of course, is Boykin. He later tweeted that he was "extremely offended" that the Trump Hotel staff cut the interview short, saying he thought it was a #SafeSpace. Whether he intended to be satirical or not with this remark, it's worth nothing that the party he's behind has made a point of mocking the left for claiming this very sort of victimhood. 
But if there's one thing you can admire about Boykin, it's that he sticks to his guns, no matter the coherency of his message or politics. When I talk to him again about the incident a week later, he reiterates his point once more: "That's the one space that Trump supporters should feel comfortable in."