The federal charges filed Monday against Paul Manafort allege large volumes of money laundering across the United States by President Donald Trump's former campaign manager. In total, Robert Mueller, the former FBI director leading the investigation into foreign interference in the 2016 election, accuses Manafort of laundering $18 million from accounts based in Cyprus, where Manafort's consulting firms took payments from Eastern European politicians.
Manafort allegedly spread that money around the country, spending it on clothes shopping in New York and Beverly Hills, luxury vehicles (including a Mercedes-Benz and three Land Rovers), home improvements in New York and Florida, and regular patronage at an unnamed antique rug dealer in Alexandria.
The 31-page indictment against Manafort and his colleague, Rick Gates, is not directly related to their work for the Trump campaign, but it does lay out a detailed image of places and businesses where Manafort allegedly hid all that money, including multiple locations around Washington.
Manafort's residence
Manafort and his wife, Kathleen, live in a unit in the Oronoco condominium building in Old Town. While not named as an asset that authorities are trying seize, the condo was the site of a pre-dawn visit on July 26 by FBI agents, who went in with a "no-knock" search warrant. The Manaforts purchased the condo in January 2015 for $2.7 million, according to Alexandria property records.
1046 North Edgewood Street, Arlington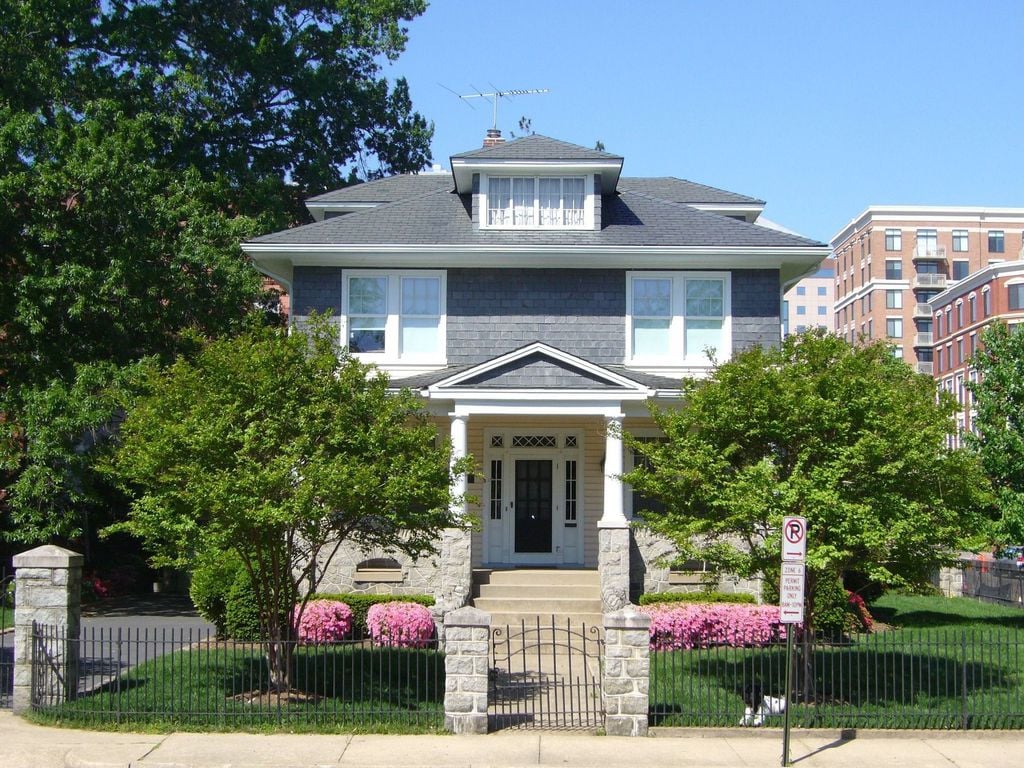 This four-bedroom, 2,800-square-foot American Foursquare house is one of the properties the indictment lists as subject to forfeiture. According to property records, the home is owned by Manafort's daughter, Andrea, and her husband, Christopher Shand. The house was sold to Andrea Manafort in September 2012 for just under $1.9 million and is currently assessed at $1.75 million. The indictment alleges that on August 31, 2012, Manafort wired $1.9 million from an account based in Cyprus to a real-estate trust that purchased the Arlington house.
Other real-estate properties listed on the indictment are listed under other members of Paul Manafort's family. A 2,200-square-foot condominium in New York's Soho neighborhood is owned by Jeff Yohai, who is married to Manafort's other daughter, Jessica. Yohai's own business dealings with his father-in-law have reportedly come under Mueller's scope.
Alexandria rug dealer
While most of Manafort's alleged spending of dirty money happened out of town, at least one local business got a slice of his expensive tastes. Authorities say that between October 2008 and June 2010, Manafort spent $934,350 at an antique rug shop in Alexandria, using money wired from accounts in Cyprus. The rug dealer is mentioned in the indictment only as "Vendor C." The document goes onto list another $100,000 payment in February 2012 to "Vendor D," described only as "related to Vendor C."
"Vendor M"
Less spendy than some of the other expenditures Manafort is believed to have made using laundered money is $125,650 to a Virginia contractor, spread across six payments between November 2012 and February 2013. Manfort allegedly spent quite a bit for home-improvement projects on his various properties, including more than $6 million on his house in the Hamptons and $1.3 million on a lighting and home-entertainment company in Florida.