"We were asked not to be too political tonight," said the singer John Legend, accepting his American Ingenuity Award from Smithsonian magazine on Wednesday night at the National Portrait Gallery "We're at an institution that gets its funding from a federal government led by a chief executive who clearly loves art and culture and is known for his fine taste. I'll move along."
But for Legend, who received his award from the legendary producer Quincy Jones, that's pretty subdued criticism of President Trump. Away from the Smithsonian, Legend has called Trump an "embarrassment to the country"; his wife, the model Chrissy Teigen, has been blocked from following the President on Twitter.
Smithsonian created the Ingenuity Awards in 2012 to honor individuals accomplished in scientific, artistic, and social fields. This year's edition also comes in the middle of the magazine's first Ingenuity Festival, a six-week series of appearances by award winners and other museum events. Other honorees on Wednesday included Jony Ive, Apple's design chief since the days of the first iMacs; Natalie Batalha, a mission scientist for NASA's Kepler observatory, which searches for potentially inhabitable planets; and the filmmaker Ava DuVernay, who accepted her award through a video taped in California, where she is finishing edits on her March 2018 adaptation of A Wrinkle in Time. (Yes, Oprah Winfrey, who plays Mrs. Which in the upcoming film, gave a DuVernay a video introduction. No, we did not get any advance footage from the $103 million movie.)
But Legend wasn't the only recipient whose remarks could be taken as a subtle jab at a foreboding sense that the United States can feel like it's lacking in ingenuity or appreciation for intellectual pursuits. "My faith in our species is a little rejuvenated," Ive said.
An award for history went to composer Dave Malloy and director Rachel Chavkin for their 2016 Tony-nominated musical Natasha, Pierre & The Great Comet of 1812, which is adapted from War and Peace. A sung-through video introduction from Lin-Manuel Miranda led to a performance of one of the show's numbers by Josh Groban and other members of the original Broadway cast, after which Chavkin had an opening for another little dig at the culture. "Heterogeneity and pluralism are much more fun than homogeneity and fascism," she said.
It wasn't the sudden dinner theater that got the crowd on its feet, though. The lone ovation was reserved for 12-year-old Marley Dias, who launched an initiative called #1000BlackGirlBooks out of frustration that most of the literature she was being assigned in her Philadelphia-area school "were about white boys and their dogs." Her project set out to find—and donate—1,000 books with black, female protagonists; so far she's collected 10,000.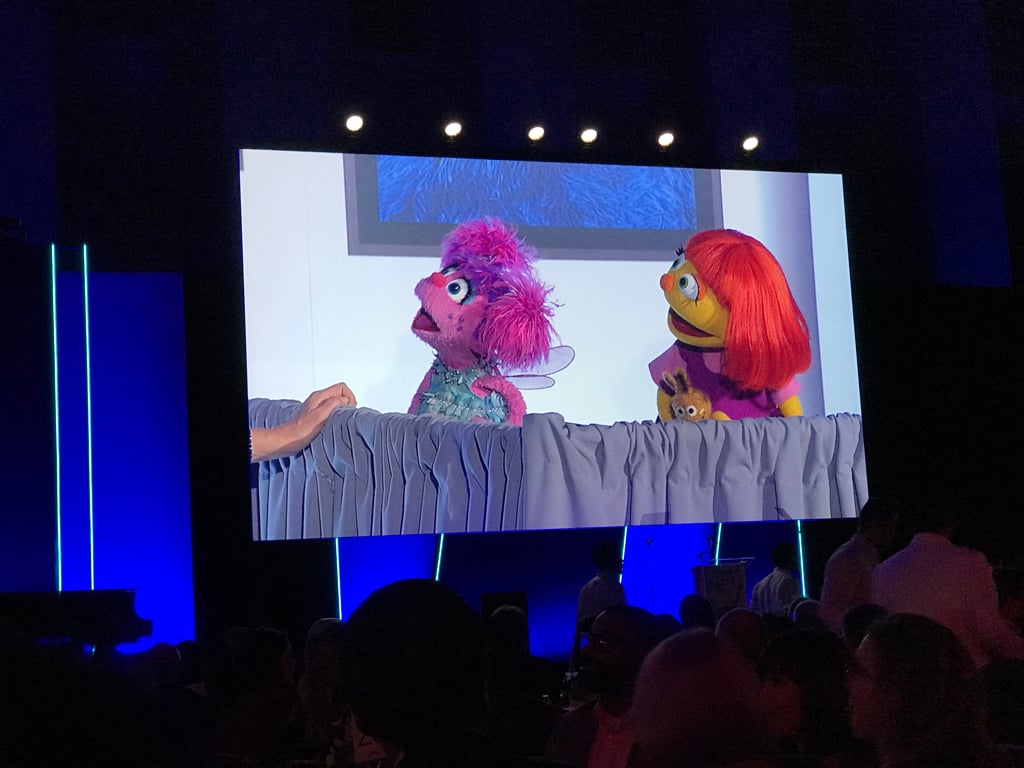 The big, earned "aww" moment came when Sesame Workshop was lauded for social progress for its recent addition of Julia, a Muppet character with autism to Sesame Street. In one of those charming moments that are only possible when there are Muppets in the room, Sesame Workshop Executive Vice President Sherrie Rollins Westin deferred her acceptance speech to Julia herself, who popped up along with fellow Sesame regular Abby Cadabby.
Before the awards program, Westin said Sesame Street has to stay creatively fluid to stay relevant after nearly a half-century on the air. The addition of an autistic character, Westin said, is a reflection of wider knowledge and social acceptance of children with autism. She also said that every year of Sesame Street is built around a theme the production company thinks young, impressionable viewers need. Since 2016, the show's been upping its quota on sketches about kindness. One thing that means, Westin told Washingtonian, is that viewers shouldn't expect any new appearances by Ronald Grump, a trashcan-dwelling developer who dreams of filling the block with garbage.