Ever been headed somewhere on the Metro and realized "gee, I don't quite know where I'm going, but this guy is blocking my view of the map"? Wouldn't it be easier if you were just wearing a Metro map? Even better, wouldn't it be perfect if you could give Metro embossed totes and mugs to your relatives that are in town visiting? Or as a clever hostess gift for your co-worker's housewarming party?
These scenarios are no longer merely flights of fancy. Metro announced Tuesday that it is opening a pop-up retail store at Metro Center, near the F and 12th Street entrance. The store will be called the "M Shop."
The store officially opens Wednesday the 7th with a launch party from 11 AM-1 PM. Store hours moving forward will be 8 AM-6 PM Monday through Friday. The range of swag offered runs the gamut from tourist classics such as printed mugs, umbrellas, and magnets, to more creative merchandise such as leggings, cuff links, phone cases, and even Metro construction-worker costumes.
According to the press release dated today, "Metro added that M Shop also represents a "proof of concept" to demonstrate how retail shops might be executed in Metro stations to generate additional revenue."  Metro General Manager and CEO Paul J. Wiedefeld adds, "M Shop represents another potential source of revenue to help support Metrorail and Metrobus operations."
It's not the worst idea we've heard to bankroll the Metro…every little bit helps?
In the meantime, we've taken the liberty of ranking some of Metro's swag from best to worst.
Kid's Backpacks, $28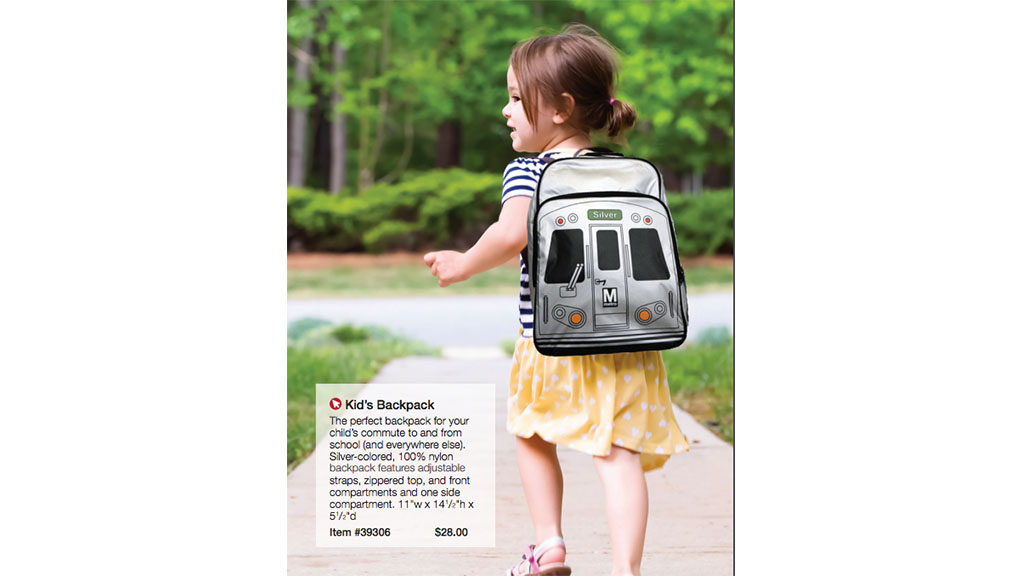 At $28, this children's backpack isn't that expensive, and if you are a color-phobe who eschews all the brightly colored, cartoony kids backpacks out there, the soothing silver Metro car is actually pretty darn cute.
Metro Umbrella $20
I don't mind this Metro printed umbrella one bit. Why? Because city umbrellas are an urban basic, and because they get a lot of wear and tear, you basically need one that's on the cheaper end of the spectrum. And there's something about a commuting tool that pays homage to the very transportation you rely on. It's very meta…. or do I mean wmata?
Honest Metro Stickers, $2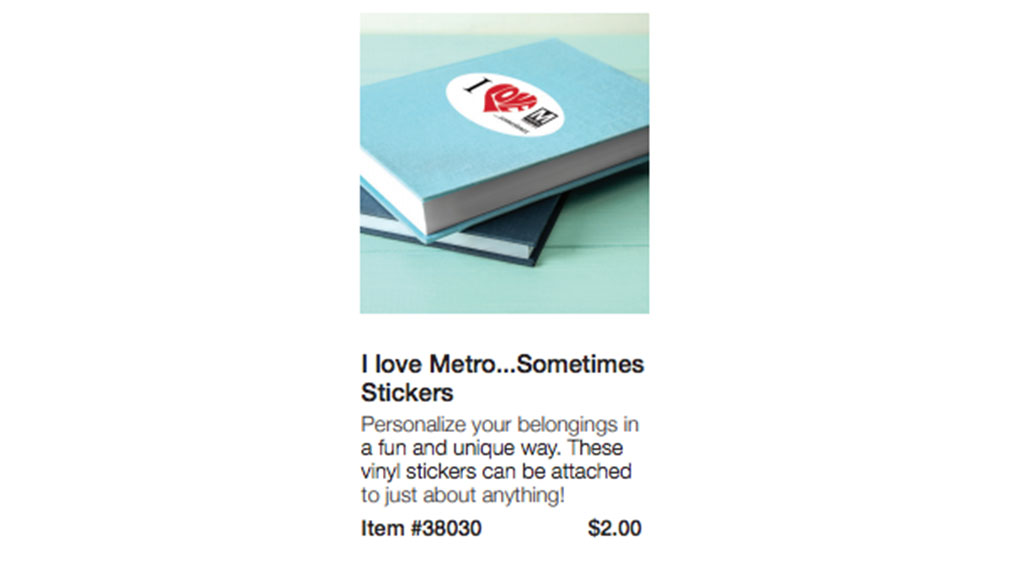 Truth has a certain ring to it, and we appreciate the Metro's glib tell-it-as-it-is sticker. "I love Metro….Sometimes" stickers are sure to be a breakout favorite, and at $2 a pop, we expect to see more than a few adorning the newspaper boxes and signs outside your nearest Metro station. Not that we are endorsing vandalism.
Tote Bag, $25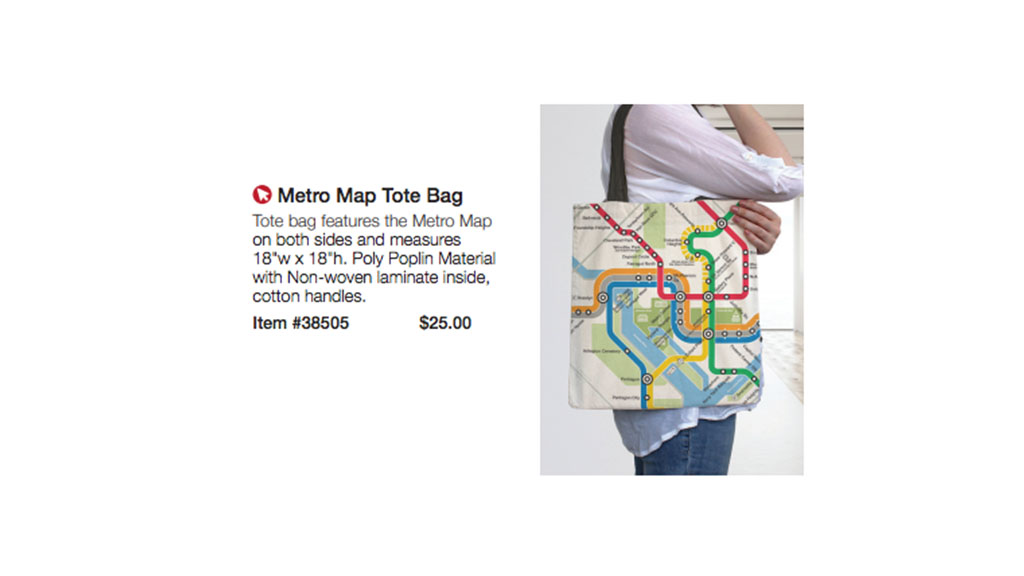 Finally, you have a perfect somewhat-tacky-but-still-sort-of-useful gift to give those visiting relatives. Especially for people who've never been to New York City, a map-printed tote might actually feel kind of classy and novel. We've ranked this a bit lower because $25 feels pricey for a basic tote, but this one still got positive feedback in our office.
T-Shirts, $25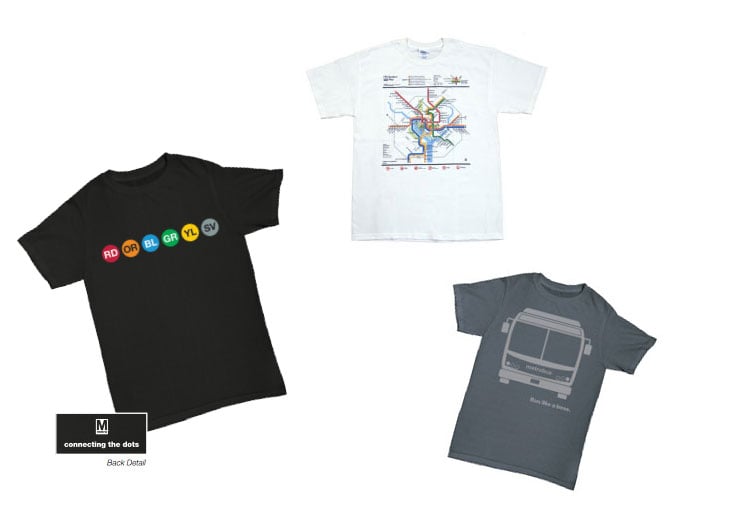 It's not quite as useful as a tote and it also runs $25, but the range of Metro-themed tees offered by the M Shop certainly lets you get a little more personal with gift-giving. "Is your friend more of a dots or a map person?" is the question.
Yoga Pants, $45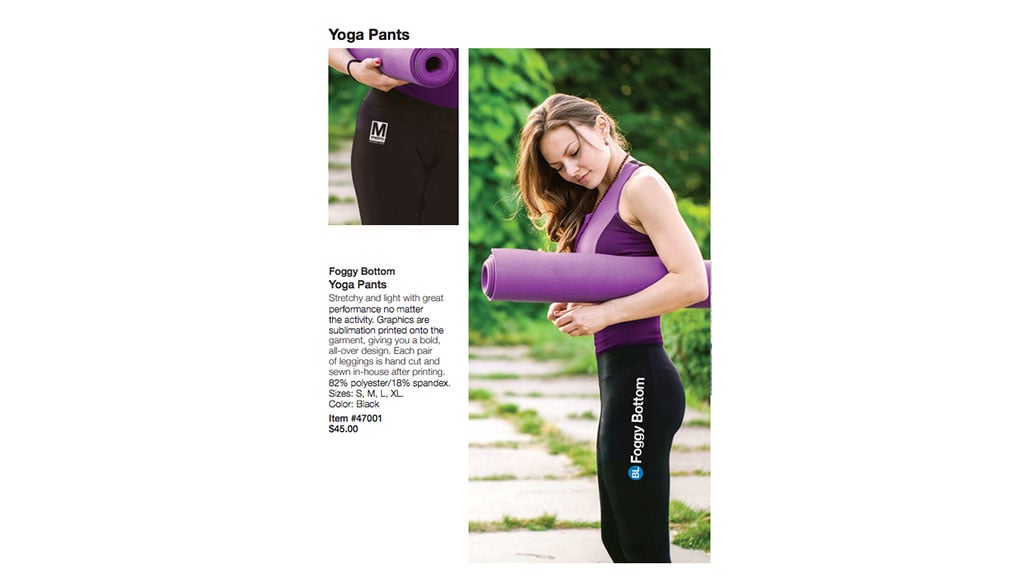 I actually don't mind the idea of Metro-themed yoga pants in theory, but in practice, it's a little problematic to advertise your home stop on the Metro. Maybe I've seen one too many stalker movies, but generally, I think when wearing head-t0-toe spandex you are already getting unwanted gawkers. Definitely don't need them to know where I live. In addition, having text that reads "Foggy Bottom" that close to one's derriere is probably ill-advised.
Kids Costumes, $36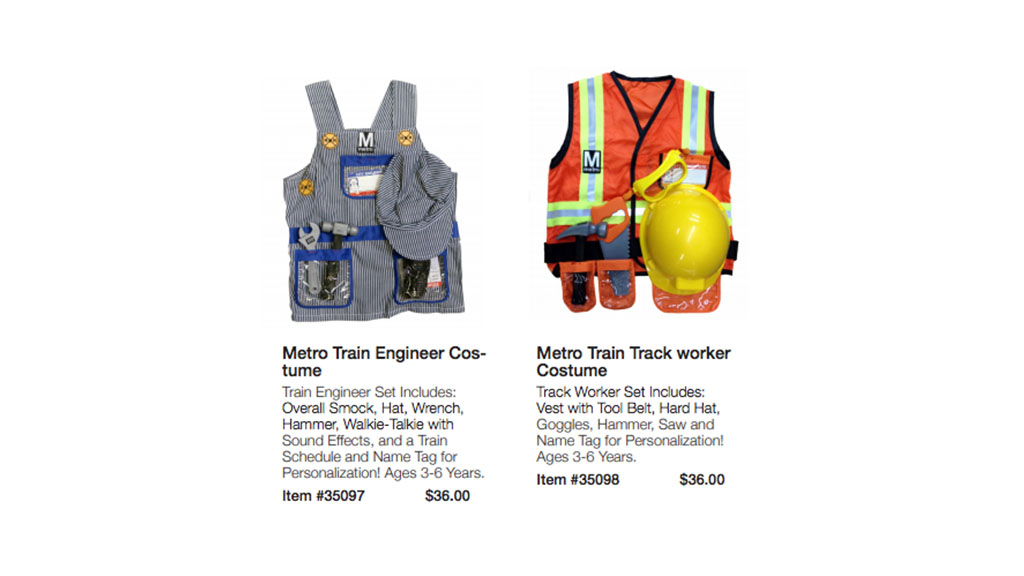 Every year come halloween my kids beg me for a Metro Train Track Worker costume, and every year I say no, because I'm a DIY sort of mom and the Metro staff costumes are way more time intensive than, say, a cat costume. This year is the year I say yes.
Lip Balm, $2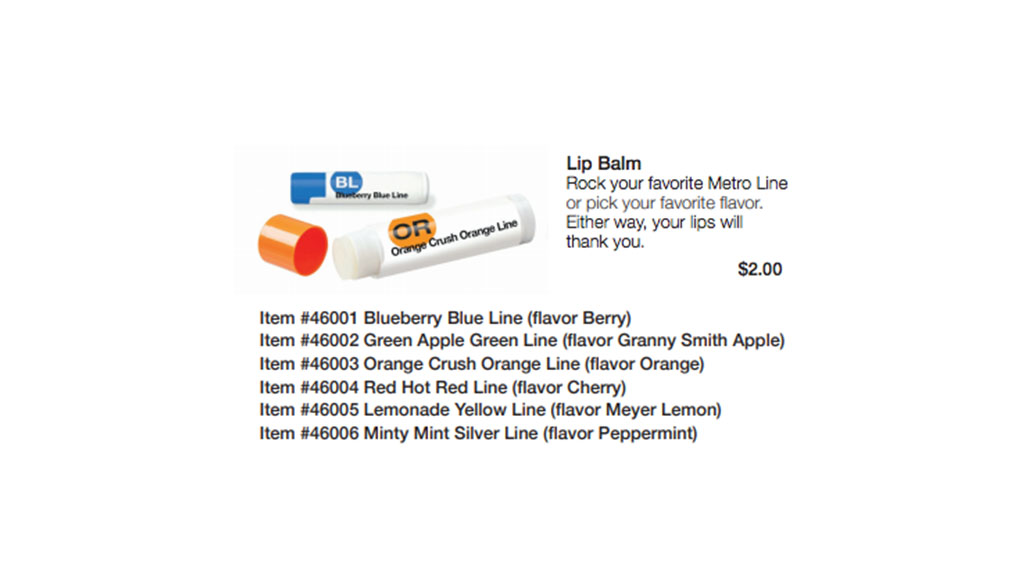 Did you know each Metro line has its own flavor? Don't say EW. Now if you take the green line into work, you can represent by coating your lips in granny smith apple-flavored balm. Though $2 is a bargain, this one was ranked low for its sheer extra-ness.
Towel, $46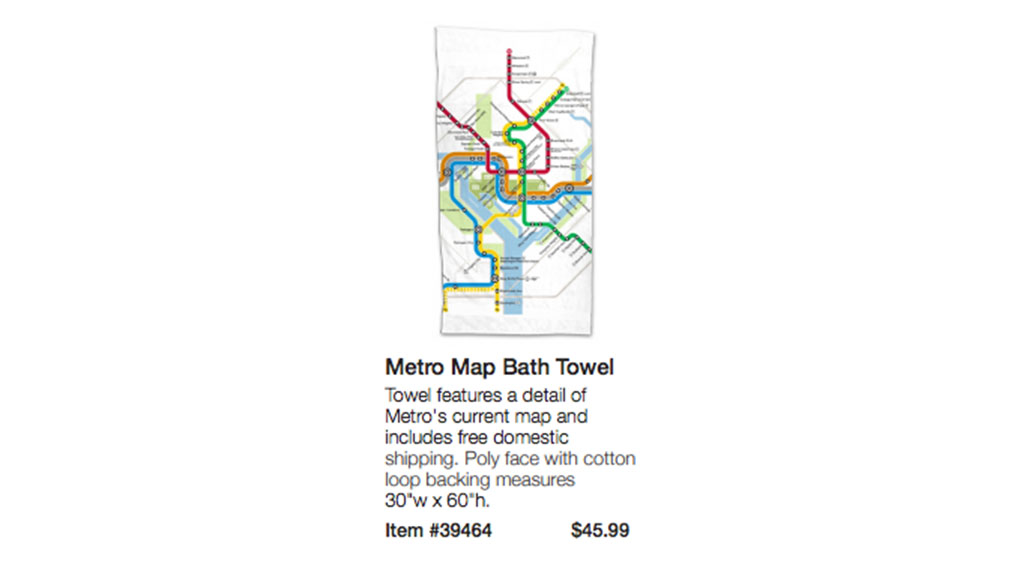 Imagine, you've just stepped out of the shower smelling of lavender and cleanliness. You reach for a soft, fresh towel and instantly are reminded of the joyful screech of the underground Metro, the bustle and crowds of Metro Center, the sweet smell of a packed car during rush hour. Or even better, take this one on your next vacation to the beach: you'll always have a little reminder of what awaits you at home.
Subway Car Ornament, $35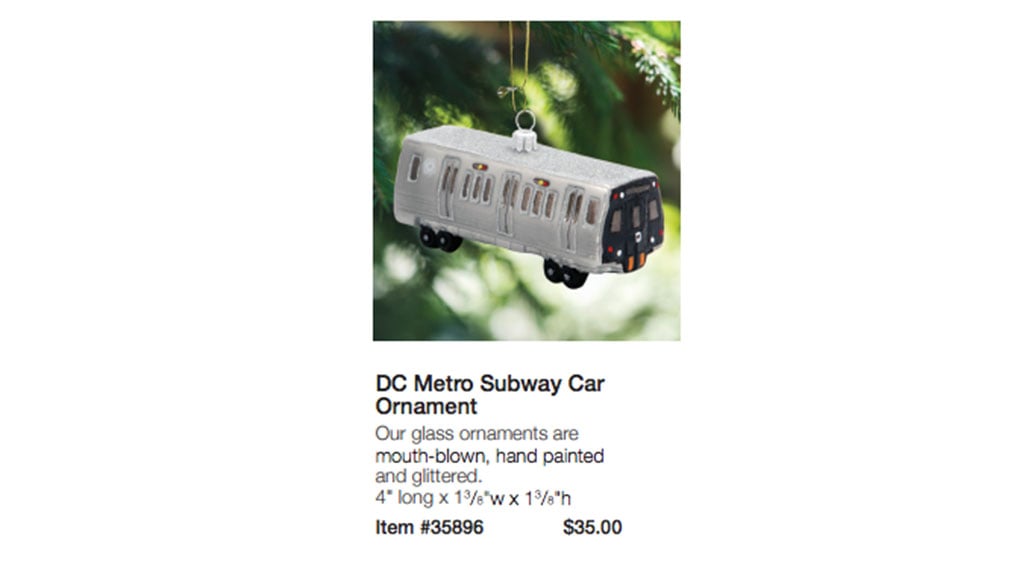 Move over, White House Christmas ornament: There's a new must-have trinket on the block.
Puzzles, $9 and $17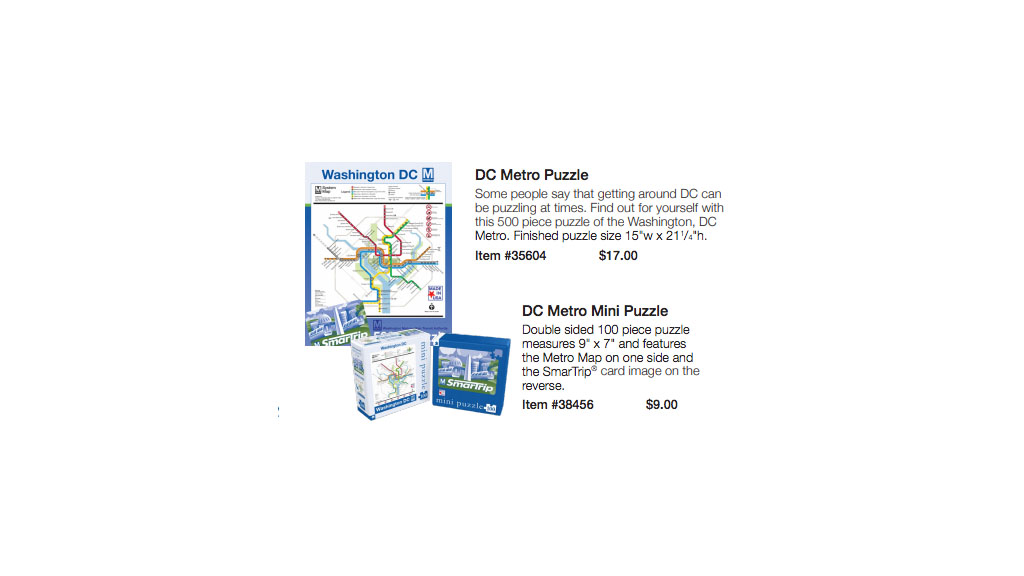 If you're looking for a fun way to pass all your leisure time at home, look no further than this Metro puzzle. Now, in addition to poring over maps in the subway, you can spend your free time trying to piece together miniature snippets of the red line. Also doubles as a memorization tool.
Stress Reliever, $7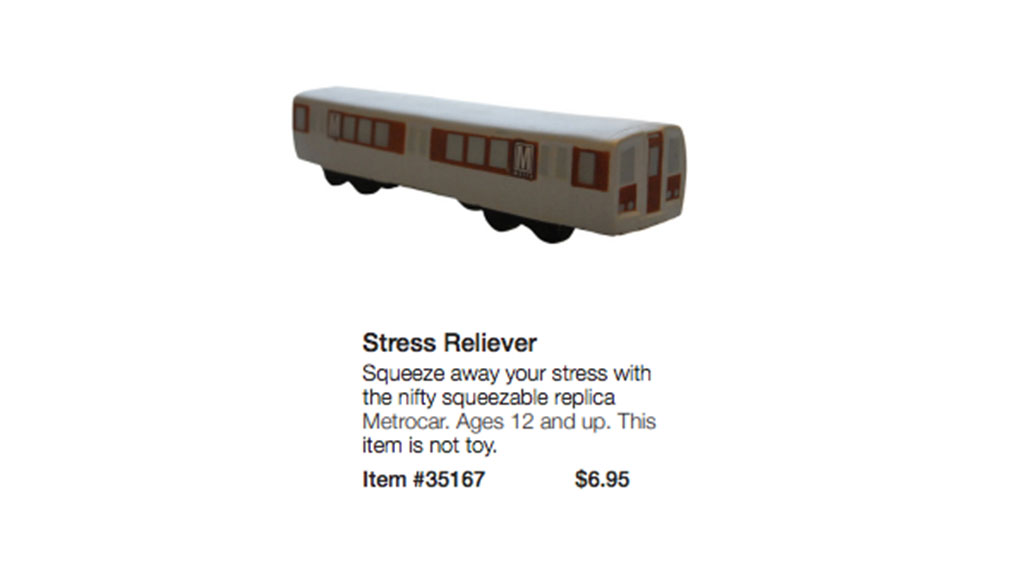 Were these stress relievers supposed to be ironic? Because there are virtually very few things more stressful than the rotating buffet of repairs, closings, and delays that Metro has offered up over the past few years. You can keep one in your bag and use it every time you are standing on the train platform running late for work and get notified to "expect delays."
Metro-Embossed Cuff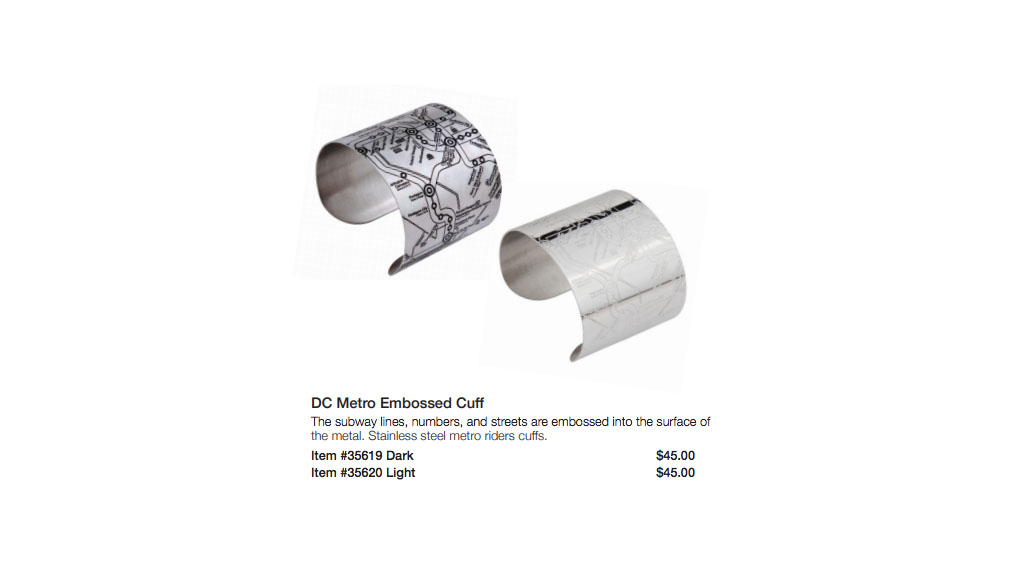 A beautiful mash-up of '90s fashion, embossing, and maps, these cuffs just scream "I really really love public transportation!" I'm not sure exactly who the target audience for these are, but suffice to say, I am not among them.
For more Metro swag you can check out the full M Shop catalog here.