Welcome back to Amazon Thirsty Thursday, a semi-regular feature in which one city, state, mayor, or other entity with a vested interest in the bidding process for Amazon's second headquarters is named the "thirstiest." Last week's winner: Boston, which is currently mopping up Amazon's not-explicitly-HQ2 projects, while Atlanta self-immolates and the Washington metropolitan area gazes it its own reflection. Here are this week's contenders for the title of most desperate for Amazon's vaunted HQ2 project.
People Who Think HQ2 Is Definitely Going to Their City Because Someone From Amazon Visited
There were big rumblings on the HQ2 front last week when the Washington Post's Jonathan O'Connell (who has expressed interest in winning the Amazon Thirsty Thursday award) reported that Amazon representatives recently toured sites in DC, Montgomery County, and Northern Virginia. They dined with DC Mayor Muriel Bowser and ate breakfast with Virginia Governor Ralph Northam. And the Amazon prognosticators took it as the surest sign yet—along with Jeff Bezos's ownership of the Post, ownership of a large and unoccupied house, and that ARLNow web-traffic story—that HQ2 is definitely coming to the DC region. "The Washington, D.C., metro area is increasingly looking like the frontrunner," Money magazine wrote. "The evidence is now piling up that Amazon is looking seriously at the nation's capital for its HQ2," Business Insider added.
Game over. We did it, fam! You'll never be able to park in Crystal City again!
But, wait! While everyone was freaking out about Amazon execs chit-chatting with Bowser and Northam, the company was also visiting other suitors, like Dallas, Denver, and Austin, Texas. Sure enough, those drop-ins were just as tea-leafy as the ones around DC. One of the people who led Amazonians around Denver sounds pretty confident, telling the Denver Post that it's "extremely important for the Front Range to have Amazon here." And D Magazine, a regional lifestyle monthly in Dallas, says "Score One for Downtown Dallas" after hints that Amazon probably wouldn't build in the exurbs if it picks Cowboys land. The lesson here: It's not draft day yet. We're not even out of the combine.
Canadians
Avez-vous oublié Toronto ? Only 19 of the 20 locations in the HQ2 bakeoff are in the United States, and while our cities and states are busy seeing who can offer the biggest tray of money to Amazon, Canadian officials have been running their own game. (Not that the Ontario provincial government isn't offering cushy incentives; it is, it just doesn't have to worry about Quebec or Saskatchewan.) Prime Minister Justin Trudeau met with Bezos himself during a trade mission to San Francisco last month. And a sneak win by Toronto would be an epic win for the Great White North as US-Canada relations fray over antagonistic NAFTA negotiations with the Trump Administration. Who needs a bitchy trading partner when you can just snag one of its most valuable companies?
"The fact that Jeff Bezos, who just recently became the wealthiest person in the world, is willing to sit down with our prime minister and talk to him about the tech sector, I think is nothing but a good sign for a potential bid, but also for the country," Sean Mullin of Toronto's Ryerson University told Global News in February.
Meanwhile, Toronto developers are getting ready to break ground on Canada's biggest-ever office park. It'll be right next door to a complex being proposed by Google's parent company, Alphabet, and large enough for 50,000 workers—exactly the amount Amazon says HQ2 could eventually hold.
People Who Think Alexa Is Laughing at Them
Lying in bed about to fall asleep when Alexa on my Amazon Echo Dot lets out a very loud and creepy laugh… there's a good chance I get murdered tonight.

— Gavin Hightower (@GavinHightower) February 26, 2018
In fairness, I'm not really sure what reported laughing fits from Alexa, Amazon's electronic-assistant platform, has to do with the HQ2 search. But if I had a portable speaker laughing at me for no apparent reason—Is an innocent glitch? A sign of the robot apocalypse?—I'm not sure I'd want the company behind the offending technology building a gigantic corporate campus in my town. Today, Alexa's laughing at you. Tomorrow, you could have a swarm of delivery drones blockading your house. If there's ever been an opportunity to turn a weird tech freakout into a NIMBY issue it's this. Alexa laughter victims: tell your elected officials you are scared that giving Amazon a big tax break will result in more robot attacks.
Winner: Canada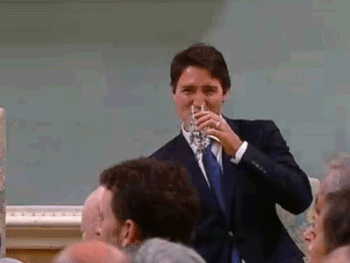 I really wanted to give it to the tea-leaf people. They're the reason Amazon Thirsty Thursday exists in the first place. (That's a lie: I wanted to give it to the people who think their Echo Dots are out to get them.) But it's got to go to our northern neighbors. We've been ignoring Toronto at our own peril. Yes, Canada only occupies one spot out of 20 on Amazon's shortlist, but while we've obsessed over the three DC-area bidders—along with other US locations like Atlanta, Pittsburgh, Dallas, and Boston—a cursory look at Toronto's efforts shows that it has been plugging away quietly and diligently. And it's got buy-in from its national government: to lure Amazon to Toronto, Her Majesty's (Canadian) Government is willing to tap a technology-investment fund worth $1.05 billion (that's in US dollars–you know, the good stuff). Meanwhile, the attitude shown toward Amazon by the United States's head of government can best be described as occasionally threatening. Toronto's still a bit of a long shot for the oddsmakers, but it's time to consider that pursuing [email protected] will turn out to be a worthwhile Canadian initiative. So congratulations, Canadians. Cool yourself off with a case of Bec cola—it's made with maple syrup.