The constantly shuffling legal drama known as the roster of lawyers representing President Trump is about to get another shakeup with the addition of Joseph diGenova. DiGenova, a former US attorney for the District of Columbia, is the latest veteran attorney to join Trump's team of outside attorneys repping him as former FBI Director Robert Mueller continues his special investigation into Russia's interference in the 2016 election.
DiGenova's hiring brings a sharp-tongued ex-prosecutor's approach to Trump's wide-ranging team, which encompasses a legal spectrum ranging from the White House Counsel's office to an outside counsel boiler room to ad-hoc representation in non-Russia-related cases. But diGenova should fit right in: he's been a vocal proponent of a conspiracy theory that a cabal inside the FBI cooked up the Russia case to tip the 2016 election and frame Trump.
Still, it can be hard to tell the legal eagles from the cheap-suited scrubs when their common client is swimming in all kinds of simultaneous litigation. Fortunately, they all have websites. Here, forthwith, is the authoritative ranking of the websites of all the President's lawyers:
8. Jared Kushner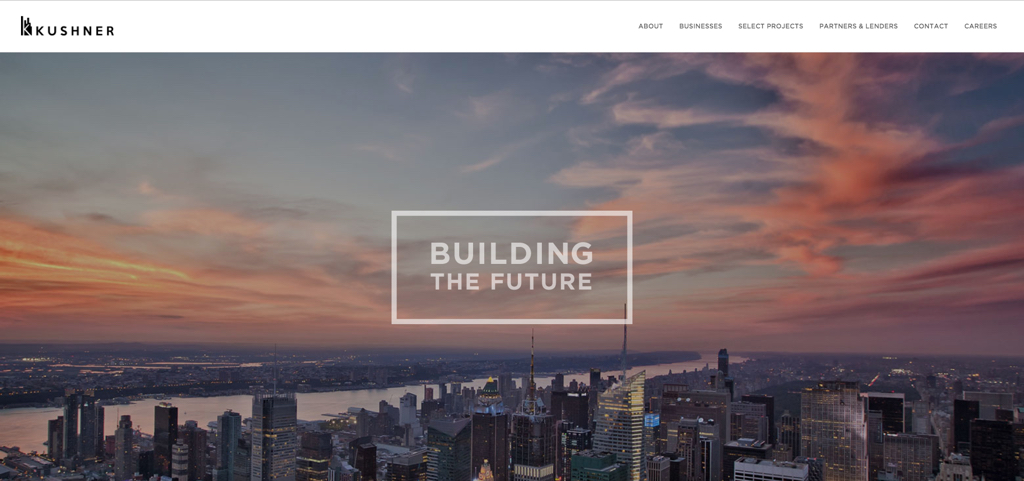 Officially, the President's son-in-law is employed at the White House as a senior adviser to the President, in charge of, well, it depends on the week. But before his government career, Kushner was a real-estate developer with a joint JD-MBA from Harvard University. Kushner's private-sector career does not suggest he's ever put the JD side of that dual degree to use, and he does not appear to be licensed to practice law. Kushner does not have a profile page on the White House's website, so all that's left to examine is that of the Kushner Companies, the family development firm he continues to earn. It's a fairly typical website for a commercial developer: clean lines, sharp contrast, photos of skylines and selected properties. But nothing about Kushner himself. Kushner barely qualifies for this list, and thus, finishes in last place.
7. Joseph diGenova

Long before his run as a Fox News yakker defending Trump from suggested FBI plots, diGenova had years of trial experience on both sides of the courtroom. As the US attorney for DC between 1983 and 1988, he oversaw the successful prosecutions of two of Mayor Marion Barry's deputies and attempted presidential assassin John Hinckley, Jr. That information, and more reflecting his post-Justice Department career, is reflected on the site of the small firm he runs with his wife, Victoria Toensing, but the site is in bad need of a makeover. A menu bar that cramps its typeface and a logo that looks like the production card at the end of an early 1990s syndicated cartoon, all slapped on a narrow white panel is a rough look. And diGenova's headshot is so dated that you can see the creases on the original photo when it  was placed on a scanner.
6. John Dowd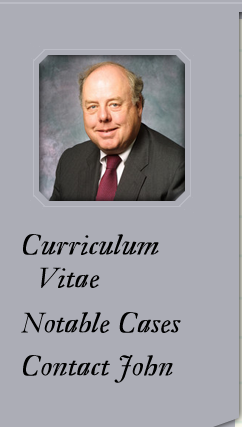 Trump's lead outside counsel for the Russia investigation appears to have made his website by following one of those old "teach yourself HTML" books everyone bought in the mid-1990s. I guess the background is supposed to look like a legal pad, but the rest of the page? It's his name and profession ("attorney"), followed by a six-paragraph biography that stops in 2009, and on the left side of the page, a dinky headshot hovering above three non-functional buttons offering—but failing to deliver—Dowd's curriculum vitae, list of notable cases, and contact information. The only upside is that it's less visually tiring than diGenova's page.
5. Charles J. Harder
The attorney who represented Hulk Hogan in his lawsuit that destroyed Gawker Media is representing the President in his litigation against Stephanie Clifford, who's also known as the adult-film actress Stormy Daniels. In that case, Trump and his longtime personal attorney, Michael Cohen, are suing Clifford for $20 million for allegedly violating a non-disclosure agreement related to Cohen's $130,000 payment in October 2016 to Clifford in exchange for her keeping quiet about an affair with Trump a little more than a decade ago. The website for Harder LLP seems pleasant enough, with a splash page that rotates between photos of Beverly Hills, California, where the firm is based and various parts of its office, which seems sunny and well-appointed. Harder's personal page is a bit messier. There's no real barrier between the medium-width column that lists industry accolades and flattering quotes about him and the wider text field that serves as his biography. Plus, the color scheme of an ultramarine main frame and white sidebar, while possibly meant to be pleasant on the eyes, is weirdly clashing, possibly because of the thick black bar separating the spaces. Lose the border and this might be a nice site.
[
Author's note: Charles J. Harder's website is lovely and he seems to have nice taste in office furniture and artwork. RIP Gawker.
]
4. Don McGahn
Like Kushner, the White House Counsel's office doesn't have its own section on the White House's website, so again we must turn to a lawyer's former firm. McGahn, Trump's lead White House lawyer, spent years in the DC office of Jones Day, one of the biggest firms in the world. While Jones Day boasts more than 2,500 attorneys and nearly $2 billion in revenue worldwide, though, all that corporate clientele hasn't convinced it to polish the website. The landing page compresses the firm's slogan ("one firm worldwide," stylized in an ugly, all-lowercase serif font), office locations, social-media buttons, recent articles, and drop-down menus into a tiny box that leaves way too much unused white space while a flat gray background spreads on either side. The fonts clash, and there's a complete absence of art and color, save the blue shade of the firm's masthead. Still, the site is at least functional. The dropdown menus, fussy as they are, do lead fairly quickly to practice areas, individual attorney pages, and career opportunities. The site also functions in nine foreign languages, a good habit for any global firm to show, even if the basic design is crap.
3. Jay Sekulow
Another of Trump's private lawyers, Sekulow's main gig is as the chief counsel at the American Center for Law and Justice. The organization, which religious broadcaster Pat Robertson founded in 1990 as a right-wing counterweight to the American Civil Liberties Union (note their similar initialisms), takes up a lot of culture-warrior cases. That said, it's at least invested in decent, if not outstanding, web design. The home page opens with a fundraising appeal—not unexpected for any nonprofit outfit—and tiled links teasing the ACLJ's various cases against the likes of Planned Parenthood, the ACLU, and the "deep state." The autoplay video up top isn't great, but at least it's not an ad. The color scheme is soft and pleasant, with a unified sans-serif typeset that doesn't offend, and the overall site uses its negative space efficiently. Sekulow's page is similar. His biography runs a little long, but all the pertinent information, like his social media feeds, is up top. And the lead image appears to be a recent photo—a rarity for the vain world of legal websites.
2. Ty Cobb
Before jumping into the White House Counsel's office, Cobb was a partner in the DC office of the 2,800-attorney-strong Hogan Lovells. He may never have offered input on the firm's website, but he should take credit nonetheless, because it's very modern for an old-line law firm. The home page is brief, but not compacted, and the tiles that link to articles about topics like cybersecurity, digital health, British digital-payment regulations, and the year in mergers and acquisitions tilt back as you hover over them. Aside from the serifs of the firm's logo, the fonts are clean and rounded, and the color scheme manages to blend purple and soft greens without looking like muck. Career opportunities are right up top, alongside buttons that toggle the site into versions for any of the 24 countries where Hogan Lovells practices. This is the website of a firm that wants to scream modernity, and it's got the stylesheet to back it up.
1. Michael Cohen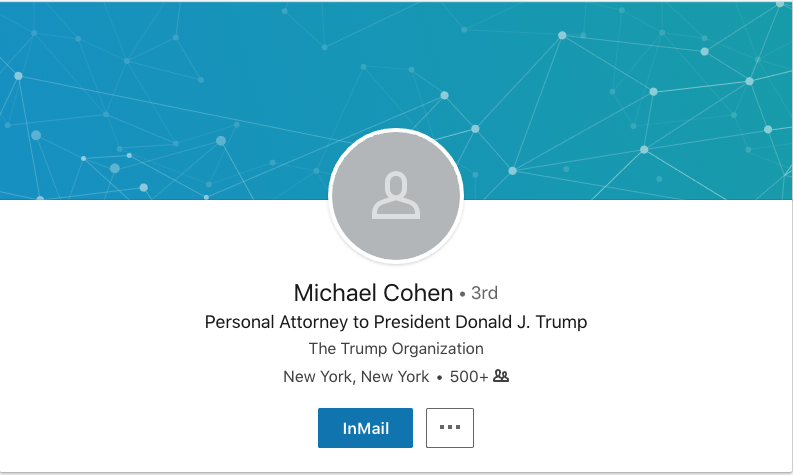 Michael Cohen does not have his own website. Cohen does not even have a page on the website of the Trump Organization, where he's been an executive vice president and counsel to Donald Trump since 2007. Trump's longtime personal lawyer and fixer is gregarious and almost always available for a quote, but he doesn't have much of a digital profile beyond his Twitter account. So if you want to connect with Cohen over the internet, you've got to go to LinkedIn. And you know what LinkedIn is: a jumble of headshots and corporate logos, appeals to sign up for its premium service, and an endless vortex of emails telling you that someone you've never heard of you "wants to connect with you," even though you're certain you deleted your profile five years ago. Still, having that as your main web presence when you're the President's consigliere is the kind of move you make when you just want to say, "Screw it, I've got a client for life. Even if he's late on reimbursing the hush money."