It's snowing in DC! Rare occasions such as this can put a dent in plans to run outside, especially since it happens so infrequently that many runners aren't equipped or prepared for slippery, wet sidewalks and trails. We talked to elite runner Michael Wardian of Arlington for advice on how to handle running in the white stuff; the 44-year-old has run marathons in the North Pole and, in 2017, shattered the world record in the World Marathon Challenge, running seven marathons on seven continents (including Antarctica) in seven days, averaging 2:45:57 for each 26.2-mile race. Here are his pro hacks for running in the snow in DC.
Avoid the bridges
Wardian has had some pretty icy experiences on Key Bridge and Memorial Bridge during his run-commute from from Arlington to Dupont Circle. If you want to avoid any possibility of ice, he suggests running under the Whitehurst Freeway in Georgetown. "I've run almost a marathon going back and forth."
Shoes
The big thing for running in the snow is traction. Wardian goes with trail shoes, which have better grip. His favorites are from Hoka One One, which sponsors him: the Challenger ATR, the Mafate Speed 2, and the Speed Goat 2. If you don't have trail shoes, he recommends Yacktrax, which look like metal chains and slip over your shoes. "It's almost like putting snow tires on a car," he says.
Wardian also uses Gaiters, which slip on top of your shoes and keep slush from getting in, keeping your feet dry during your run. "Or hack it and use a long pair of cut-off tube socks pulled down over the tops of your shoes."
Layers
Wardian wears three layers on top: a tee shirt at the base, then a three-quarter zip-up, and over both, a Gore-tex jacket that's breathable and waterproof (this one from the North Face scores top points with the pros at Runner's World). Wardian either wears running tights or waterproof wind pants with shorts underneath. A word of caution as you bundle up: "You wanna be kind of cold when you start, not hot, so you don't overheat when you're running," says Wardian. He also recommends wearing bright-colored, reflective clothes, especially if you're running in the early morning or early evening.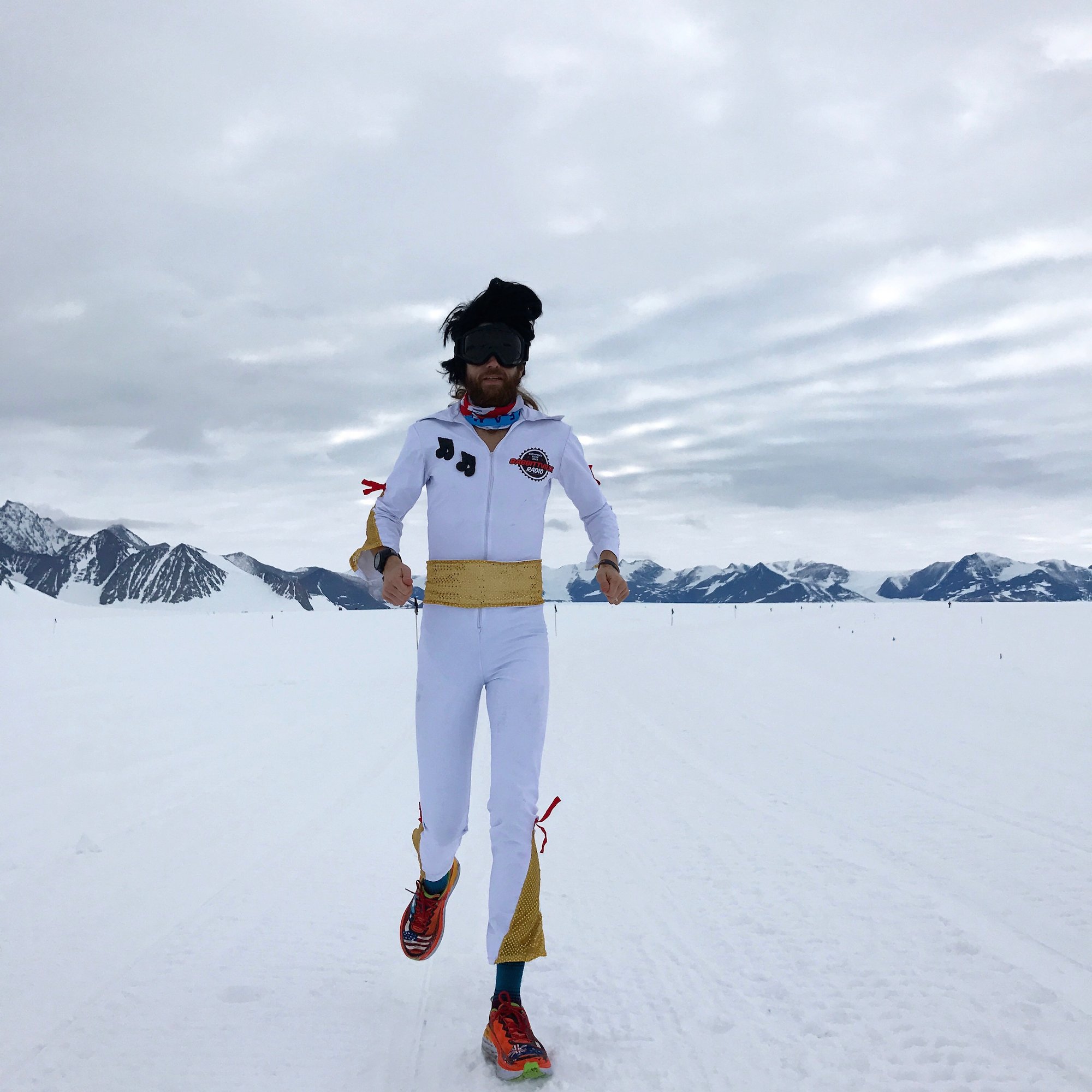 Hat
"I like a hat that's long enough to cover the bottom tips of my ears," he says, which is an area sensitive to frostbite. Wardian prefers a thinner hat, and finds that Merino wool works well for absorption without the weight. And, no poof on top: "When you're running, it makes you get a headache."
"Scarf-sock" and face mask
Wardian protects his neck with a product called Buff. "It's's almost like a scarf-sock, where you can pull it up over your nose." If it's really, really cold, Wardian uses the ColdAvenger, a face mask that has a device over the mouth to keep icy air from going into your lungs. (He says he looks like Bane from Batman.)
Gloves
If, like Wardian, your fingers tend to get really cold, go with "clamshell" style gloves, with two fingers in one sleeve. The Brooks Drift glove is a good bet.
Phone
There's nothing more annoying than having your phone battery drain ultra-fast in the cold. Wardian's hack? He wraps his in a sock before putting it in his trail running bag. If you hold your phone in your hand, wrap it in a sock and put it inside the old standby, a Ziploc bag.