Late one drizzly night this past January, Jeff Bezos strode through the front door of the Jefferson hotel, burnished from an evening spent consorting with the Washington power set and smiling in plain view. This year, the Amazon founder, who is worth more than $110 billion, became the richest person alive. Here at the Jefferson, around 11:30 pm on a Saturday, a flicker of his unstudied private life appeared.
Bezos wore blue jeans and a teal vest, the approximation of an Eddie Bauer model, and across his cocked elbow, his wife, MacKenzie, dangled two palms with practiced ease. His security detail, for which Amazon pays $1.6 million a year, was nowhere in sight. The wealthiest man on earth appeared simply to have walked up 16th Street, untroubled by courtiers and well-wishers (or the occasional protester). A brood of ruddy-faced tourists, who collected and dispersed in the hotel lobby, would not pirouette as the couple sliced through their gaze. Actually, no one offered so much as a glance. When I alerted the concierge to the whiff of celebrity in our midst, the young woman cocked a quizzical eye across the table: "Who's Jeff Bezos?"
Soon we'll all know him. You may even bump into the man. Just as Bezos has busied himself pushing his Seattle company to new feats, the inventor of the "everything store" has been quietly moonlighting in a town that, friends say, he views as an everything city—a delta of diplomats and techies, military engineers and journalists, powerbrokers and problem solvers, a mélange perfectly suited to the tinkerer's heterodox taste. Confidants report that Bezos spends more time in Washington than in any other city outside of Seattle—ten trips a year, give or take—and for good reason. Not content merely to own the local newspaper, the retail guru has become the owner of the largest home in DC. In 2016, he bought the former Textile Museum, a 27,000-square-foot mansion in Kalorama, and last year he began a massive renovation and expansion—the plans for which foretell the ambitiousness of the life he intends to have here. All of this prefigures the question of whether Amazon will bring its new headquarters—HQ2, in the parlance of the 20 municipalities vying to win it—to Washington, too.
Bezos is attracted — like a moth to light — to Washington.
"What he's going to do is revive the legacy of Kay Graham and her great socializing—bringing smart, interesting people together in a social context," says Jean Case, referring to the late Washington Post publisher. Case and her husband, Steve, the cofounder of AOL, have been friends with the Bezoses since the mid-'90s. Over breakfast in front of the fireplace at the Cases' home earlier this year, Bezos described his plans. "That's how they see this house that they're renovating in Kalorama," Case says. "They'll really use it as a magnet of smart, interesting people from all walks."
It makes sense that a billionaire with numerous interests before the federal government might resurrect Graham's fabled salons—to some, an artifact of a time when politics was supposedly less blood sport. Yet Bezos also owns homes in Beverly Hills, West Texas, and New York. His infatuation with the nation's capital provokes its own riddle even among those who know him. "It's a bit of a mystery to me—whether he has political ambitions or thinks he needs to be on the right side of Washington, for Amazon," one friend of the Bezos family admits. Yet "Bezos is attracted—like a moth to light—to Washington."
Conversations with more than 40 people in or around Bezos's circle offer some insight into what brings his jet to town and what he does when he gets here—a curiosity that Washingtonians (and Bezos's employees and politicians and HQ2 speculators) are all eager to unspool. Given our city's infamous weakness for celebrity, the predictable scramble to receive him will etch itself into the history of this town—perhaps as much as the man will himself.
---
Bezos's January visit to the Jefferson came on the night that the Alfalfa Club, of which he is a member, convened its annual gathering. Formed in 1913, Alfalfa is Washington's private confab of the economic and political elite. (An unofficial motto I heard while observing the promenade: "One long guest list, one-fourth our GDP.") At this year's dinner, Bezos was flanked by Patty Stonesifer—who serves on Amazon's board and directs the DC nonprofit Martha's Table—and billionaire fashion designer Tory Burch.
Bezos might have had his eye on a few other dignitaries, too: At the foot of the Capital Hilton's grand staircase, he appeared to exchange pleasantries with Chris Dodd—former head of the Motion Picture Association of America, a man who has no small insight into Amazon's fortunes in movie streaming. Elsewhere mingled Defense Secretary James Mattis, who, the Pentagon has acknowledged, receives individual advice from Bezos from time to time. Mattis's regulatory sway over Bezos's rocket company, Blue Origin—which plans to pursue national-security launch contracts—was important enough for Bezos to host him in Seattle last year. A few tables away sat attorney general Jeff Sessions, who thus far has demonstrated a mercurial attitude toward antitrust policy, a verboten notion at Amazon these days.
That's definitely a different Bezos from what we saw here
Currying favor, though, seems not to have animated Bezos's outings to date. To the surprise of most who work there, Bezos hardly sets foot in Amazon's Washington office. Instead, insiders say it's the Post and Blue Origin that exert the most pull, as well as a smattering of awards and public events. Trips, generally by way of his G650 Gulf­stream jet, typically last one or two days; he stays in fashionable hotels—the Jefferson, the St. Regis, the Four Seasons—and holds court at the most popular Washington canteens: Cafe Milano, Le Diplomate, Minibar, Fiola Mare. Perhaps less predictably, he's known to eschew his security detail at times.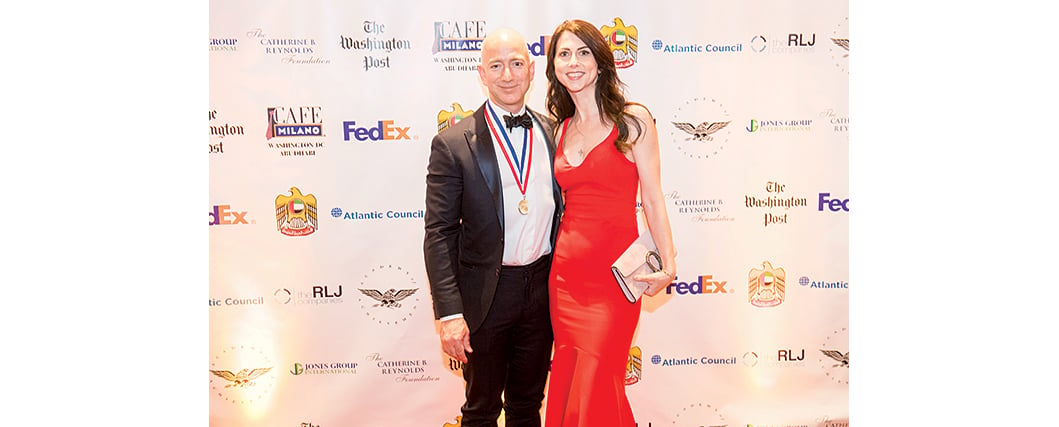 About three years ago, Bezos began presiding over small gatherings—typically over dinner, and something of a hybrid between cocktail-hour chatter and a TED Talk colloquy. Attendees saw a lesser-known side of the tech mogul: Jeff Bezos the host, the cocktail enthusiast, the busy father.
Friends suggest it was through these encounters that Bezos grew to think of the city as an enthralling crossroads. "Part of the appeal to DC in general to Jeff is that it's much more vibrant and diverse than it used to be," says one person familiar with his thinking. "It's not just a government/journalist town anymore." As the region began to exude the trappings of concentrated wealth—higher rents, flashier restaurants, tech arrivistes content to shout their success—Amazon's CEO kept finding more reasons to visit.
"That's definitely a different Bezos from what we saw here," says Leslie Helm, editor of Seattle Business magazine, to some consternation. "He's not been a society person here. He doesn't do keynote speeches, he doesn't show up at openings." Helm goes on: "I suspect you see more of him in DC than we see of him here."
---
In one sense, Washington helped shape Amazon from its beginning. In 1994, Bezos decided to leave D.E. Shaw, the rock-star hedge fund in New York where he'd cut a reputation as a fierce businessman, in order to open an online bookstore that might, one day, sell virtually anything. He and MacKenzie packed up their place in New York and set out on a cross-country journey that would land them somewhere in Seattle. The now-famous trek is part of Amazon's creation story. But before that trip west, Bezos drove south, eventually parking his car in a lot along Waxpool Road in Sterling: the headquarters of AOL.
After some time sitting alone in an empty conference room, Bezos was greeted by Ted Leonsis, then the company's president. "They said, 'This is Jeff Bezos,' and I didn't really know who he was," recalls Leonsis, who now owns the Washington Capitals and the Wizards. "He told me he wanted to launch the largest bookseller in the world." The men chewed over Bezos's idea and discussed ways the start-up and the internet giant might collaborate.
Leonsis would go on to become a sounding board for Bezos, who later relayed one of the reasons he'd left Wall Street: "He said, 'I had a competitor who was kicking my ass,' " Leonsis remembers. The prodigious rival: Bernie Madoff. "So," Bezos cracked to Leonsis, "no Bernie Madoff, no Amazon."
Leonsis wasn't the only large persona from Washington who met with Bezos early on. Around 1995, David Rubenstein, cofounder of the Carlyle Group, one of the country's largest private-equity firms, read about Amazon in the newspaper and booked a flight to Seattle. When he arrived, Rubenstein was struck by the rundown headquarters, where doors were repurposed as work desks—and more startled by Bezos himself, who greeted his guests just as he was preparing to drive a boxful of orders to the local FedEx.
What he's going to do is revive the legacy of Kay Graham and her great socializing.
Still, a Carlyle-owned firm acquired Amazon stock worth about $4 million. Before he left, Rubenstein told Bezos, "By my calculations, you'll be worth $300 million at the IPO." Bezos said he doubted he'd ever be that rich. The firm eventually sold its shares for about $65 million—a stake that Rubenstein says would be worth about $2.5 billion today. "We were happy to get the cash. And obviously," he recalls, "had we held on for 20 years, we'd probably be happier."
In 2003, Bezos got an invitation that would establish a permanent connection to Washington. Michael Dell, CEO of Dell computer company, served on the nominating committee of the Business Council, a private club in DC for top executives. He wanted Bezos to join.
Bezos was never particularly fond of politics. At D.E. Shaw, he reportedly once skipped out early on a fundraiser for Bill Clinton to play volleyball with colleagues. But he accepted Dell's nomination and began flying to Washington once a year to attend the meetings. "I think he enjoyed the mental stimulation," says Marlene Colucci, who directs the Business Council. He particularly seemed to enjoy the repartee with the smorgasbord of speakers—executives, philosophers, Supreme Court justices. "He'd say things that you wish you would have thought of," Colucci recalls. "He was always seeing something others don't see."
By then, Bezos had also forged a relationship with Don Graham, whose family owned the Post. As early as 1999, the men would see each other at the annual Allen & Co. Conference in Sun Valley, Idaho, another exclusive convening of moguls from the worlds of tech, media, and finance. On a Monday in July of 2013, two days before that year's retreat, Graham opened his e-mail to find a note from Bezos. "Let's get together during the week," it read, as Graham recalled in an interview with the journalism website NiemanLab. Graham had dispatched a firm to discuss selling the Post to Bezos, but the e-mail was the first he'd learned Bezos might be interested. Bezos was his first choice to turn around the beleaguered newspaper. Less than four weeks after their meeting at Sun Valley, Graham announced the sale, for $250 million.
Those familiar with his decision-making say Bezos bought the Post largely on the basis of his friendship with and trust in Graham. "He has immense affection and respect for Don," says a friend of Bezos's. "He's very conscious of the Graham family history and the role Kay Graham played in her heyday."
---
The Post newsroom greeted the purchase with a sense of relief about the newspaper's finances—but a degree of uncertainty about the new boss himself. "A lot of people at the Post desire and crave the attention of the owner," says a reporter at the paper, "in part because we've had that attention for so long with our previous ownerships." Graham was famous for remembering reporters' names and personal details. When the Post's legendary former editor, Ben Bradlee, died in 2014, Bezos hadn't initially planned to attend the funeral at Washington National Cathedral. It took an e-mail from Bob Woodward to change his mind, an oversight viewed by some as a minor faux pas. (After the service, Bezos approached Bradlee's widow, Sally Quinn, at a reception. "Now I get it," he told her.)
Other differences between Bezos and his predecessor were evident in the early days of the transition. Bezos immediately dove into the dynamics of user interface: how quickly the newspaper's website loaded, graphic and photo displays, incorporating the Kindle. Recruiting talent became a preoccupation as Bezos set out to transform the Post into something of a small tech company. In one case, he was interested in developing custom metrics, and the one he fixated on was, as he put it, "riveting."
"'Who has the most riveting story? We want the most riveting story.' That's the word he kept using," says one person present for the discussions. "To try to measure that with something—that was a smart thought."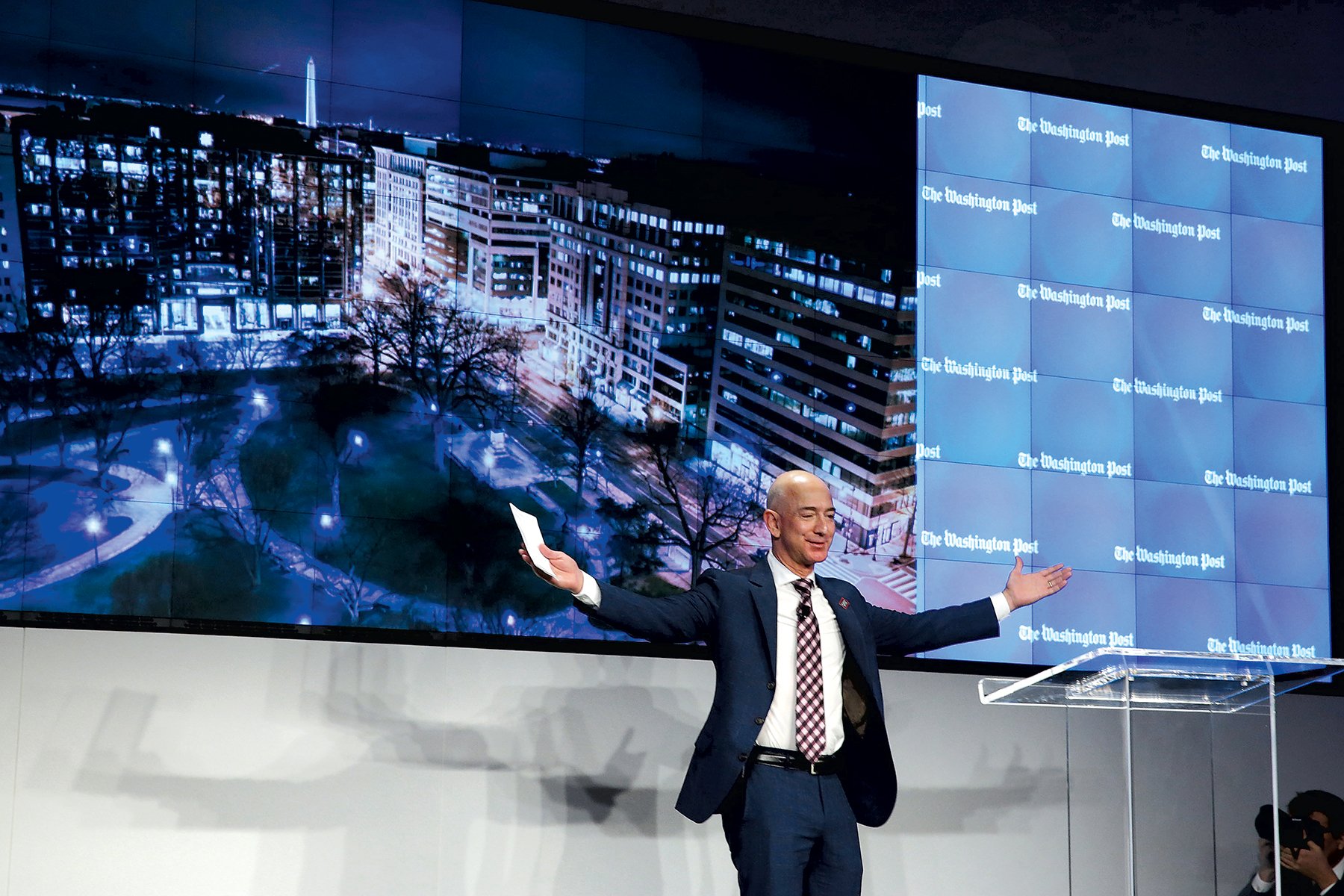 The transition period doubled as a two-way charm offensive. After the sale closed, senior leadership hosted Bezos for a catered celebration at then-publisher Katharine Weymouth's home. (Bezos later installed a new publisher—Fred Ryan, formerly at Politico—whom he had met through Jean Case.) Twice in that first year, Post leaders flew to Washington state to discuss strategy. On the first morning at the Bezos estate during one trip, some of his four children padded into the kitchen and helped make pancakes with blackberry sauce for everyone. "Jeff likes to make breakfast for guests," says a source.
Since then, Bezos's involvement with the Post has been consistent in its dedication and narrow in aperture. He devotes several hours a month to the paper, typically in calls with executives including editor Marty Baron, chief information officer Shailesh Prakash, and editorial-page editor Fred Hiatt. Anything in the weeds is handled by Bezos's "family office," a small staff who manage his investments and endeavors outside of Amazon. "He wants to be involved at a high level," says a person familiar with the arrangement. "They follow up on the details."
To some, Bezos's hands-off style engendered gratitude, with reporters liberated from their early fears of a meddling, self-styled disrupter; for others, his distance engendered something closer to indifference. More than a few employees were disgruntled after Bezos announced in 2014 that he would slash retirement benefits for those with pensions and scale back the company's contributions to 401(k) plans. One staffer, Fred Kunkle—who leads union activities at the Post—confronted Bezos about the cuts at an employee town hall. Later, Kunkle and Bezos bumped into each other in the elevator lobby. Bezos pumped his hand, and before Kunkle could plead his case, an assistant intervened—"That's all!"—and Bezos and two plainclothes bodyguards slipped into the elevator.
In short, it might be said Bezos was more abided than beloved. But that would change after the Rezaian affair—one of the more dramatic episodes in the Post's history.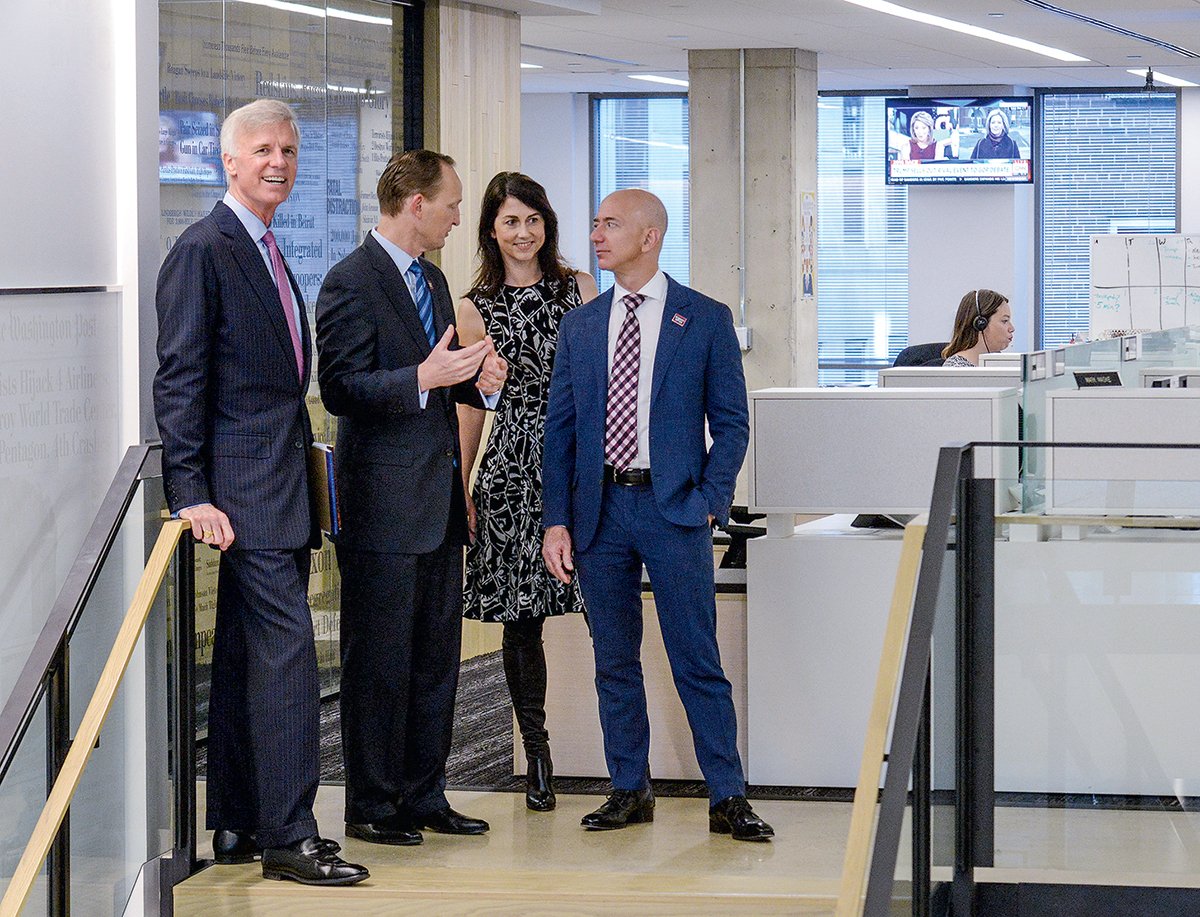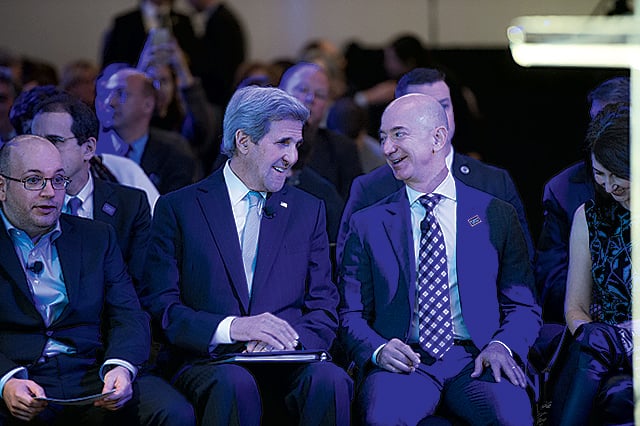 Jason Rezaian, the paper's correspondent in Iran, was taken prisoner by the government in July 2014 and later was charged with a half dozen crimes amounting to espionage. After 18 months in prison, Rezaian was released in January 2016, and Bezos flew his private jet to an American base in Germany to retrieve him personally. Rezaian boarded the jet alongside his wife, Yegi, and Post foreign editor Doug Jehl to find the plane's cabin festooned with streamers and signs that read #freejason. Bezos then ordered his pilot to fly Rezaian and his wife anywhere in the world. (They chose Key West.)
Days later, Bezos swaggered into the Post for a christening of its new building and received a standing ovation. "For 36 hours, this was all about Jason, not a bit about Jeff," Jehl says. "To know that he had flown to Germany to pick him up, I think that crystallized for everyone that Jeff wasn't just about the business. He was about the people."
The next Monday, Bezos held a town hall with Post staff. He answered questions about his commitment to the newspaper, describing a 10-to-20-year timeline of investment in the print edition. Then, apropos of nothing, he offered an insight into his visits. "I like Washington, DC, but I live in Seattle," he said. "I'm not sure I've done a good job of inculcating myself in the community here." In a deadpan, he added: "I found some good restaurants here."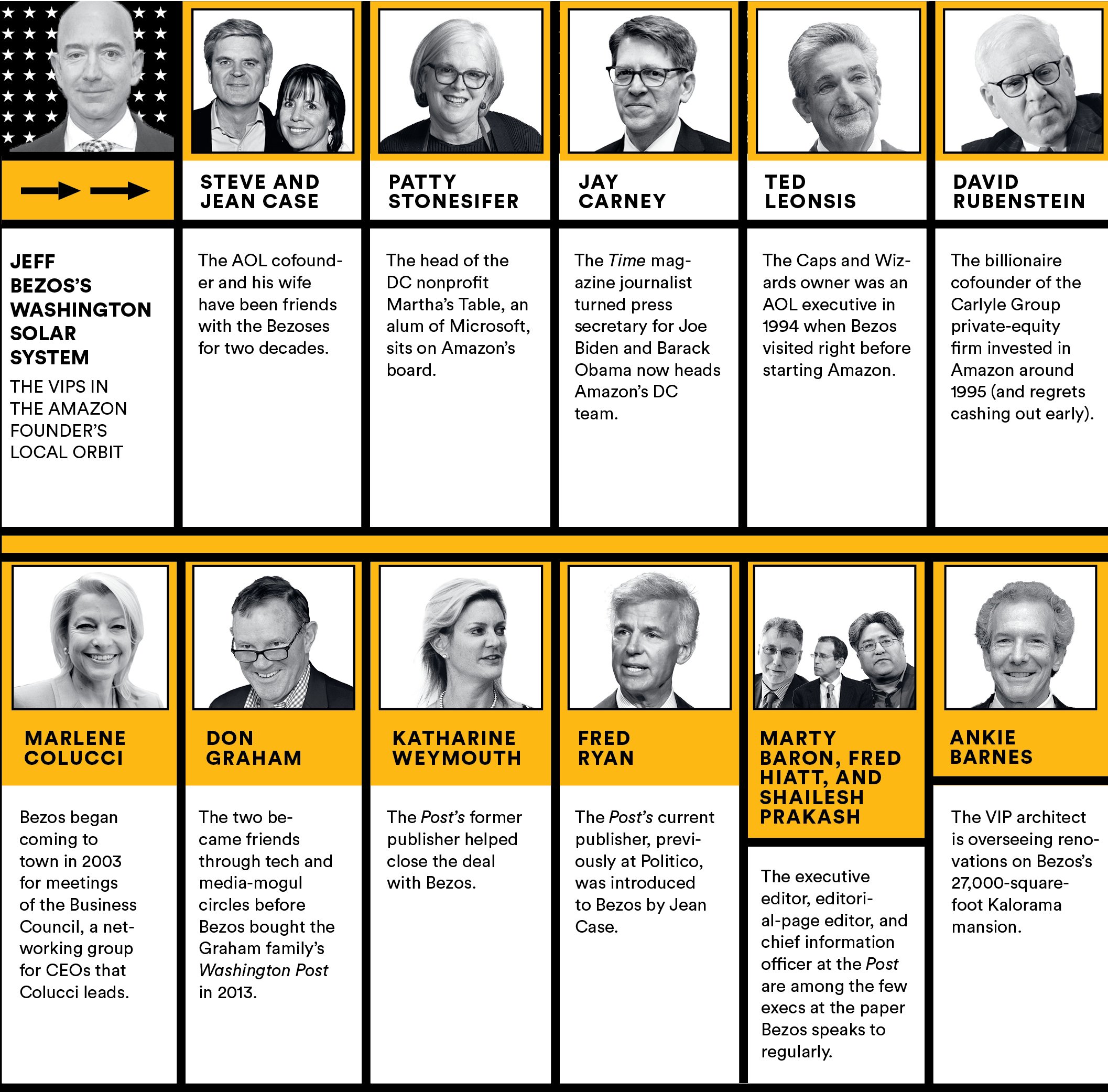 Bezos made other small gestures to earn the accolades of staff, taking a dozen of them to one of his favorites, the sceney Cafe Milano, a few months later, to celebrate the paper's Pulitzer Prize for its reporting on police shootings. "He seemed genuinely interested in our coverage and how we did it," a reporter recalls. "He has the humility to know when he doesn't know what you're talking about." At one point, Bezos offered an insight about police shootings: He wondered if the process could mirror medical licensing, in which disciplinary incidents are deliberated before a certified board of investigators and the ultimate imperative is truth-telling, not punishment. If some of the liability could be collectivized, Bezos wondered aloud, it might reduce untruths. "It was fascinating," says one of the reporters in earshot. "I had never thought about that." Afterward, a guest turned to a colleague as they stepped out for air: "That guy is obviously a genius."
After the election of Donald Trump—who has long used Twitter to antagonize Bezos and "the Amazon Washington Post"—Bezos held another intimate gathering, this time for the senior politics team, in publisher Fred Ryan's conference room. The group was eating sandwiches and discussing the implications of the incoming administration when a reporter asked Bezos if he was worried that Trump might follow through on his Twitter threats to come after Amazon or the Post. "Don't worry about that," Bezos replied, according to accounts of the exchange. "You do your job, and I'll worry about me." He added, "Never worry about whether you'll have my full support."
---
The Post wasn't the only one of Bezos's Washington endeavors to pick up pace in the waning years of the Obama administration. In 2014, Amazon, which runs multiple server farms in Northern Virginia for its cloud-storage business, upgraded its DC office, moving into sleek new quarters around the corner from Union Station. And between 2012 and 2017, the company increased its lobbying by 400 percent.
Given the array of issues Amazon has before the federal government (drone delivery, online taxes), not to mention the country's building backlash against the tech industry at large, it would seem odd that Bezos doesn't have a permanent workspace in the Washington office and hardly shows up there. As a former Amazon staffer explains, "There's not a lot of value in him spending time in that office. If he's dealing with Amazon stuff, why fly six hours to go to an office when you could just talk to people in the next room [in Seattle]?"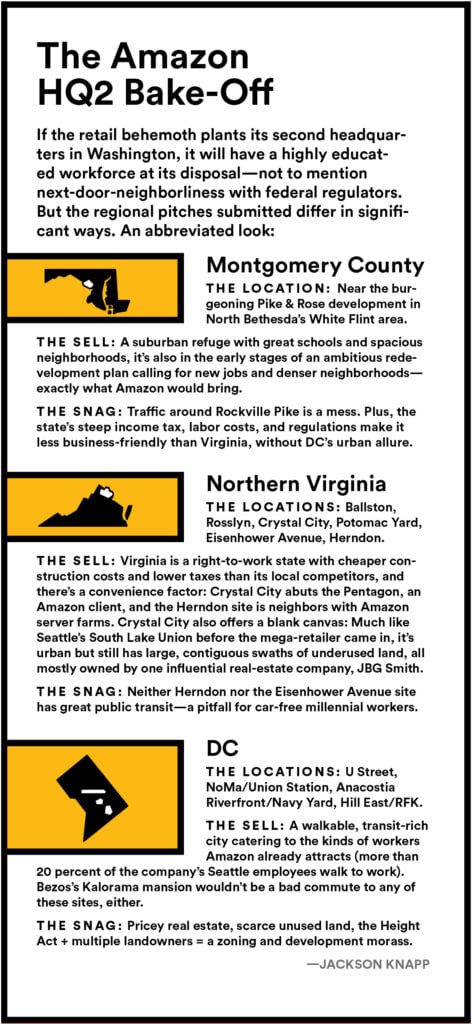 Amazonians say Bezos isn't involved in the Washington team's day-to-day policy strategy. They also say they've never heard particular policy goals described as Bezos priorities—"He's too in the clouds for that stuff," says one—although Bezos has met with lawmakers in a few instances.
Bezos's next-biggest priority in Washington after the Post is Blue Origin, which the Star Trek aficionado launched in 2000. His efforts to certify the company's New Glenn rockets require a multifaceted push with NASA, the Air Force, and the National Space Council—an effort based at Blue Origin's small government-affairs office in Arlington. Bezos's first and last love, according to friends, is spaceflight. (If you're looking for the best Smithsonian museum in which to find him, Air and Space is a family favorite.)
Other occasions for Bezos's visits are the numerous society affairs that a CEO must attend: the White House Correspondents weekend, the Gridiron, the Human Rights Campaign National Dinner. (He was also chair of the Business Council in 2015–16.)
At one such event, the Smithsonian's American Ingenuity Awards, attendees flocked to the cocktail reception to try and meet stars like Aziz Ansari and Kyle Mac­Lachlan. As the cocktail party was winding down, Bezos remained, snapping photos and taking all comers with a disarming greeting—"Hi, I'm Jeff."
These affairs can bring about bonding with employees who might not see him otherwise. Last year, after speaking at an awards ceremony, Bezos summoned a group of DC-based Amazonians to his hotel for drinks. "A lot of these folks had never met Jeff and suddenly got to hang out with him and have cocktails," a staffer recalls. Outside on the patio, the group discussed policy, traded recommendations of obscure books, and chewed on a frequent topic with Bezos—raising children—late into the night.
How is it that the man who once needed to be instructed about the importance of Ben Bradlee's funeral has become a freewheeling socialite in the capital? "The Jason Rezaian experience really was an inflection point for him," an acquaintance says. "At the beginning, he was more reticent about being in Washington, about being involved in these kinds of things, and wasn't really that interested in injecting himself in it. Since then, that has really shifted."
Sally Quinn, host of a thousand Washington dinner parties, calls an invitation from Bezos "one of the most fun evenings I've spent in Washington in a long time." It was 2016, shortly after Rezaian's release, and Bezos had gathered a dozen people for a celebration in a private room at Fiola Mare. The dinner went on for four hours. "He had a great sense of humor. Teasing—and teasable," Quinn says. "Nobody wanted to go home. It was a blast."
---
Kalorama is one of the more storied neighborhoods in DC. FDR and Woodrow Wilson once lived there; so did Bob McNamara and Donald Rumsfeld. The area's most recent star turn came in the form of its newer residents, the Obamas and Jared Kushner and Ivanka Trump. "We have a very . . . cosmopolitan neighborhood, and some very eclectic neighbors," says Ellen Goldstein, herself a kind of local power player, albeit in more mundane fashion.
Goldstein is vice chair of Kalorama's Advisory Neighborhood Commission, or ANC, the local body that convenes residents to discuss issues such as neighborhood events, dog poop, and, unavoidably, parking. Of the unpaid position's perks, Goldstein—a 38-year veteran of the neighborhood—wrinkles her nose. "It's a lot of work," she says. "I still have yet to meet the Obamas."
One day in January 2017, Goldstein convened the ANC meeting that would welcome another celebrity, though they didn't know it at the time. That night, Ankie Barnes, principal architect of the firm Barnes Vanze, rose to give a brief presentation on renovations slated for 2320–2330 S Street, Northwest. The enormous property dates to the early 1900s and actually consists of two buildings, designed separately by Waddy Wood and John Russell Pope, the architect responsible for the Jefferson Memorial. In the 1970s, large tracts of its interior were gutted. At the meeting, according to ANC minutes and accounts in the Northwest Current, Barnes said his client would soon begin an expensive renovation. But he didn't give away the mysterious purchaser's identity. "They're a really nice family," he said, "and they absolutely love it."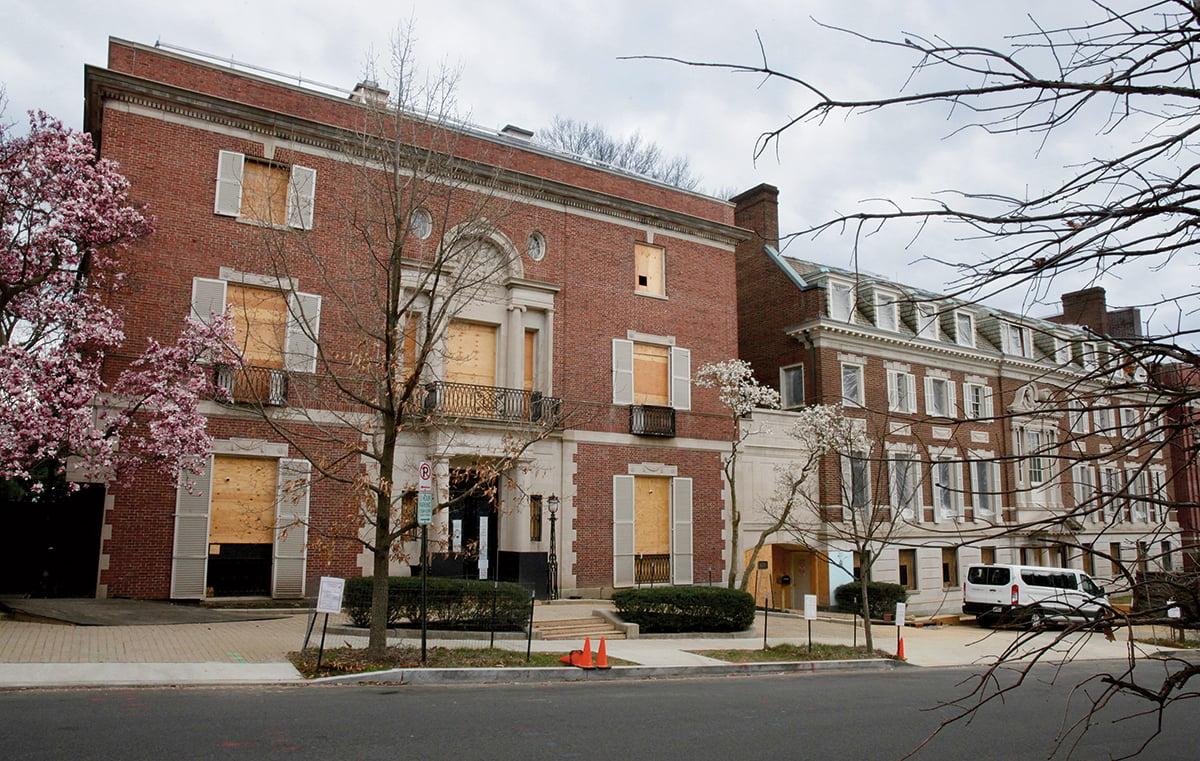 On the winding bureaucratic track that all building proposals travel in the District, the ANC stop is often a necessity. No matter who your titan-of-industry neighbor may be, city officials still seek the blessing of neighborhood residents before they sign off on certain projects. So Goldstein and her neighbors had a few questions about this anonymous buyer.
David Bender, the ANC chair, required assurance that the new owner would promise not to run a bed-and-breakfast. "I imagine they'll have beds and serve breakfast," Barnes replied, "but they won't take money for it."
Then Goldstein inquired about whether the owners would host any events. "Probably two or three sizable parties per year and some smaller functions—but it won't be an institutional use but residential," Barnes replied. He added, "Maybe they'll ask you to come."
Assuaged that the home wouldn't have a commercial use—or, presumably, bring new traffic headaches—the ANC expressed its support.
Once more, Jeff Bezos had managed to hide in plain sight. Three days later, his newspaper reported that the mystery buyer—that "really nice family"—was none other than the Post owner. (The $23-million transaction, all cash, was handled by TTR Sotheby's.)
The blueprints reveal an undertaking of pharaonic proportions and the monumental scope of Bezos's DC ambitions.
The plans for the Bezos home are closely held. ANC commissioners Goldstein and Bender eventually toured the property for an up-close look at its gutting—but before doing so, the commissioners say, Barnes Vanze had them sign nondisclosure agreements forbidding them to discuss details of the renovations. The blueprints aren't secret, though. Washingtonian obtained them through a Freedom of Information Act request. Rendered in inch-by-inch detail, they reveal an undertaking of pharaonic proportions and show the monumental scope of Bezos's Washington ambitions.
The $12-million project encompasses 191 doors (some of them custom mahogany or bronze), 25 bathrooms, 11 bedrooms, five living rooms or lounges, five staircases, three kitchens, two library/studies, two exercise rooms, two elevators—and one very large ballroom.
The estate is split into two—the "Pope" house and the "Wood," after the original architects—and the blueprints for each suggest the parallel DC lives the Bezoses hope to achieve. The Pope will serve as the Bezos family quarters, according to the documents. Plans call for a large kitchen and pantry, a wine room and a whiskey cellar (complete with drying racks), a lounge with decoratively painted plaster ceilings, a south-facing dining room with views of the greenery outdoors, two dressing rooms (each with its own fireplace), bedrooms dubbed "Ottoman," "Garden," and "Bunk," and many—many—more rooms.
The Wood building coronates the Bezos mansion as a veritable Death Star of Washington entertaining. The main vestibule opens onto a magnificent staircase of slab marble. It's flanked on the left by a 36-foot-long gallery and on the right by a nearly 1,500-square-foot ballroom with floor-to-ceiling, ionic fluted columns and a new limestone fireplace. Glance up and you'll find partygoers smiling down through the iron guardrails of the balconied promenade. Below, the basement bathrooms are gala-ready with six guest stalls in total. (How will Bezos heat this gargantuan property? Geothermal energy.)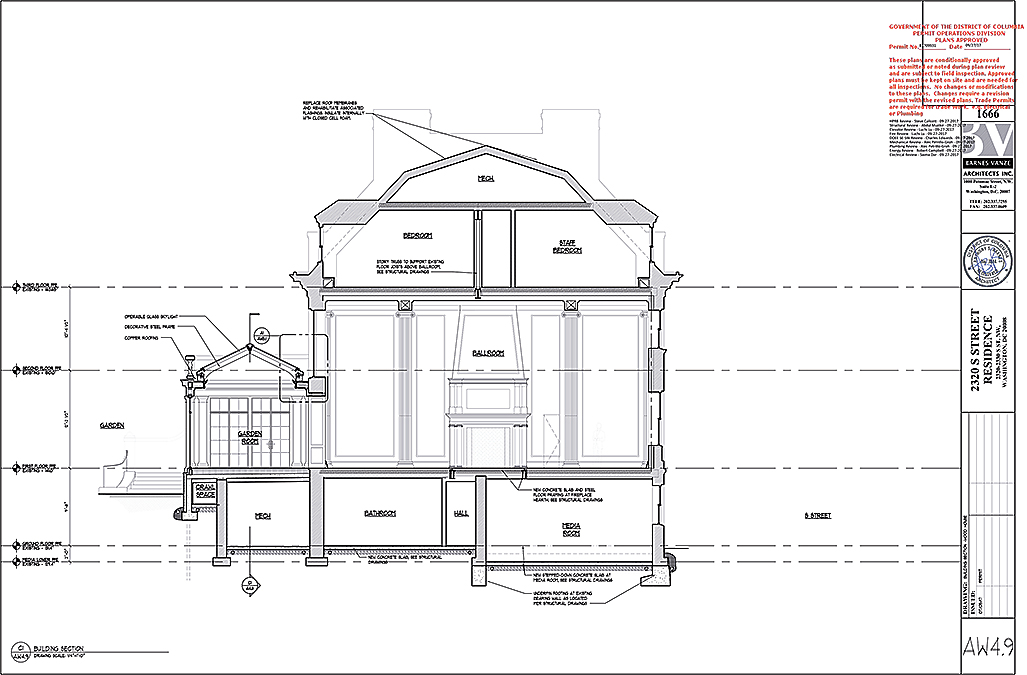 Outside, meandering paths of crushed stone will weave amid the canopies of newly planted trees and around two fountains, a pergola, and a garden pavilion—a small, chapel-like structure of stucco and copper, adorned with gas lighting. On the south edge sits a carriage house and a garage.
Bezos plans to preserve much of the property's original designs, according to the documents. "All historic fabric is to be protected and left intact where possible," reads an architectural note. Pope's marble flooring will remain, too.
"It certainly won't be a bad place to entertain," says Goldstein, with her flair for understatement, during a recent walking tour of the neighborhood.
Nor does the location afford much privacy. The home is wedged between the Embassy of Myanmar and the Woodrow Wilson House. Down the street lies the Mitchell Dog Park (where Jared and Ivanka have been spotted with their children). The property's back entrance lies on Decatur Street, trafficked by tourists and wedding guests snapping pictures on the nearby Spanish Steps. Back here, there are still more embassies. "This was a very public choice," Goldstein says. Then she cracks, "His back yard will have a great view into the Pakistanis."
---
How might Bezos the entertainer hold court once the estate is finished? (The target is December of this year.)
"He usually peels off into a corner with some creative, intellectual conversation," says Jean Case. "Usually, he'll pull aside private-sector people, but because of his intellectual curiosity, he's equally interested in people of all walks." Bezos has been spotted at gatherings that have included Washingtonians such as Mark Ein, the serial entrepreneur and now owner of Washington City Paper; Mike Allen, the raconteur of Axios and Politico Playbook fame; deans of tech like Tom Davidson, CEO of the local education-tech company Everfi (in which Bezos is an investor); and Amazon confederates such as Stonesifer and Jay Carney, director of the company's Washington office.
Dinner conversations tend to home in on a single discussion, not several breakouts. "He's not going to work the room, but he's not going to be opposed to the room working him," says an acquaintance. In Seattle, Bezos is known to enjoy cooking for guests, and he has a flair for specialty cocktails. "He likes to tend bar," one guest says. "He makes a mean Negroni."
Practically everyone who has broken bread with Bezos calls out one word: "Very curious." "The most curious person I've ever met." "That's the one thing about Jeff—he's intensely curious about everybody, not just heads of state or other CEOs but anyone he talks to," says the Business Council's Marlene Colucci. "You really feel like he's curious about you."

The advice most often proffered from Bezos's dinner partners: Arrive well read.
Of course, any chatter of Bezos these days is accompanied by a new Washington parlor game: Will Amazon choose the region for its HQ2? The sweepstakes for the second headquarters has taken on the flavor of a Mark Twain literary invention, with mayors and governors—including in DC, Virginia, and Maryland—prostrate in their fealty.
One could see how 50,000 Amazon employees living alongside those who regulate them could be a promising arrangement for the boss. But those in Bezos's circle warn against seeing the CEO's travels here as a thumb on the scales in Washington's favor. They also say that whatever happens, the invitation lists at 2320 S Street will extend beyond Capitol Hill.
"This question, whether he's going to use Washington in any way politically—anyone who has seen him in social settings in Washington, we don't see him peeling off with the politicians," Case says.
"What will be interesting about Jeff is that he's not partisan," says someone familiar with his thinking. "He cares about policy, but he's really interested in ideas from all corners."
Bezos's Washington is the new Washington—of tech and commerce and cyber-intelligence. "It's the people who make extraordinary things happen on behalf of the country—in defense and intelligence and elsewhere," says the source, "because of their combination of real skills and intelligence and a willingness to take a relatively small paycheck to do big things." It's a universe of vaster proportions than Kay Graham's, rife with upstarts and climbers who offer, perhaps, a faint recognition of the man who once sat in AOL's conference room on Waxpool Road, coursing with ambition, ready to launch a new life.
This article appeared in the May 2018 issue of Washingtonian.