UPDATE: The Newseum has pulled the shirts from its gift shop.
The Newseum took a pounding on Twitter Friday after the media-news publication Poynter discovered the museum sells shirts that say "You Are Very Fake News." The critics' complaint: Even if items like these are fairly unremarkable around DC in the Donald Trump era, they are more than a little off-key in a museum dedicated to journalism—especially at a moment when observers are fretting that the president's labeling of reporters as enemies of the people may lead to actual violence.
Newseum officials, naturally, defended the practice: "As a nonpartisan organization, people with differing viewpoints feel comfortable visiting the Newseum, and one of our greatest strengths is that we're champions not only of a free press but also of free speech," Newseum spokesperson Sonya Gavankar told reporter Daniel Funke.
At first blush, that sort of reasoning seems fair—and even admirable. If we present all sides of an issue, the thinking goes, we're actually strengthening democracy.
That sort of balance—the kind of thing that characterizes a metropolitan daily's op-ed pages—certainly defines most of the items available in the museum's gift shop, whose offerings are long on political souvenirs. On Friday afternoon, the selections included books by Hillary Clinton and James Comey a shelf away from a coloring book that depicts Donald Trump as a superhero. There were gifts that proclaim a political affiliation, like Republican and Democrat doggie treats. And while there's a table full of Trump kitsch that includes heroic pictures and an espresso cup that says "Huuuge," there are also shirts that blast "alternative facts" and lampoon Melania Trump's jacket disaster.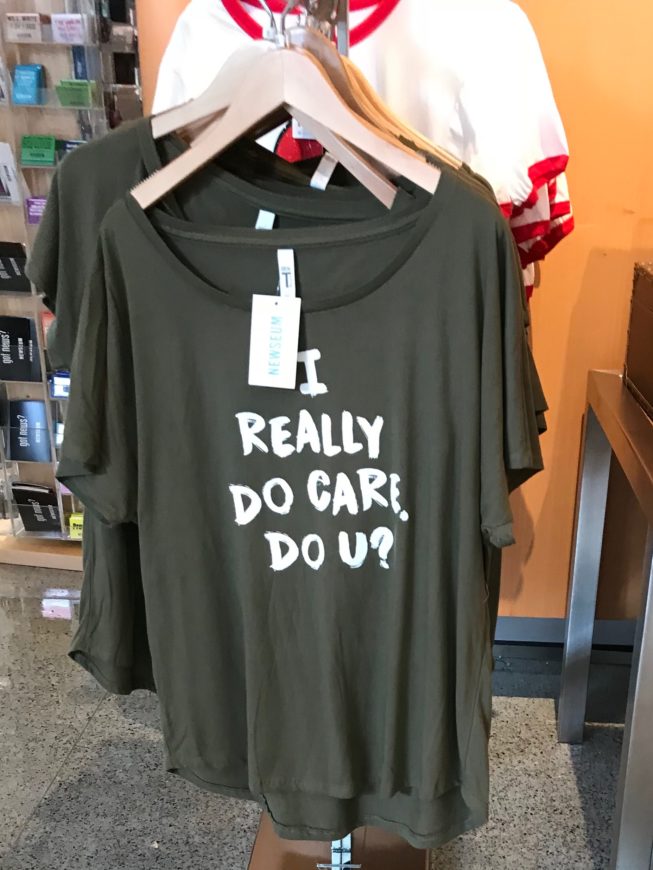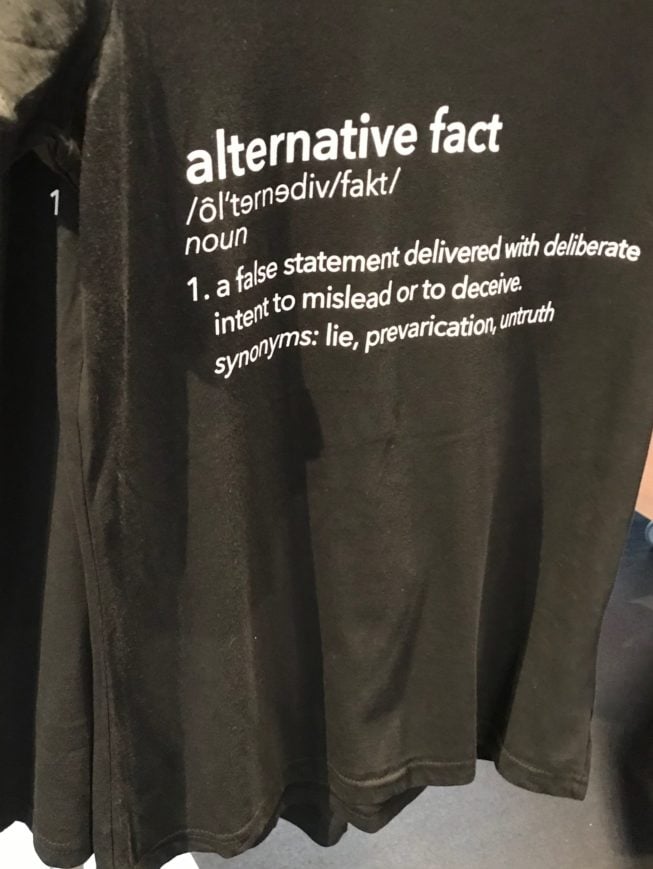 But then, on the Pennsylvania Avenue side of the first floor shop, are some things that belong to another category—one that ought to be out of place in a museum dedicated to fact-gathering. For instance, there are the Trump 17 shirts Poynter found (even worse, those may be a QAnon reference) and a large rack of very soft gray-and-red shirts that say "You Are Very Fake News." They've been marked down $5, but they're definitely for sale.
And here's exactly why the Newseum's defense of these items as discourse is bogus. "Fake news" is not a political argument that nicely balances, say, a "girl power" bracelet in the shop's feminism section. It's a cynical political strategy that reflects years of work performed by very well paid people whose goal was to paint the news media as a political faction—as well as a rallying cry for people who view newsgathering errors not as the inevitable result of human endeavor but as confirmation of malice. Calling someone "fake news" is a bad faith argument, not an invitation to discourse. And it has no business being in a museum as anything other than an exhibit.
The Newseum may fall into the trap of stocking items like these because it was founded by a consummate practitioner of the pre-internet version of balance: Former Gannett boss and USA Today founder Al Neuharth. Even in this age of shrinking newsrooms and revenues, the Newseum is dedicated to the ideals of American newspapering, as evidenced by the fresh print front pages from around the world that ring the museum's building. But while some journalists have found the spine to assert that reporting is not necessarily an act of bias, others still feel stifled by the need to present "all sides" even when one is absurd. That's not balance. That's surrendering to nonsense.
Of course, the laws of the market may ultimately perform the actions the shop's buyers would not. Among the shirts on display was one that says #AMERICA FIRST and shows Trump's "T" in a Superman shield. Perhaps this example of differing viewpoints hadn't found many takers in the Newseum gift shop's marketplace of ideas: It had been repeatedly marked down.