Can I pay my respects in the US Capitol?
McCain's body will lie in state in the Capitol Rotunda on Friday. This honor is reserved for high-level government officials and military officers, and McCain, who was both, is only the 31st person in US history to receive it. (Others "lie in repose" or "lie in honor.") People with Congressional credentials (members of Congress and credentialed media among them) can pay their respects starting at 7 AM. The rotunda will open to the public at 1 PM, but you'll likely want to line up, either on First Street, Northwest/Southwest between Constitution and Independence avenues, or Second Street Northeast/Southeast between East Capitol Street and Independence Avenue, that morning. Note: You'll have to pass through security and can't bring in flowers, sealed envelopes, or other offerings. Photography is also not allowed, and you'll have to turn off your phone.
I hear there's going to be a procession along Constitution Avenue?
Yes, on Saturday. McCain's body will leave the Capitol via motorcade at 8:30 AM and proceed to the Vietnam Veterans Memorial, where Cindy McCain will lay a wreath. Members of the public can line up along the avenue to watch his motorcade pass.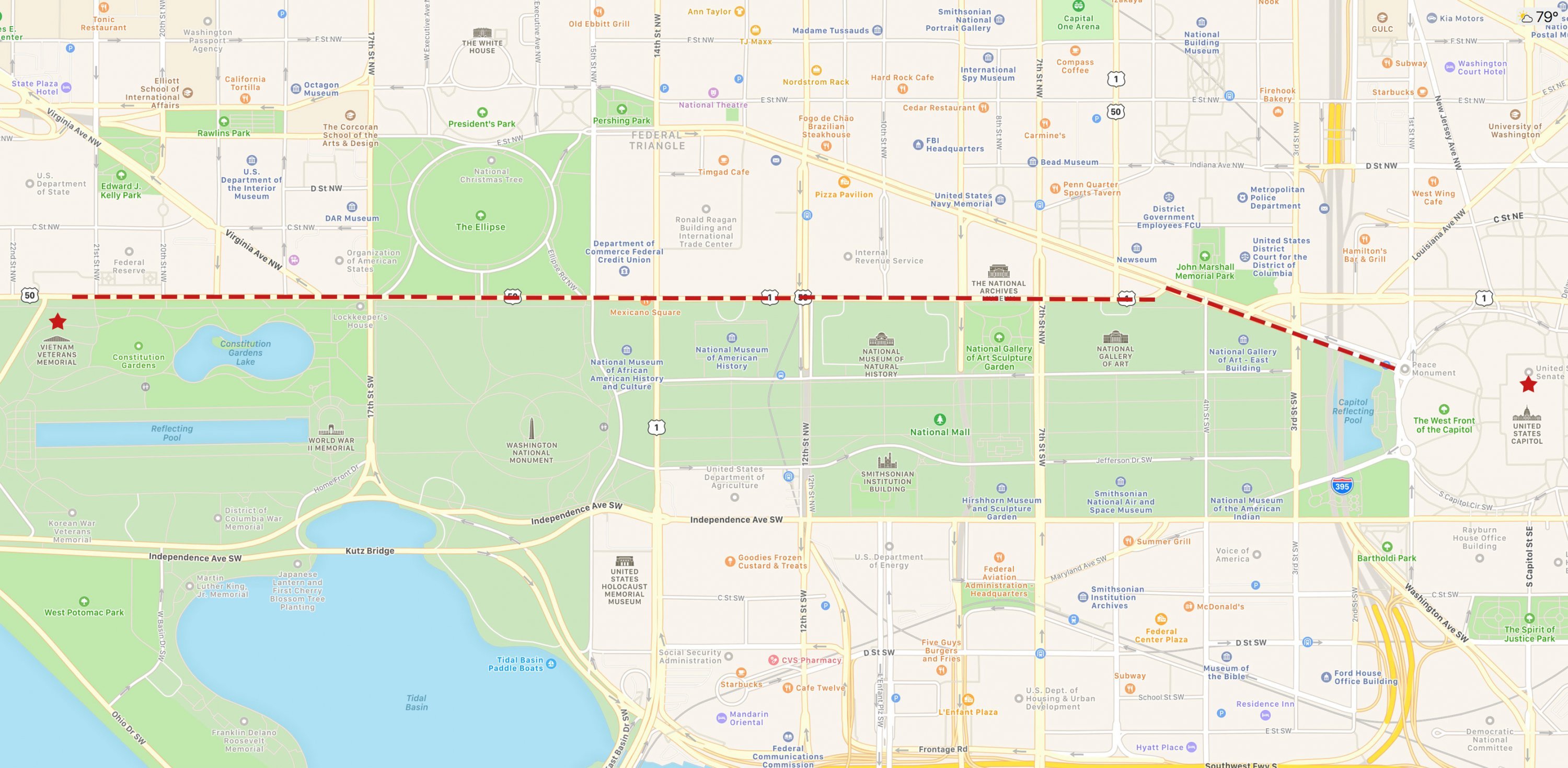 What's the weather supposed to be like?
Hot and humid Friday and Saturday. Also, you may want to pack an umbrella.
How many people does Washington National Cathedral expect at his funeral on Saturday?
About 2,500.
Sounds like there's room for me!
Sorry, the funeral is by invitation only. But it will be broadcast online and on C-SPAN.
What time will it start?
10 AM.
Who made the arrangements for the funeral?
"Every funeral at the Washington National Cathedral, including this one, is prepared in close collaboration between the family of the deceased and Cathedral clergy," says Kevin Eckstrom, the cathedral's spokesperson.
Who will preside over the service?
The officiating clergy, Eckstrom says, are the Right Rev. Mariann Edgar Budde, the Episcopal Bishop of Washington, the Very Rev. Randolph Marshall Hollerith, Dean of the Washington National Cathedral, the Rev. Canon Jan Naylor Cope, Provost of Washington National Cathedral, and the Rev. Edward A. Reese, S.J., President of St. Ignatius College Preparatory in San Francisco, who will deliver the homily.
Who else will speak at the ceremony?
McCain's children Jimmy, Sidney, and Meghan; Joe Lieberman; Henry Kissinger; George W. Bush; Barack Obama; Kelly Ayotte; and Lindsey Graham. Renée Fleming will sing "Danny Boy," a song she absolutely crushes. Here's the order of service.
Who are McCain's pallbearers?
Joe Biden, Warren Beatty, Michael Bloomberg, William Cohen, Gary Hart, Stephen Dart, Richard Davis, Carla Eudy, Russ Feingold, Phil Gramm, Vladimir Kara-Murza, Tom Ridge, Mark Salter, Fred Smith, and Sheldon Whitehouse.
Isn't that more people than an NFL team fields at any one time?
Hey, the guy was popular.
Is Donald Trump invited?
No.
How about Sarah Palin?
Apparently not.
I'd like to send flowers.
McCain's family asks that you send them to your local VA hospital instead. Alternately, you can donate to the McCain Institute Foundation or the Translational Genomics Research Institute, which is pursuing research in glioblastoma.
Where will he be buried?
McCain will be interred Sunday next to his classmate and friend Admiral Chuck Larson at the US Naval Academy Cemetery in Annapolis after a 2 PM service at the Naval Academy Chapel. Both events are closed to the public and the press.
Are there any other ways I can pay tribute to him?
If you're really feeling the McCain spirit, you could challenge someone you disagree with politically to a vodka-drinking contest. But it's far better for your health if you head to the National Portrait Gallery, which has installed a 2005 portrait of McCain, by British-born photographer Steve Pyke, on its "In Memoriam" wall. There's currently no date set for removing it.