If you hang around Arlington, chances are you've seen "trolley pubs" or "pedal pubs"—open-air vehicles powered by a group of cyclers—cruising from bar to bar. This fall, a nautical version of the concept is coming to the Potomac River—and this one is BYOB. Think bikes meet booze cruise.
Potomac Paddle Pub comes from 24-year-old Arlington natives Jack Maher and Jack Walten, who met in preschool. "We were like, 'Oh, your name's, Jack? Alright, we're going to be best friends,'" Maher says. "We've been best buds ever since." Maher now works for Deloitte, while Walten works at a marketing research firm called Mercury Analytics.
The duo had seen the land version of the group-powered bikes, and thought it'd be "awesome" on the water. "They're incredibly fun, but you get pretty hot by the end," Maher says. "If you had a little water breeze, got to see the sights, that'd be sweet."
Turns out they weren't the only ones with the idea. A Google search led them to Oregon manufacturer Cascade Cycle Boats, which supplies similar paddle boats around the country—but none yet in DC.
The first local paddle pub will launch on September 24. The boat will pick up people at the Georgetown waterfront then take them down the Potomac River over to Columbia Island Marina, where groups will stop for restrooms and snacks before heading back. The whole trip lasts about an hour and a half.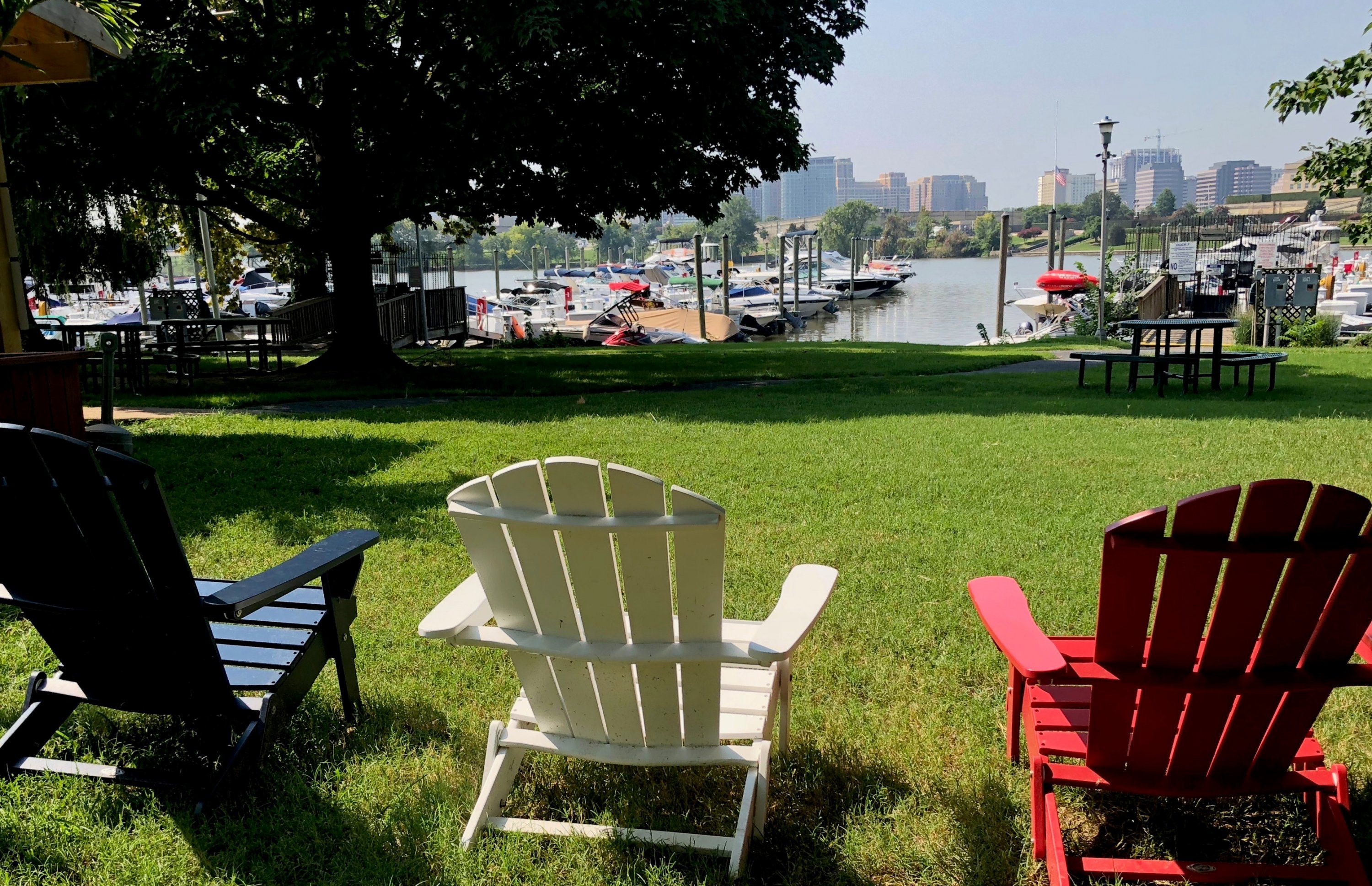 Best of all? Customers can bring their own beer and wine (no hard liquor) as well as food to enjoy on a mahogany bar as they pedal. Potomac Paddle Pub is securing a liquor license (required for BYOB businesses in DC), but won't sell its own alcohol. Even though it's being marketed as the paddle pub, the owners say kids and families are also welcome.
The boat has ten cycle stations, but up to 15 passengers can fit on board. (A minimum of six cyclers are needed to get the thing going.)  People can take breaks from pedaling in a lounge area at the front. Meanwhile, a "master captain" steers the boat, and one-to-two deck hands host and help out. If everyone decides they'd rather drink than pedal, no problem: there's a motor. All the electrical systems are powered by solar panels.
Maher and Walten extended their environmentally friendly practices to trash. There will be receptacles on board so people don't throw their beer cans into the river. If they do, they'll be slapped with a fine by the company.
Groups (up to 15 people) can rent out the entire boat for a flat $500 rate on weekdays and $625 on weekends. Individual tickets will be available on weekdays only for $45 a seat—with a two-ticket minimum. As long as they have six people, they'll go out. If not, everyone gets a refund. You can book in advance on their website.
Potomac Paddle Pub's season will last until around Halloween. When it returns next spring, Maher and Walten plan to add new routes and hopefully partner with private docks around the Wharf and Nationals Park. The owners say they got a venture capital deal to expand into other markets next year as well, but they haven't nailed down exactly where yet.
"We're definitely trying to go big with it," Maher says.