Welcome to Busy Bodies, where we ask Washingtonians how they balance health and fitness while working crazy hours, raising a family, and meeting the demands of the daily hustle. Know someone who's killing the fitness game while getting it done (maybe it's you)? Email kolsen@washingtonian.com.
When Cathal Armstrong isn't in the kitchen of one of his four restaurants in DC and Old Town—his latest, Kaliwa at the Wharf, opened this spring—you can find him in a sweltering Taekwondo studio in Alexandria where "you're lucky if they turn the air conditioning on," he says. The 49-year-old father of two got into the sport around nine years ago after signing up his son, Eamonn, now 16, for lessons (his daughter Eve is 19 and has dabbled in Taekwondo as well). Now, he works out six days a week and has won three national championships: the 2015 US Open Taekwondo Championships and the USA National Taekwondo Championships in 2014 and 2013. Here's how the Dublin native fits lessons—as well as personal training—into his work day, which starts around 7:30 AM with emails and ends around midnight in the kitchen. 
When we opened Restaurant Eve [in 2004], my wife Meshelle and I would stop at McDonald's and grab a double quarter pounder on the way home. Even though I wasn't exercising and working out, I was really skinny. 
Something clicked with me when I was 38, 39. Instead of being skinny, I just sort of ballooned all of a sudden.
About eight years ago, I went to the doctor for a physical exam, and I weighed in at 241 pounds. I'm only five foot ten, so that's way too heavy for me.
My father visited from Ireland, and goes, "Oh, my God. What happened to you?"
I started going to the gym a few times a week. The first ten pounds dropped off pretty quickly. After that it plateaued and became difficult to lose more weight. Around that time, my son turned 7. We tried him at soccer. He was so bad at that. We picked a Taekwondo studio [Yoo's Authentic Martial Arts] near where we live. At the same time I'd decided to start losing weight, his coach came to us and said, he [Eamonn] is really focused, we want him to start competing. 
We went to a competition and were shocked when he won. I learned from sitting around, chatting to the parents, that the coach [Jason Yoo] did personal training on the side. So I approached him around December and he agreed that in March I would start working out with him.
I told Jason, don't kill me. He said, yeah, okay. Then he killed me anyway. I couldn't walk the next day.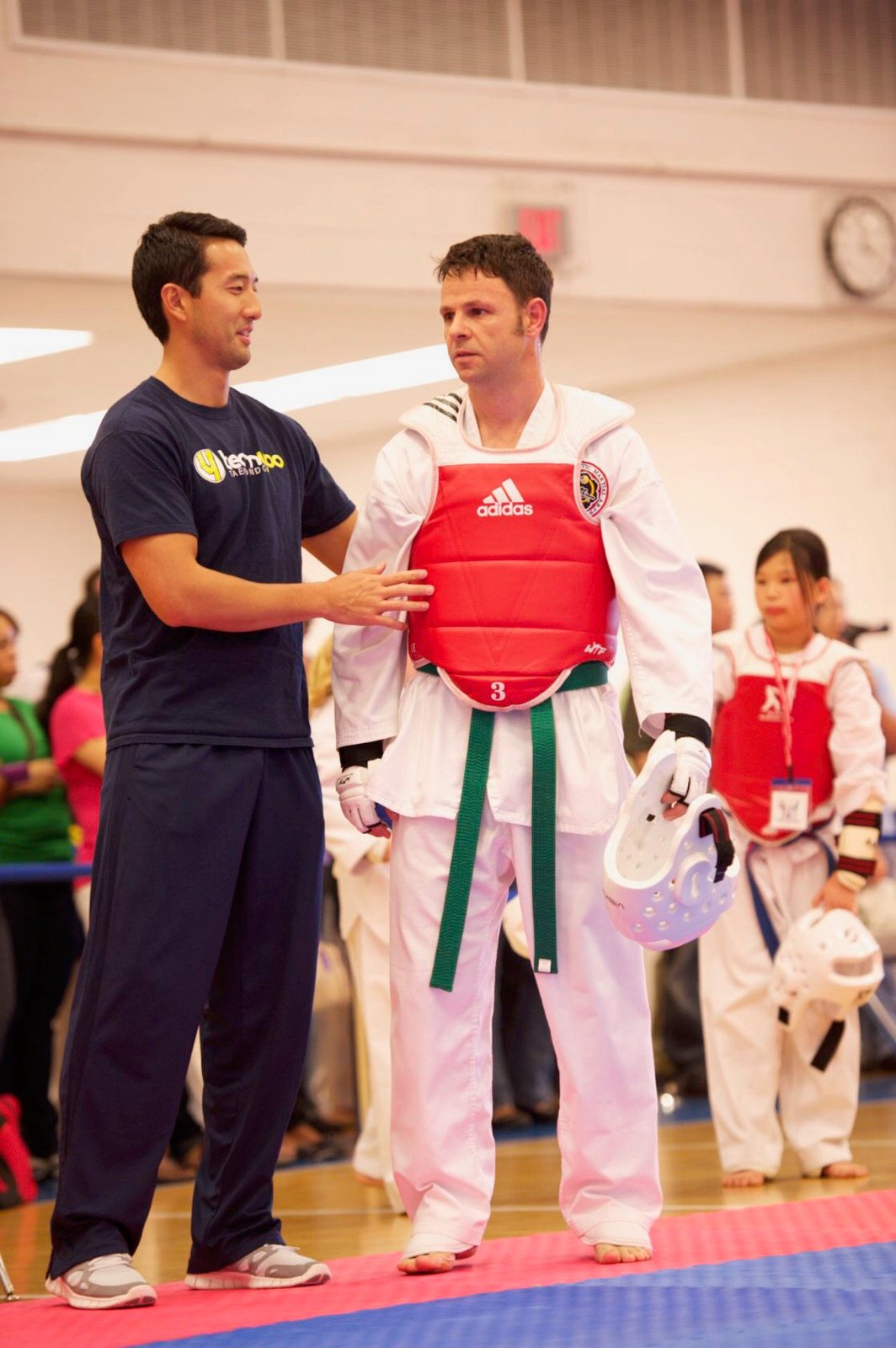 That regime went on for six weeks or so. After that I asked Jason if he would teach me Taekwondo. His father is one of the pioneers in this country. We started off at white belt level in June of that year, three days a week. The growth in the earlier colors of belt is quite rapid, until you get farther along. The requirements are more intensive.
Chefs are kind of obsessive, competitive people. I went off the deep end with it.
For me, it's not what I eat, it's when I eat. If I'm being sloppy and lazy and I stay after work and have a couple glasses of wine, and go home and have another glass of wine … you're not eating a salad at one in the morning.
I try to be easy and more fun-loving on Sunday—that's my day off—and be more disciplined the rest of the week.
You think, you work twelve- and fourteen-hour days, how do you possibly have the energy to work out? I really just have to find the time to do it. Because if I don't, I just don't feel right.
My day is a long, grueling day anyway, and if I'm not in shape, it's long, grueling, exhausting, and unhealthy.