For many chefs, few figures loom as large and mythic as the specter of the grandmother. Nonna, Meemaw, Lola—whatever you call her, she has launched more restaurants than McDonald's Ray Kroc.
The latest in this genre is Kaliwa, the pan-Asian waterfront dining room from Cathal and Meshelle Armstrong, the husband-and-wife owners of Old Town's recently shuttered Restaurant Eve and Eamonn's. How, you might ask, did Cathal, a white guy from Dublin, wind up turning out (very good) Filipino dishes like chicken adobo and lumpia? I don't even need to tell you to credit Philippines-born Meshelle's grandma and the lessons she imparted to Cathal in her Manila apartment kitchen decades ago.
Kaliwa—flashy and loud and done up in basket lamps, red banquettes, and cane chairs—feels nothing like DC's most famous Filipino spot, Bad Saint (or any of the other cool-kid Asian places that have proliferated for the past five years). The restaurant takes reservations, the servers deign to warn diners about spiciness levels, and the kitchen doesn't boundary-push timid palates with anything more than raw beef.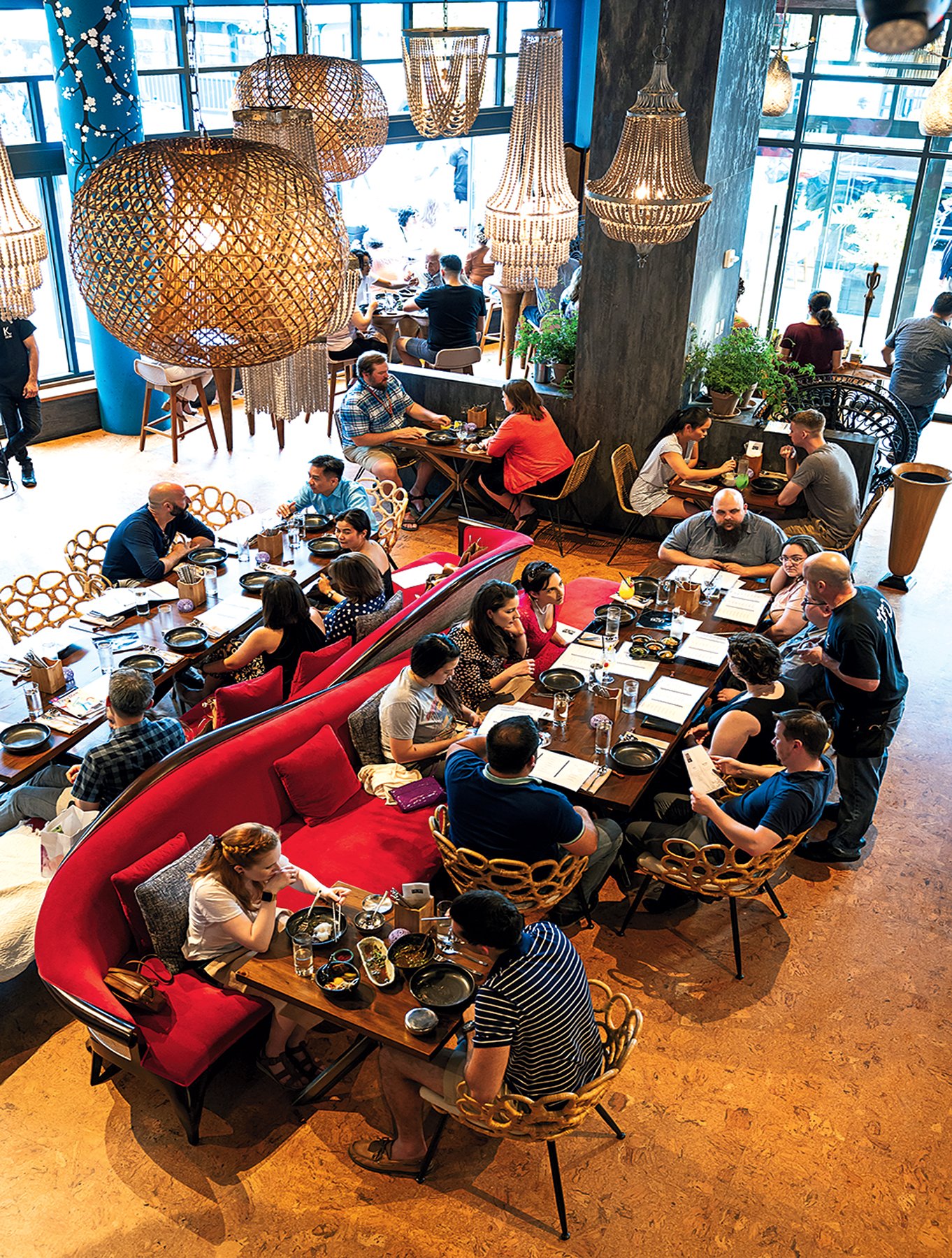 But here, safe doesn't mean boring, at least when it comes to the Filipino end of the menu. (The page is equally divided into three parts and also comprises Korean and Thai dishes.) That's thanks to Armstrong's deep familiarity with the cuisine but also to his number-two in the kitchen, Paolo Dungca, a Philippines native who left Bad Saint to work with Armstrong three years ago.
Their adobo, a peppery braise of chicken legs and thighs laced with apple-cider vinegar, is the kind of comfort dish I could eat once a week. Those lumpia—long, cigar-like fried rolls stuffed with pork and shrimp—have a near-perfect shatter when you take a bite. A tangle of pancit canton, a dish of house-made ramen noodles threaded with Chinese sausage, shrimp, and wood-ear mushrooms, practically crackles with gingery flavor.
When Restaurant Eve opened in 2004, the food world was at peak pork belly, and even then Armstrong stood out for his deftness with what was formerly a peasant cut. Here he plays around with it two ways, and both are worth ordering. There's the skin-on lechon kawali, which is brined for three days before it's braised, and then deep-fried until it reaches that blissful crispness you usually dream of finding at pig roasts. Then there's what Armstrong calls "street barbecue," skewers of grilled pork belly painted in banana ketchup (house-made, like virtually every condiment here). What makes these dishes so exciting is how balanced they are—just as vinegary or citrusy as they are smoky or sweet.
The best desserts are Filipino, too. They include the shaved-ice extravaganza called halo-halo and the coconut-rice cake bibingka (deliciously rippled with a melted slice of Edam cheese).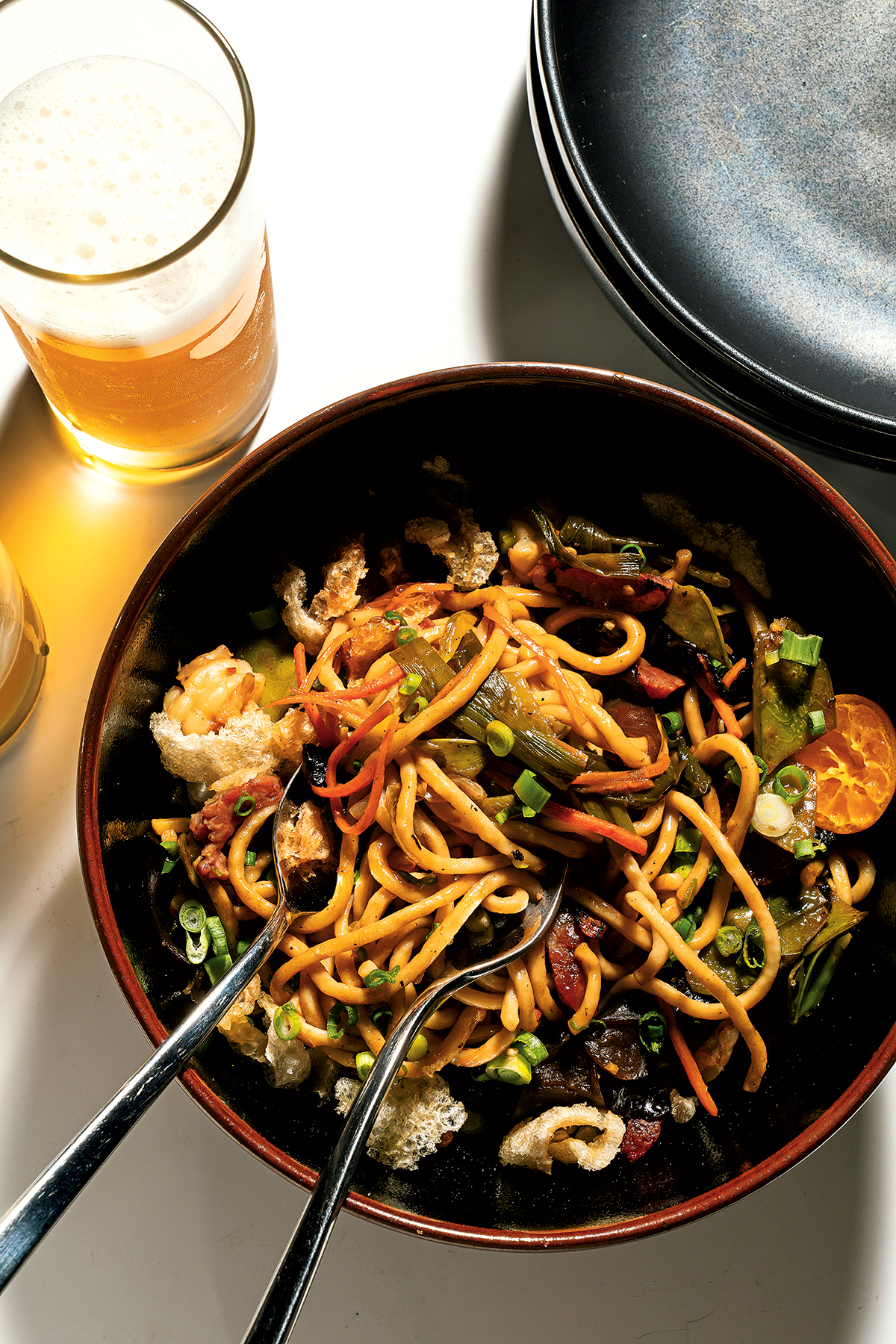 If you venture elsewhere on the menu, I'd spend more time in Thailand than in Korea. The couple chose to highlight the former cuisine because they love to eat it in their off-time—Duangrat's in Bailey's Crossroads is their place—and the latter because Cathal was inspired by his tae kwon do practice (he ran each of his dishes by his Korean coaches).
In the Thai category, the kitchen amps up the spiciness enough to satisfy most chili-heads. Clams in black-bean sauce, creamy red curry with blue crab, and stir-fried green beans all sound a lot more innocent than they taste. Still, the must-get dish is the comparatively mellow rib eye, grilled and splashed with an addictive lemongrass-and-lime sauce.
The Korean section could use more substantial tweaking. Despite its abundance of fresh seafood—blue catfish, Manila clams, mussels, and squid—and the clear care Armstrong puts into the dish, the stew known as jjampong comes off as a boring cover song. So, too, grilled whole porgy smothered in a ruddy brown sauce laced with sesame, soy, and fermented chili powder. Panchan, little veggie dishes and condiments that are abundant (and free) in most Korean restaurants, come off as stingy in their five tiny bowls for $10. Two exceptions: a fried-chicken sandwich slathered with kimchee mayo and an artful refresher of raw tuna with avocado, cucumber, onion, and a zingy vinegar-soy sauce. Instead of the traditional rice, Armstrong blitzes the arrangement with crispy puffed grains.
Another area that needs work is the cocktails, which are overwhelmingly sugary. Beware the rum-and-pineapple concoction unless you're into one-drink hangovers.
Armstrong says it wasn't his intent to Westernize Kaliwa's cuisines in any way. But that doesn't mean he's been able to step back from his classical European training. "We definitely think about proper braising techniques and proper stock production," he says. "Some people are like, 'It doesn't taste like my grandmother's.' Yeah, I know. I'm not your grandmother."
Dress: A mix of summery dress­es, jeans, and whatever people are wearing to a concert at the nearby Anthem.
Noise level: As loud as a frat party.
Best dishes: Lechon kawali; Filipino street barbecue; lumpia; chicken adobo (adobong manok); pancit canton; grilled rib eye; clams in black-bean sauce; fried-chicken sandwich; raw tuna and avocado (hoe-deop-bap); bibingka; halo-halo.
This article appeared in the July 2018 issue of Washingtonian.
---